Yankee Stadium, Madison Square Gardens, and Citi Field are likely to be high on the agenda of any sports fan who is planning to visit the Big Apple. However, there are a number of alternative venues which may also be worth adding to the list. We take a look at three destinations which should provide sightseers with a much-needed sporting fix.
New Balance Track and Field Center
In a typical year, the New Balance Track and Field Center hosts a number of events including the Millrose Games, which is a historic competition featuring both seasoned Olympians and semi-professional hopefuls (unfortunately, due to COVID-19, the 2021 meet has been canceled).
The majority of visitors are unlikely to time their trip to coincide with a major event. However, the National Track and Field Hall of Fame is simply unmissable and features an interactive sports and fitness learning center, which can be enjoyed by visitors of all ages.


Among many other things, the museum also contains a miniature floor replica of the 26.2 New York City Marathon course as well as a 40-foot long Wall of Fame, which immortalizes a plethora of recognizable performers past and present.
Belmont Park Racetrack
Belmont Park is one of a handful of iconic horse racing venues located within New York State. It has hosted live racedays for over a century, with an innumerable amount of legends having taken to the track during that time. Based in Elmont, just east of the city on Long Island, the course is conveniently located, and hosts a number of top class race meetings throughout the summer and the fall. The legendary Grade I Belmont Stakes is undoubtedly the highlight and is one of the most highly anticipated events of the season.
Visitors can enjoy the sizable picnic area, while racedays with later post times are often followed by live musical performances. Even on non-race days, off-track betting on all Thoroughbred, Harness, and Quarter Horse racing remains available. Wagering on horse racing is extremely popular, and although it can appear fairly complex at first, there are sites which offer further information about how to bet on the sport, as well as providing reviews of the various bookmakers.
Belmont's off-track betting facilities allow visitors to wager on any upcoming event, and helpful assistants are readily available to provide support to those who may be unfamiliar with exotic bets such as the trifecta and superfecta.
USTA Billie Jean King National Tennis Center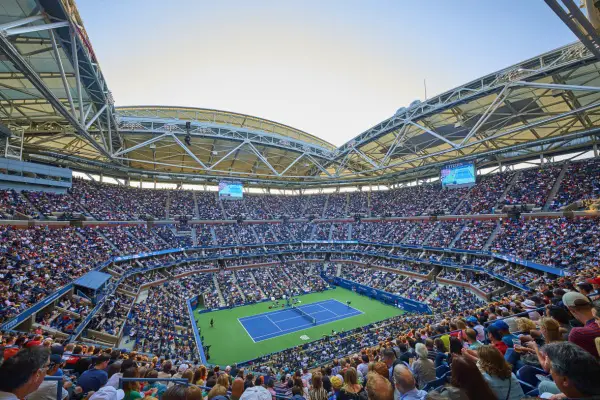 Photo: USTA.
The home of tennis's US Open is a hugely popular destination for sports aficionados, and although visitors are fairly unlikely to get their hands on a ticket for the final Grand Slam of the season, there is still plenty to do at this iconic destination.
Renamed in 2006 and located in Queens, this 897-acre park is set in magnificently picturesque surroundings, and with courts being used regularly for practice matches and junior tournaments, there is always something to take in.
90-minute walking tours are readily available, whilst the pro shop, fitness facilities, and museum will offer sports fans a far greater insight into the dedication required to make it to the top.
---
This trio of sensational settings are just a small snapshot of the sporting delights located within the Big Apple. Visitors are now able to retrace the footsteps of their heroes at these magnificent surroundings, or simply just enjoy a superbly captivating day out at one of these much-loved venues.