The final weeks are upon Discovery Times Square's captivating exhibition, THE ART OF THE BRICK. After welcoming an unprecedented number of visitors since opening in June, the world's biggest and most elaborate display of art created from LEGO bricks will see its final day in New York City's Times Square on January 5, 2014. Tickets to see THE ART OF THE BRICK, which showcases a collection of creative and inspiring art constructed using only LEGO toy bricks by renowned contemporary artist Nathan Sawaya, are on sale now through closing here.


THE ART OF THE BRICK brings to life Sawaya's one-of-a-kind pieces of art, including an impressive T-Rex dinosaur skeleton and the iconic pop-culture favorite "Yellow" — a life-size sculpture of a man ripping his chest open with thousands of sunshine-yellow LEGO bricks cascading from the cavity. The exhibit, one of the most successful exhibitions held at Discovery Times Square, is the largest collection of LEGO art ever on display showcasing more than 100 creations, including 50 stunning replicas of some of the most famous works of art throughout history. Prior to opening in NYC, the critically acclaimed collection of creative and inspiring art — named by CNN as one of the Top 10 "must see exhibitions" in the world — achieved record-breaking runs in Singapore, Taiwan, and Australia.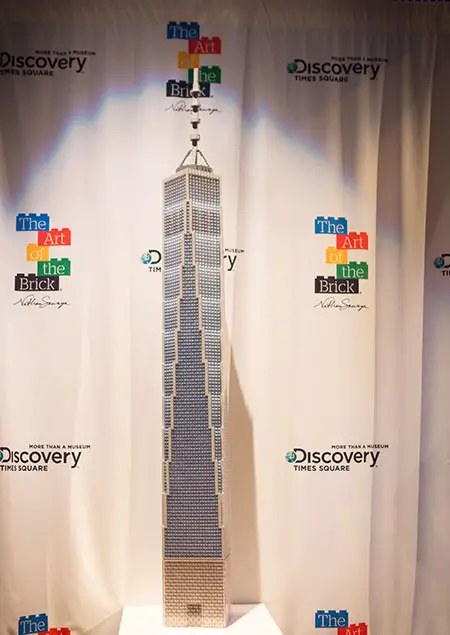 To kick off the final weeks, Sawaya unveiled a never-before-seen sculpture of One World Trade Center on November 20, 2013. The new sculpture brings to life a concept submitted by fans following the "What Should Nathan Build?" program, which asked the public to weigh-in on Sawaya's next imaginative creation. The One World Trade Center masterpiece, inspired by Suzan Goldstein of Levittown, New York, will ultimately be displayed at THE ART OF THE BRICK exhibition until its conclusion at Discovery Times Square.
"It was amusing to go through the countless creative ideas fans submitted as suggestions for my next sculpture, many of which I had already built over the course of my art career," said Sawaya. "I finally chose One World Trade Center as a tribute to New York City, and to celebrate the artistic beauty in its architecture - proving that art is everywhere."
---
THE ART OF THE BRICK at Discovery Times Square runs until January 5, 2014. Discovery Times Square is open seven days a week. Tickets are available for $17.50 (child 4-12 years), $22.50 (adult) and $19.50 (seniors 65+). Special savings for groups of 10 or more are available with advanced reservation. Once open, the last tickets are sold 60 minutes prior to closing. For individual tickets and venue hours, visit www.DiscoveryTSX.com/exhibitions/art-of-the-brick, call 866.9.TSXNYC (866-987-9692) or visit the Discovery Times Square Box Office.