Antique lovers, dust off your auction paddles for the upcoming auction from Jane N. Rothschild's estate. This collection is 311 items strong, including an Ernest Hemingway signed letter, early Renoir etchings, early Chinese reverse glass painting, and a Hiroshige Japanese woodblock print.
The auction will be held on Tuesday, June 12, at 1pm at the Manhattan Art & Antiques Center in Midtown East. Interested parties can participate online or in person, and the items will be available for preview at Manhattan Art & Antiques beginning June 4th.
This early Renoir lithograph print pictures a couple dancing. The back is labeled in Renoir's hand: "A Renoir. La Valse a la Campagne." A Royal Vienna porcelain charger, hand-painted with a scene of lovers in a shipwreck and bordered with bright and intricate designs, will be on sale and expected to go for $4,500 or more.


The collection features a wide array of Asian ceramics and decorative objects, including this woodblock map of Japan from the 18th century. So far, three bidders have begun vying for the Chien Lung painting on glass, picturing a woman in blue head scarf holding a dog.
Rothschild possessed antique weapons like a 19th century dagger and Mongolian sword inlaid with white jade. She also had miniature antique paintings from India and Persia that will be sold in sets.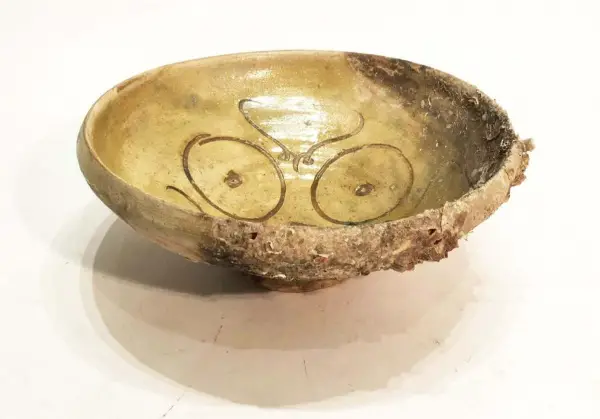 A truly unique piece is an ancient bowl from the Byzantine Empire (330-1453 A.D.). Painted with a circular design, this bowl has been crusted over with shells and other ocean debris, seemingly signifying its recovery from underwater.
Handwritten letter from Ernest Hemingway
Literary artifacts include a letter from Aldous Huxley and a letter from Ernest Hemingway. Both letters address Jane N. Rothschild's brother Richard Nathan, a literary scholar at Harvard who had invited both Huxley and Hemingway to Lowell House in Cambridge to lecture. Both writers decline, Hemingway citing a novel in progress and impending trip to Cuba, he writes, "where I am overdue."
Several antique English medicine chests, complete with used bottles of Stomachic Powder and other substances, will be featured, ranging in size and expected to garner from $500 to $3,000.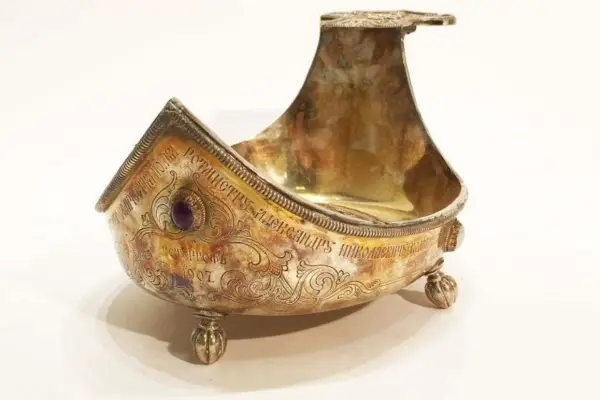 The estate features a sizeable collection of silver, from Tiffany & Co. His and Hers tumblers to a box of silver-plated silverware. There are serving pieces like silver platters and pitchers, salt and pepper shakers, and much more. Perhaps among the most impressive in the silver collection is this Russian kovch, engraved with a two-headed griffin and estimated at $3,000 for starting bids.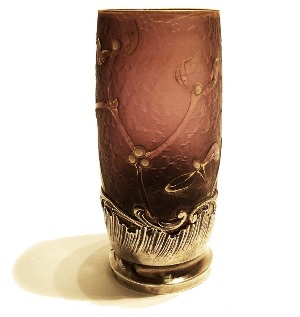 In addition, there are Meissen porcelain figurines and serving pieces, produced by the famous German company in operation for over 300 years. Some, like this figurine of children at play, date from the 18th century. Rothschild also possessed several items from Daum Nancy, a French glass company, such as this delicate purple vase.
Several pieces of the collection will be home furnishings like dressers and desks, and a final outlier will be a fine mink coat.
For all buyers at the auction, an additional premium will be charged for each item purchased. Premiums are 20% up to $50,000, 15% up to $500,000 and 10% for all prices above $500,000. Whether online or in person at Manhattan Art & Antiques, you can register for the auction here. You can also express interest in any of the listed items at liveauctioneers.com, and/or visit the auction house to preview Rothschild items from June 4 to 11.
Manhattan Art & Antiques is open to the public Monday through Saturday from 11 am to 6 pm and Sundays from 1 pm to 6 pm. The Rothschild Estate Auction is June 12, 2018, at 1pm. It will be located at Manhattan Art & Antiques Center: 1050 Second Ave., Gallery 86. Call 212-355-4400 or visit liveauctioneers.com, for more information and to register for the auction.