Between all the holiday shopping it is good to take a breather, relax your feet and mind for a little while, and maybe treat yourself to a little refresher in the form of a cup of coffee and a pastry. It's not always easy to find the perfect spot to relax when you need it which is why I suggest scheduling in a break once in awhile in advance! Here are some of our favorite bakery spots in New York City.
1. Magnolia Bakery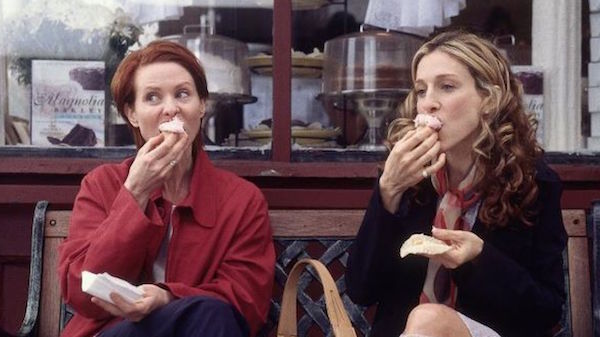 So let's start off with a classic. For all you Sex and the City fans out there, this is a sightseeing must-see. Magnolia Bakery is where the girls would spend time catching up.


2. Caffe Palermo
NoLiTa ("North of Little Italy") downtown is a great place for stylish boutique shopping. When you need a break, head a couple of blocks south to Little Italy itself, where you can enjoy authentic Italian coffees and pastries, as well the city's best cannoli, at the legendary Caffé Palermo.
3. Zaro's
Zaro's, the family-owned bakery chain, offers its visitors a wide selection of goodies. The kosher bakery serves up tasty cakes, cookies, babka, challah, and so much more.
4. Dominique Ansel Kitchen
I mentioned this place when I did an article titled, "Great Things to Do on a New York Weekend," and I specifically mentioned the cookie shots from Dominique Ansel Bakery. And I will mention them again, as they are one of my favorite sweet treats! Hollow cookies filled with milk? Yes, please.
5. Levain Bakery
If you're a sucker for cookies, believe me when I say this is the place for you. The cookies are nothing like you've seen before; they are to die for. You won't regret a trip to Levain Bakery, that's for sure.
6. Doughnut Plant
If you're more of a doughnut person, that's ok. New York City has a great selection of doughnuts! The Doughnut Plant specifically is my go-to place when I crave one of these delicious treats. The place has been open since 1994 and is known for their handcrafted doughnuts that just gets more delicious after every bite you take.
---
About the author: Nina is the Engagement and Corporate Communications Analyst for RentHop, a national apartment rental site based in New York City. She moved overseas from Norway three years ago and has since been living and working as an expat in New York, enjoying everything the city has to offer.