Beauty Multitasking in a NY Minute
February 10, 2017 - by Regina Molaro
Speedy services are making waves in the beauty industry. It's all about specialization—whether it's creating the perfect blowout, manicure, or root touch-up job. To keep pace with the dizzying pace of Manhattan, some salons are multitasking—offering two expert processes simultaneously. How's that for service?
Madison Reed Color Bar
Madison Reed Color Bar is a new beauty destination in Gotham that specializes in speedy color and root touch-ups. Hair is polished to perfection in 45 minutes flat. Beyond color, the Flatiron locale also offers blowouts and glossing services. For beauty buffs who opt for refreshing their looks from the convenience of their own homes, Madison Reed assists with at-home color services. A quick survey matches clients to their ideal hair color. Color specialists are available via phone and through "Madi"—a Facebook Messenger and SMS chatbot that offers recommendations by analyzing selfies uploaded by clients. Madison Reed's formulas boast prestige quality color that is specially crafted in Italy exclusively for Madison Reed. Made with argan oil, keratin, and ginseng root extract, the formulas are completely free of chemicals such as ammonia, resorsinol, PPD, and gluten. What's not to love? 7 W. 19th St., 646-682-9432, madison-reed.com
MB45
In just 45 minutes, Manhattan's beauty destination MB45 delivers sleek blowouts and expert manicures. The inspiration for this two-timing concept emerged from demand. The visionaries behind MB45—Fernanda Lacerda and Manuela Giannini—were multitasking with manicures and blowdrys at their other Manhattan salon, Maria Bonita. To address the demand, MB45 made its debut in the downtown area and offers its signature blowout and manicure package, which boasts a competitive price in comparison with other city salons, which offer these services separately. Indulge! 93 Worth St., 212-546-7988, mb45studio.com
The Beauty Bar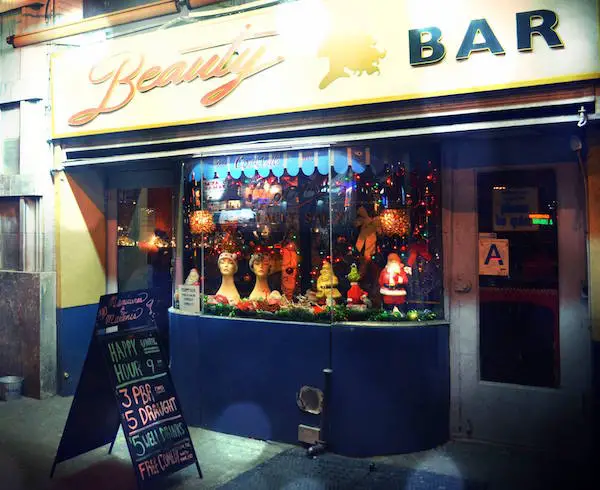 Getting a manicure and having a drink-that's multitasking, right? The longstanding Beauty Bar celebrates the art of creating polished nails and imbibing in a nightclub setting. $10 gets you a manicure and a drink. On some evenings, take the fun to the next level with a burlesque performance. Open Mon-Fri, 5pm-4pm, Sat., 2pm-4am. 231 E. 14th St., 212-539-1389, thebeautybar.com
Looking for Free Group Planning Services?
Get free advice on planning your group's trip to New York.
RESTAURANTS

Burke's dual-concept restaurant opened in 2005 and spans the...

THEATER

Gaston Leroux's famous period thriller is now one of Broadwa...

SHOPPING

Indulge in natural luxury with the softest bedding on the pl...

SIGHTSEEING

The 9/11 Memorial honors the nearly 3,000 people killed in t...