New York City, September 12, 2019. Bedside Reading® celebrated its second anniversary and the launch of its new lifestyle division at a fun-filled pajama party with their new partner, The James New York—SoHo. The event was held at the rooftop poolside venue JIMMY with pajama-clad guests and four of 2019's hottest authors: Antoinette M. Clarke and Tricia Clarke-Stone, authors of "Double Down: Bet on Yourself and Succeed on Your Terms," Barbara Kavovit, author of "Heels of Steel," and Hank Philippi Ryan, author of "The Murder List."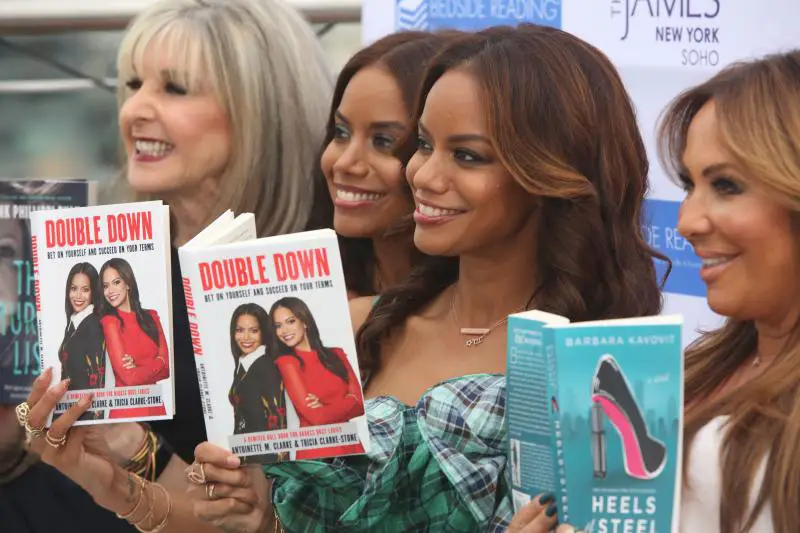 L-R: Hank Phillippi Ryan, Antoinette Clarke, Tricia Clarke-Stone, and Barbara Kavovit. Photo by Lucille Khornak Photography.
Books and a specially created vodka-based "book-tinis," were served with a spectacular invitation-only afterparty featuring internationally known medium Steven Macek, who led a group "reading."
Jane Ubell-Meyer and Hank Phillippi Ryan at the Bedside Reading Lifestyle Launch. Photo by Lucille Khornak Photography.
"We have a lot to be grateful for this year," said Jane Ubell-Meyer, Founder of Bedside Reading. "We are celebrating our second anniversary and our new lifestyle division. What better way to do that than to have a book signing and an old-fashioned PJ party at the chic The James New York—SoHo hotel."
"Our authors and publishers understand 'word-of-mouth' marketing is about connecting with the perfect hotel guest influencers," said Ubell-Meyer. "This new year will focus on placing books in 'lifestyle' hotels. We are thrilled that The James New York—SoHo is our first to embrace this. We want to add hotels that are edgy, artistic, and reflect the local neighborhoods and this hotel fits the bill. We also wanted to celebrate our authors in a fun and memorable way! Reading is fun—and a luxury we can all participate in!"
The James New York—SoHo incorporates the artistic vibe of SoHo. Its awe-inspiring SoHo rooftop is perhaps its most enviable feature, boasting a sexy social atmosphere, with an enclosed bar and lounge.
Starting this month, guests staying at The James New York—SoHo will receive Bedside Reading books complimentary by their bedside. This is the brand pillar of Bedside Reading—all hotels in the program provide books by the bedside for guests to take home—at no charge!
"We are thrilled to be the first hotel in Bedside Reading's Lifestyle Division," said Jan Rozenveld, Senior Vice President, Lifestyle Hotels, Highgate (manager of The James Hotel —SoHo). "Reading is an important component of any vacation or business trip, and we loved the opportunity to have books as an amenity for our guests. We are excited to get started to help our guests unplug and explore through the world of books."
Jane Ubell-Meyer with (l-r) Hank Phillippi Ryan, Antoinette Clarke, Hank Phillippi Ryan, Antoinette Clarke, Tricia Clarke-Stone, and Barbara Kavovit. Photo by Lucille Khornak Photography.
---
About Bedside Reading
Founded in 2017, the Bedside Reading® program partners with the world's leading publishers as well as many independent publishers and authors. The company's mission is to help authors build their fanbase by connecting their books to readers and providing hotel guests the opportunity to unplug and delve into the world of words at some of the most sought-after destinations in North America.

For more information: www.bedsidereading.com.
For the summer reading program: www.bedsidereading.com/summer.html
Five-Star Hotel—Partners: Acqualina Resort & Spa, Conrad New York, Fairmont Miramar Hotel & Bungalows, Mandarin Oriental New York, Mandarin Oriental Washington DC, Waldorf Astoria Beverly Hills, and Waldorf Astoria Chicago. Boutique Hotel-Partners: Chamberlain West Hollywood, Dream Inn, Jacquard Autograph Collection, Morrison House, Simpson House Inn. Lifestyle Collection: The James New York - SoHo
Hamptons Summer Program: 1770 House, Baker House 1650, Baron's Cove, Mill House Inn, Southampton Inn, The Hedges Inn, The Maidstone Hotel, Topping Rose House, White Fences Water Mill, and at Hotel Indigo East End & Hyatt Place East End.
About The James New York—Soho
The James Hotels, with ideally situated locations in New York and soon Washington, D.C., are both sanctuary and scene. The James are all about balance and believe that the combination of personal well-being and total indulgence is the ultimate key to happiness. Targeting Urban Explorers seeking a calm and cool experience, The James serves up warm, modern spaces that draw inspiration from the energy of our communities. For more information, follow the James Hotels socially at @jameshotels or visit jameshotels.com.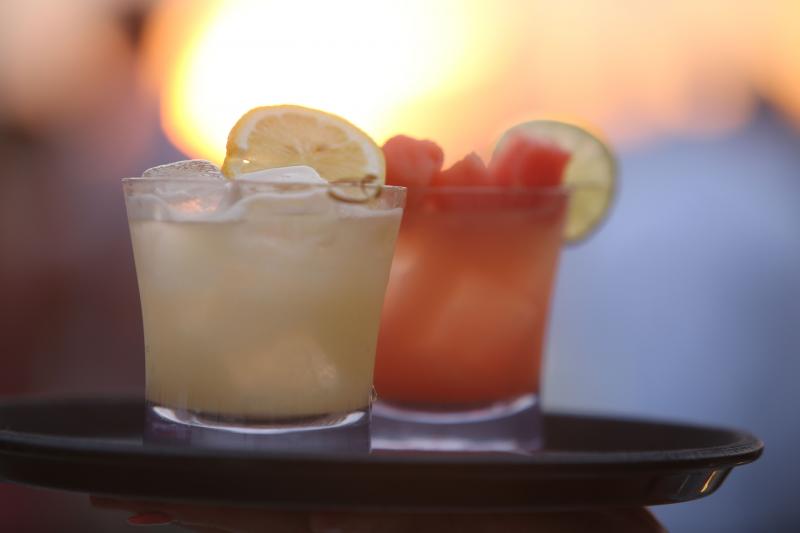 Photo by Lucille Khornak Photography.
About JIMMY
JIMMY at The James Hotel Soho is a luxe rooftop bar that's been a staple in NYC's nightlife scene for the past decade. Guests enjoy a seasonally changing cocktail menu crafted by Johnny Swet 18 stories above the bustling streets of downtown amidst panoramic views of midtown, Wall Street, the Hudson River, and the bridges spanning the East River. JIMMY at The James's swanky indoor lounge space and outdoor pool deck, created and curated by David Rabin and Johnny Swet, allows for year-round service.