NYC's Best Beer Halls
March 7, 2017 - by Chelsey Grasso
If you're not in the mood for New York City's overly posh bar scene, then one of these five beer halls might be more your speed. Don't get us wrong, these places are as cool as anything the city has to offer, but they do allow you a more casual space to down a few brews while noshing on some seriously delicious bar food. Here are our top five picks for NYC beer halls.
Best of NYC Beer Halls: Flatiron Hall (Flatiron)
Flatiron Hall is the quintessential New York City beer hall, featuring a 25-foot Victorian style bar with antique glass arches and an array of vintage chandeliers and old school décor. As for the booze, you can find 12 special beers on tap at all times in this speakeasy-inspired establishment. The food here is delicious, including the joint's famed Pastrami Reuben Spring Rolls, made with Carnegie Deli pastrami, gruyere, sauerkraut, and spicy mustard sauce. If pastrami isn't your jam, there's still plenty else to choose from, such as the Sashimi Tuna Tacos and Kobe Sliders. 38 W. 26th St., 646-790-3200, flatironhall.com
Best of NYC Beer Halls: Radegast Hall and Biergarten (Brooklyn)
You'll find New York City's most popular beer hall in Williamsburg, Brooklyn. With 22 beers on tap and over 50 bottled beers from around the world, there's a reason this place hasn't remained a secret. While it can get packed in here, Radegast does not take reservations, so make sure you arrive early to enjoy the red-oak bar and exposed brick interior. If you're around during the summer, stop by to sip your favorite brew under the sun thanks to Radegast's retractable roof. 113 N. 3rd St., 718-963-3973, radegasthall.com
Best of NYC Beer Halls: Houston Hall (West Village)
Manhattan may be cramped for space, but Houston Hall has managed to snag a whopping 8,000 square feet of the West Village's prime real estate. While Houston Hall is one of the newer beer halls on the NYC scene, it still manages to fill up pretty quickly, especially during weekends when DJ's take over the sound system and major sporting events are broadcast in the space. You'll find IPA, lager, ciders, and ales on their 11-beer draft menu, along with Milk Truck sandwiches (Bacon Cheddar Blue, Milk Truck Classic, and 3 Cheese Grilled Cheese). 222 W. Houston St., 212-675-9323, houstonhallny.com
Best of NYC Beer Halls: Reichenbach Hall (Midtown West)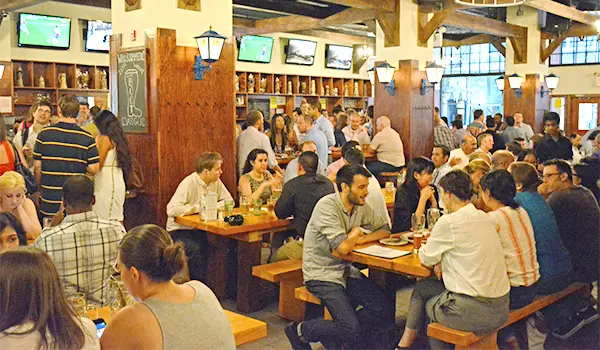 Can't make it to Oktoberfest this year? Not to worry! Reichenbach Hall is basically New York City's version of the famed holiday, and it's open year-round. Founded by two German "Beer Brothers", Keith and Willy Reichenbach, this beer hall serves up the likes of bratwursts, schnitzels, spätzles, sauerkraut, and giant pretzels alongside its tall mugs of German beer. If you're feeling extra ambitious, go ahead and order the glass boot filled with beer… you know you want to. 5 W. 37th St., 212-302-7744, reichenbachhall.com
Best of NYC Beer Halls: Bierhaus NYC (Midtown East)
Bierhaus NYC is another German-influenced beer hall that has been garnering a lot of merited attention lately with New York City locals. You'll find famous Hofbrau Biers on the menu, along with seasonal brews and German liquor. Another fun fact? The pretzels here are imported directly from Germany, and that authenticity is reflected in the hall's interior design and heavy German menu. If you've got an appetite, go for the Oktoberfest Platter, which comes with a selection of cold cuts, smoked meats, sausages, Bavarian cheeses, radishes, schnitzel fingers, and a Bavarian pretzel. 712 3rd Ave., 212-867-2337, bierhausnyc.com
Looking for Free Group Planning Services?
Get free advice on planning your group's trip to New York.
RESTAURANTS

Multi-concept restaurant offering modern Japanese cuisine, a...

THEATER

Gaston Leroux's famous period thriller is now one of Broadwa...

SHOPPING

The world's largest source of cameras, camcorders, and more ...

SIGHTSEEING

SPYSCAPE is the world's preeminent spy museum and experience...