Daredevil Circus Clown Bello Returns to Delight New Victory Audiences
April 4, 2014 - by Ellis Nassour
Circus favorite and daredevil clown Bello, famous for hair raising, gravity-defying antics, manic comedy, madcap athleticism, and his signature skyscraper red hair (towering a foot high), returns to Times Square with an all-new edition of Bello Mania at the New Victory Theater now through April 20th, one of the best family entertainment bargains in town.
Bello says, "My goal is to entertain and amaze children of all ages with a unique blend of comedy and thrills." He's achieved his goal! Boy, has he!
Last season, to the delight of squealing fans' oohs and aahs, giggles, and gasps, Below risky trampoline mayhem, trained invisible dogs, rode the world's smallest bike, did edge-of-the-seat (his and audience's) high-wire hijinks; then, for the grand finale, climbed a 44-foot sway pole to the very top of the New Victory to precariously dangle over audiences.
The Bello Mania premiere was nominated for a Drama Desk Award as Unique Theatrical Experience. But accolades have been heaped on this irresistible and indefatigable entertainer for years. He's been celebrated by Time magazine as America's Best Clown, and awarded the Gold Clown, the circus world's highest honor, at the Monte Carlo International Circus Festival.
Lauded for his physical and comedic agility, Bello redefines what it means to be a modern-day clown. "I've never been one to follow the norm," he explains. "I don't expect up-and-coming performers to do the crazy sort of stunts I do, but my hope is to inspire new generations to find what makes them unique and push the boundaries of what they can offer to the circus art form.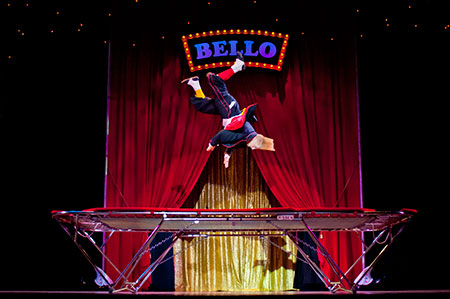 "I'm thrilled to bring this all-new show back to the New Victory," he adds. "It's such an honor to perform in this historical theatrical and intimate gem. Last year, we had amazing times. Audiences were so great. With this new edition which mixes some of my signature stunts, there'll be a slew of surprises!"
One of them will be the Cowboy Chaos sequence, featuring a true legend of the Southwest and West: Bronx-born buckaroo AJ Silver.
New Yorkers have come to love Bello as a headliner of the Big Apple and Ringling Bros. circuses; and from daredevil events such as his (literally) flying through the air on a trapeze, hanging by his gigantic clown shoes, hung under a helicopter across New York Bay and the Statue of Liberty; his daring repel off Madison Square Garden, amid stunned passersby and which created a gigantic traffic snarl; and his wire walk over Lincoln Center Plaza and its fountain from the Koch Theatre to Avery Fisher Hall.
People are always amazed that during all these madcap adventures, there's never a hair out of place on Bello's do, to which he jokes, "It must be the Viagra in my shampoo!"
Bello Mania is a family affair. It's co-written and directed by Bello's wife, Jennifer, with daughter Amariah as the stage manager and daughter Annaleise, who's following in her father's footsteps to become an eighth-generation performer born to a family of daredevils, ballerinas, equestrians, and opera singers. Bello also designs and builds his stunt riggings.
The ageless daredevil clown was born Demetrius Alexandro Claudio Amadeus Bello Nock in Florida, a descendant of the family that founded Switzerland's Circus Nock in the 18th Century. He's been performing since age three when he was the baby on the burning house in Disney on Parade's Dumbo's Circus. At 6, Bello toured as Michael Darling in Peter Pan, starring Cathy Rigby. Bello first captivated audiences high, high, high up into circus tents at 15, performing with his family troupe, the Nerveless Nocks, on sway poles.
Bello is the most honored modern day circus celebrity. He's amazed over 40 million people worldwide with his performances over the last decade. The youngest person ever inducted into the Circus Ring of Fame, Bello has been awarded Monte Carlo's Silver Clown, one of circusdom's greatest honors; Switzerland's Gold Lion; France's Prix Special twice; and, among numerous honors, won the Walt Disney Award for Creative Entertainment.
In 2013, he entered the Guinness World Book of Records for the first ever high wire walk over a cruise ship at sea. He's worked the great circuses of the world and in 2007, as a Ringling Bros. star became the only person in the company's history to have a production named after him, Bellobration.
Bello Mania also features host Matthew Morgan and performer Andrew Pratt. Steve Curtis is safety and technical director, with David Miller as set designer and Eric Winterling and Kay Torralva as costume designers. Guido Naus is musical director.
Tickets are $14 - $38 [$9 - $25 for New Victory members] and available at the box office, online at www.NewVictory.org [service fees apply], or calling (646) 223-3010. Purchase tickets to three or more current season shows and receive free membership and up to 35% savings on tickets. Visit the web site for performance schedule and more information.
Looking for Free Group Planning Services?
Get free advice on planning your group's trip to New York.
RESTAURANTS

Conveniently located in the Port Authority Bus Terminal, the...

THEATER

Kander and Ebb's "musical vaudeville" in which Roxie Hart ga...

SHOPPING

Specializing in the great vineyards of California, France, A...

SIGHTSEEING

Manhattan's premier all-glass, European-inspired dining crui...