Best Under the Radar Museum Exhibits This Fall in NYC
October 27, 2017 - by Merrill Lee Girardeau
Autumn in New York is prime time for a stroll through a museum. But if you've already hit the obvious candidates (MoMA, the Met), or just want to try something a little different, visit one of these lesser-known museums to engage your brain and inspire wonder. Whether you're a history buff, an art lover, or just want to eat some Chinese food in a museum (yes, that's real), look below for some alternative exhibitions you're sure to enjoy this season.
"uptown: nasty women/bad hombres" at El Museo del Barrio

To engage in the current political and social climate, El Museo del Barrio has gathered the work of over thirty artists from the Barrio and other Hispanic neighborhoods in New York. These videos, textiles, paintings, and works of poetry all respond powerfully to the tumultuous state of our nation. Through Nov. 5. 1230 Fifth Ave., 212-831-7272, elmuseo.org
Beyond Suffrage at the Museum of the City of New York

Beyond Suffrage: A Century of New York Women in Politics at the Museum of the City of New York explores the Women's Movement in the state of New York, from the suffrage movement that culminated in the Nineteenth Amendment to the present day. Through rare artifacts, archival video footage, and documents, you'll discover the strides women have taken for equality and justice in the past—and what the movement looks like today. Through July 22, 2018. 1220 Fifth Ave., 212-534-1672, mcny.org
Expedition at the Museum at FIT
This fall, the Museum at the Fashion Institute of Technology in Chelsea presents Expedition: Fashion from the Extreme. This exhibition displays garments designed with extreme-weather fabrics and functions, from cold-weather puffer coats to underwater Mylar jumpsuits. The collection seeks to explore how extreme expeditions around the world and beyond affected fashion design from the mid-twentieth century until today. You'll see designs by Junya Watanabe, Jean Paul Gaultier, and Alexander McQueen, among others. Sept. 15 through Jan. 8, 2018. Seventh Ave. at 27th St., 212-217-4558, fitnyc.edu/museum
FOLD at Museum of Chinese in America
This unbelievable sculpture exhibition comes from a difficult episode in American history, when nearly 300 undocumented Chinese immigrants were held in prison, starting in 1993. The paper sculptures some of them made during that time are collected in FOLD: Golden Venture Paper Sculptures, named for the ship that carried them to America. Through Mar. 25, 2018 at the Museum of Chinese in America. 215 Centre St., 212-619-4785, mocanyc.org
Patriot Nations at Museum of the American Indian
Patriot Nations: American Indians in Our Armed Forces is happening not only at the Museum of the American Indian in New York, but also in museums and other venues throughout the country. This important exhibition chronicles the participation of Native Americans in every military conflict in U.S. history. So if you don't catch this brief viewing in the city, don't fret; it might be coming to your hometown soon. Nov. 9-15. One Bowling Green, 212-514-3700, nmai.si.edu
Generation Wealth at the International Center for Photography Museum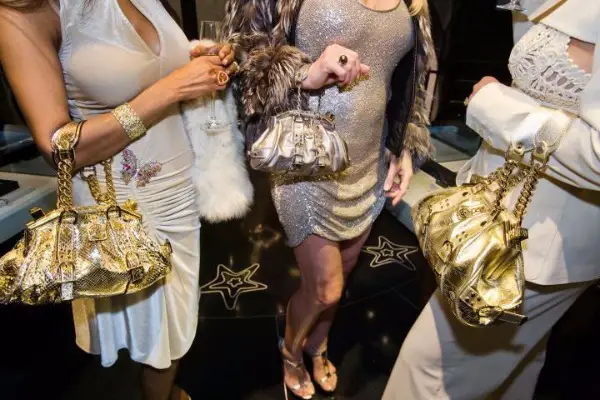 With previous work appearing in publications like The New York Times and Vanity Fair, photographer and filmmaker Lauren Greenfield has made a career of examining the role of wealth culture in America for decades. Like her celebrated documentary The Queen of Versailles, the 200-plus works at this exhibition take an uncompromising but not-unkind look at opulence, perfectly pictured in the image of two men with credit cards stuck to their hand and fanning some Benjamins at Greenfield's camera. At the International Center for Photography Museum through Jan. 7, 2018. 250 Bowery, 212-857-0000, icp.org
Treasure in the Trash at City Reliquary
Using art, activists, and real-life trash from New York City, City Reliquary in Brooklyn invites you to consider the history and implications of garbage. Selected photographs will show you how waste from tenements was handled in the early 20th century, the development of landfills, and how the Department of Sanitation manages NY trash today. There will also be selected materials from Nelson Molina's unofficial "trash museum" and considerations of environmental responsibility from local nonprofits. Nov. 2 through Apr. 29, 2018. 370 Metropolitan Ave., 718-782-4842, cityreliquary.org
CHOW at the Museum of Food and Drink

Brooklyn's new MoFAD offers exhibits for your sense of taste and smell, as well as sight. Come check out CHOW: Making the Chinese American Restaurant, where you can learn about the evolution of Chinese restaurants in America and taste some yummy creations—including one-of-a-kind fortunes from the fortune cookie machine—along the way. 62 Bayard St., 718-387-2845, mofad.org
Looking for Free Group Planning Services?
Get free advice on planning your group's trip to New York.
RESTAURANTS

Multi-concept restaurant offering modern Japanese cuisine, a...

THEATER

In a heartbeat, 38 planes with 6,579 passengers were strand...

SHOPPING

PANDORA, one of the leading names in jewelry for more than 3...

SIGHTSEEING

This renovated museum complex includes the 900-foot-long air...