"Look to the cookie," Jerry Seinfeld once said.
Yes. Black and white. Yin and yang. Chocolate and vanilla. It's a classic combination, and nothing brings the two together better than a New York black and white cookie. It's decadent, harmonious, and, in a word: delicious. But for such a simple treat, there's a high margin for error. A "just okay" example won't cut it. You deserve the best black and white cookie the city has to offer. After extensive sampling, we've compiled this list of where to find the ones that are worth a trip.
Amy's Bread
672 9th Ave., 212-977-2670, amysbread.com
A cookie that defines fresh, the black and white from all three locations of Amy's Bread is the cream of the crop. With a smooth and slightly snappy fondant, the cookie stands out by being more moist than others. It has hints of lemon and egg, which makes it taste better a few days old than the competition's does. The vanilla is sweet and the chocolate is rich; it's simply a one-of-a-kind cookie.
Glaser's Bake Shop
1670 1st Ave., 212-289-2562, glasersbakeshop.com
One of the greats of the B&W scene, Glaser's is known as one of the kings of confection. Celebrating over 100 years of cookie making prowess, they give their cookies a little twist by using frosting instead of fondant. They are made daily with just a touch of lemon to slightly dampen down the sweetness. The mini size rings up at just $1.50; making it an affordable, unique pick.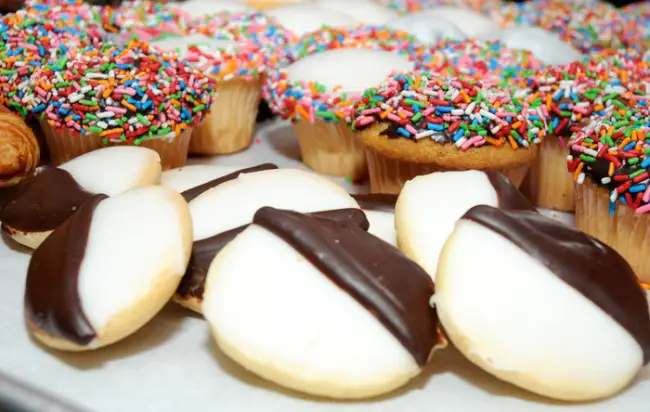 William Greenberg's Dessert
1100 Madison Ave., 212-861-1340, wmgreenbergdesserts.com
Talked about as often as Glaser's is William Greenberg's Dessert, another bakery offering both full-sized and mini versions of the cookie. Their go at the classic recipe involves a harder fondant, as well as a slight coffee taste for a little extra kick on the chocolate side. Each cookie is wrapped in plastic for maximum freshness and ease of transporting--which any visitor living west of the Mississippi will surely want to do.
Joyce Bakeshop
646 Vanderbilt Ave., Brooklyn, 718-623-7470, joycebakeshop.com
If refreshing is what you're looking for, then head to Joyce Bakeshop. Each cookie is individually wrapped to preserve the taste of each bite. Joyce uses an exclusive chocolate and vanilla frosting on every cookie. It's simple and irresistible. And yes, worth the subway ride to Brooklyn.
Crumbs Bake Shop
Locations throughout city, crumbs.com
Crumbs is a dessert giant. With so many locations, it makes it on this list primarily for ease of accessibility and a competitive price. Not to say that their black and white cookies aren't good. They are monstrous things, easily half an inch thick and swallowing a large hand, with creamy fondant. But the other entries are simply better: moister, richer, tastier. Yet if you're in the mood for a Black 'N' White and are passing by a Crumbs, you could do worse.