Late fall is bringing New York some cold winds, but along with the lowering of temperatures comes a range of warming chowders. Many of New York's chowder hotspots source their ingredients locally. Sample a few varieties by visiting our favorite spots in Manhattan for chowder.
Ed's Chowder House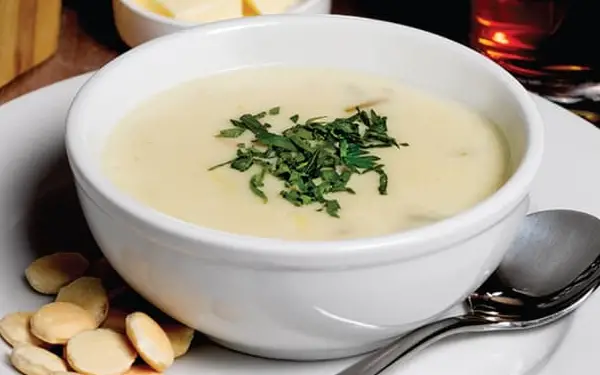 With a mission to "bring Montauk to the heart of Manhattan," Ed's Chowder House serves regional seafood in a contemporary space. An array of hot and savory chowders includes cornchowder, New England-style clam chowder, Manhattan-style blue crab, and the Chowder House's signature shellfish chowder. 212-956-1288, Empire Hotel, 44 W. 63rd St., edschowderhouse.nyc
Good Stock at UrbanSpace Vanderbilt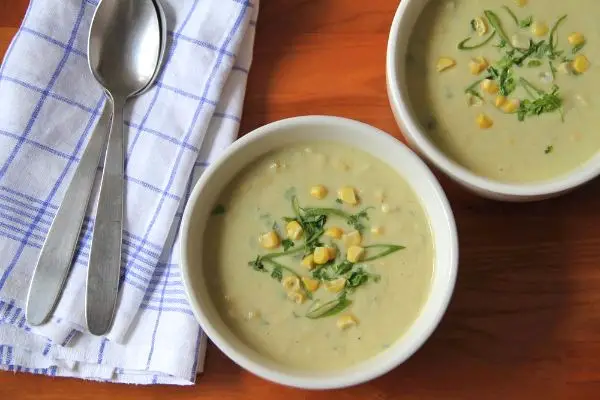 Located in the UrbanSpace Vanderbilt food hall, Good Stock mixes it up by introducing different soups daily. Menu offerings vary depending on which ingredients can be sourced and which varieties of produce are in season. "The Unknown Favorite" is a traditional cornchowder made with the remainder of sweet corn left over from this summer's abundant supply (offered for a limited time). Good Stock does good by working with edible Schoolyard NYC, which partners with public schools to transform the eating habits of young New Yorkers through garden and kitchen classes. One percent of Good Stock's sales are generously donated to the organization.
646-747-0810, 45th and Vanderbilt Ave., goodstocksoups.com
L&W Oyster Co.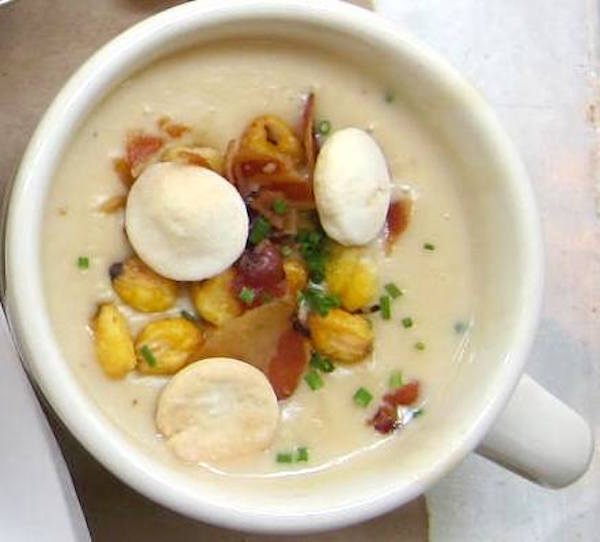 Opened in 2012, L&W Oyster Co. is a casual, cozy oyster bar that boasts an artisanal, market-driven menu. It features modern and classic takes on raw foods, as well as those that are cured, smoked, steamed, or fried. Menus change daily, but chowder hounds will be lucky to catch the Brooklyn clam chowder, which entices foodies with the taste of Long Island clams, a splash of Brooklyn lager, and some cream.
 212-203-7772, 254 5th Ave., landwoyster.com/site
Luke's Lobster
Famous for its fresh catches, Luke's offers seafood straight from the source, prepared pure and simple, without fillers. As for chowders, it offers two decadent soups that are ideal for autumn. The menu includes a classic New England clam chowder, and a Lobster and CornChowder. Several locations are offered in Manhattan. 
212-387-8487, 93 E. 7th St., lukeslobster.com
Teremok
Boasting more than 300 locations in Russia, Teremok is renowned for its home cooking-inspired comfort food. As the weather cools off, warm up with some Uha—a classic Russianchowder made with house-cured salmon, carrots, soft cheese, and herbs. Topped with crackers also made in house, Uha is made to order in a small batch pot
. 917-472-7322, 358 Seventh Ave., teremok.com