Coffee, coffee, coffee. Like what seems like all the rest of the residents of New York City, I am highly addicted to coffee. NYC is all about high tempo. Caffeine surely helps to keep up with the city. Also, a good cup of coffee is flavorful and delicious. If you're new to New York City and you're not sure what spots to hit for your daily caffeine intake, check these recommendations out.


1. Zibetto Espresso Bar

With its several locations, you're bound to stumble upon one of these while sightseeing the city. Zibetto Espresso Bar has been around since 2006, and if you're one for the espresso, this store should be on your list of coffee shops to visit. Currently, you'll find Zibetto spread out in four different locations, all in Manhattan (and they do more than espresso: other coffees, pastries, and super-fresh light lunches are all on the bill of fare).
2. Kaffe 1668
I've talked about this place before but I'll mention it again, as it is a must visit if you're a coffee addict like me. The coffee is exceptional and the atmosphere wonderful. If you're looking to grab a coffee and have a sit-down, you should definitely make Kaffe 1668 a part of your list of places to visit. Also, if you're looking to just grab a coffee before sightseeing some more, the Greenwich location is close to both a big Barnes & Noble bookstore or The Mysterious Bookstore, which I think is worth a trip.
3. Everyman Espresso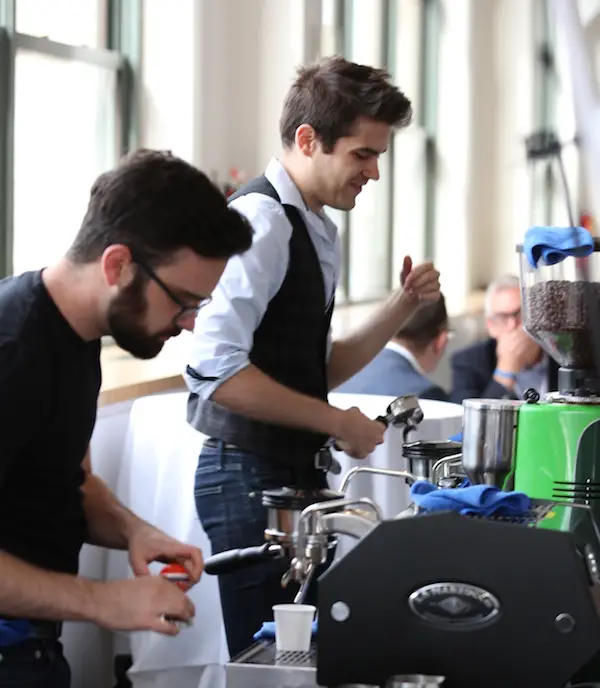 Another great coffee shop is Everyman Espresso. Located in the East Village, Soho, and Park Slope, this coffee shop has made its mark with the residents in New York City. Voted as having one of the best lattes in NYC by Grub Street this year, it is worth the visit. It is safe to say, order a latte.
4. Blue Bottle Coffee
If the weather permits it, go to Blue Bottle Coffee for an iced coffee. Specifically, the New Orleans ice coffee. While the other stores on this list have great iced coffee as well, there's nothing like the cool and smooth flavor that is the New Orleans ice coffee from Blue Bottle. You'll find them at several locations throughout the city.
5. Bluestone Lane
Australian style coffee in New York City? Don't mind if I do. With its several locations in Manhattan, you'll probably stumble upon one of Bluestone Lane's locations while sightseeing. And be happy you did, because you can get one cup of fantastic coffee to take with you when you leave.
---
About the author: Nina is the Engagement and Corporate Communications Analyst for RentHop, a national apartment rental site based in New York City. She moved overseas from Norway three years ago and has since been living and working as an expat in New York, enjoying everything the city has to offer.