Nothing Like a Dame: Conversations with the Great Women of Musical Theater [Oxford University Press; 384 pages; SRP $40; brief Foreword by Elaine Paige; Illustrated with various-sized B&W photos; Index; sales benefit Broadway Cares/Equity Fights AIDS] is a compilation of in-depth interviews done by Eddie Shaprio from 2008-2013 with the crème de la crème of leading ladies of the Great White Way – 20 of them – and a theater maven's dream come true.
Arts journalist Shaprio (co-author, The Actors Encyclopedia of Casting Directors, among others), in quite casual circumstances, get the ladies to talk. And do they! All receive a lengthy introduction in their chapters and a roster of roles. They tell tales, reveal the truth behind rivalry gossip, and speak quite boldly and frankly, offering – straight from the mare's mouth – insights into their iconic shows, the hits and the flops, changes on Broadway over their careers, how they approach their craft, and, oh, yes, dishing on co-stars, directors, and producers (and giving a couple of them a well-deserved shellacking).
Among the legends and award winners are Laura Benanti, Betty Buckley, Carol Channing (reflecting on how she revisited the same role generation after generation, and its effects on her career), Kristin Chenoweth, Sutton Foster, Judy Kaye, Angela Lansbury, Patti LuPone (she doesn't hold back even when speaking about her insecurities; she also takes you behind the scenes, where things aren't always as pleasant as you might think), Audra McDonald, Idina Menzel, Donna Murphy, Bebe Neuwirth, Chita Rivera, Elaine Stritch (cantankerous, outspoken, utterly charming, even a bit humble), Leslie Uggams, Lillias White, and Karen Ziemba.

Chapters are presented by the age of the actress, which gives an interesting continuity to trends in the theater. Not surprisingly, some of the elder stateswomen expressed the opinion that today's younger set aren't dedicated enough.


Nothing Like a Dame Events:

Shapiro will discuss how he approached his interviews February 10 at 7 P.M. at Barnes & Noble, 150 East 86th Street at Lexington Avenue. Guests include Judy Kaye, Lillias White, and Karen Ziemba. Free. Limited seating, so arrive early.
February 12 at Noon at the 92nd Street, 1395 Lexington Avenue, with guest Laura Benanti. Admission, $29. Book at www.92y.org.
Elaine Stritch Makes Rare Appearance to Discuss New Documentary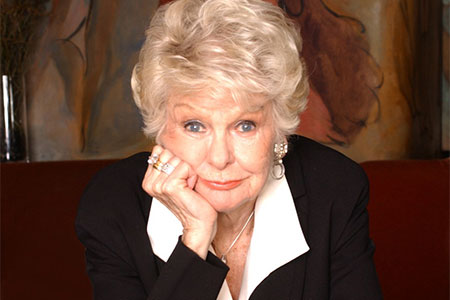 Unrelated to Nothing Like a Dame, but certainly worth noting, Broadway legend Elaine Stritch will make a very rare public appearance on February 17 at 7pm at the 92nd Street Y. She'll discuss her life and celebrated career with award-winning director Chiemi Karasawa, whose documentary Elaine Stritch: Shoot Me [Isotope Films] features the uncompromising Tony and Emmy Award winner. Archival footage and clips of Ms. Stritch on and offstage will be shown. There'll commentary by Alec Baldwin, Tina Fey, James Gandolfini, Cherry Jones, Nathan Lane, Hal Prince, John Turturro, and George C. Wolfe.
For those living in another galaxy, Ms. Stritch, known by all for her shyness, solitude, quiet demeanor, and love of all, has appeared in her award-winning one-woman show At Liberty, [where she told the truth and nothing but the truth, so help Elaine Stritch], Albee's Who's Afraid of Virginia Woolf and A Delicate Balance), Williams' Small Craft Warnings, Inge's Bus Stop; and in musicals such as Kern/Hammerstein's Show Boat [not the original, but a revival], Coward's Sail Away, Berlin's Call Me Madam, Rodgers/Hart's Pal Joey, and Sondheim's Company, in which she created the role of Joanne, unleashing her timid personality to bring the house down with a still quite memorable "The Ladies Who Lunch." Recent TV includes her recurring role on 30 Rock as Jack's sweet and docile mother.
Tickets for this don't-miss event are $29-$36 and $15 for those 35 and under. Purchase at the 92Y box office, online at 92y.org/Event/Elaine-Stritch.aspx, or by calling (212) 415 -5500.
Also in print:
Anything Goes: A History of American Musical Theatre [Oxford University Press; SRP $30; No photos; 360 pages, 32-page discography, Index] by Ethan Mordden, often hailed as the "preeminent historian of the American musical." He approaches the age of musicals from the '20s-'70s as a grand revue, writing in his famous scholarly and conversational (yet witty) style. He takes readers into the rarified world of composer/genius (and all-around nice guy) Sondheim as the master somehow relented and allowed Mordden to observe him composing at the piano; to the bare rehearsal room as the cast of the original Oklahoma! changes history by psychoanalyzing the plot in the greatest of the musical's many Agnes DeMille "dream ballets"; and, among other fascinating moments, transports readers back to the opening night of Herbert's The Red Mill and a visit with Porgy and Bess.

In the process, Mordden examines not only the music, but also the role of the star (such as Ethel Merman) and the evolution of dance through the ages all the way to Fosse's ground-breaking innovations.
Also available:
Backstage Pass to Broadway: True Tales from a Theatre Press Agent [Heliotrope Books; Trade Edition SRP $18, 192 pages; illustrated with unpublished photos from the author's collection] by one of theater's leading press agents, Susan L. Schulman, who takes us, as only an insider could, from producer meetings, through Shubert Alley, into stage doors, backstage, the dressing rooms of stars in hits and train wrecks, rehearsal, and onstage where magic is created: a glamorous world where there's little glamour and lots of blood, sweat, and tears – not to mention shenanigans, one-upmanship, and back-stabbing.
Schulman pulls back the curtain to give the Bacall, (the sweet) Brynner (so dedicated to his craft and his fans), Glenn Close, Fosse, Penny Fuller, the legendary Julie Harris, KHepburn, Kevin Kline, Andrea McArdle of Annie fame, Martin, Merrick, Mostel, Robert Preston, Vanessa Redgrave, George C. Scott, the genteel Marian Seldes, Alexis Smith, Sondheim, songbird Margaret Whiting, dancer/choreographer Edward Villella, Henry Winkler, that gal who can out hoof the hoofers, Karen Ziemba, and others.