Chef Thomas Keller's Bouchon Bakery at Rockefeller Center now offers a casual outdoor dining experience that embodies the vibrancy of Rockefeller Center coupled with classic bakery selections. Bouchon Bakery is located at One Rockefeller Plaza on 49th Street between 5th and 6th Avenues, and features a special Combo Menu available from 12:00 p.m. to 3:00 p.m. and an à la carte menu from 3:00 to 7:00 p.m. every Saturday through Thursday this summer.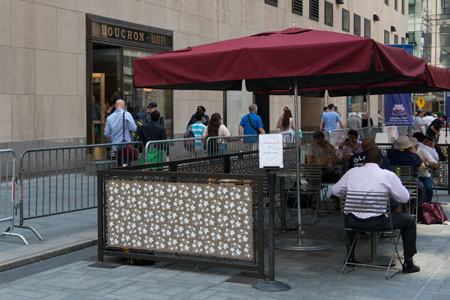 "Out is in, especially with the summer concert series and other seasonal activities buzzing around the Plaza," said Alessandra Altieri, General Manager and Pastry Chef, Bouchon Bakery at Rockefeller Center. "Our guests, whether on their lunch break or on vacation, can now enjoy the energy of Rockefeller Center while dining alfresco with our outdoor menu."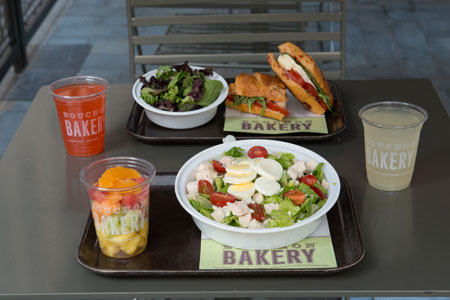 Bouchon Bakery's Combo Menu features their most popular sandwiches, salads and quiche, paired with a drink and/or a side or dessert of choice. The sandwich options include classic Bouchon Bakery favorites such as the Ham & Cheese Baguette, Tuna Niçoise and Chicken Salad. Salad choices include the Garden Salad and Chefs Salad, and a specialty quiche du jour. Available side options are soup du jour or San Marzano tomato soup, a side salad, farro salad, fruit cup and North Fork potato chips.
For guests who choose to dine after 3pm, Bouchon Bakery offers an à la carte menu featuring soups, salads and quiche du jour, in addition to the bakery's Equator Coffees, as well as an array of American favorites including chocolate chunk, oatmeal raisin cookies and traditional French pastries such as madeleines and macarons.
Visit bouchonbakery.com for more information.