POP STAR JASON MRAZ JOINS THE CAST OF WAITRESS

Making a 10-week detour from concerts and recording sessions, two-time Grammy Award winner Jason Mraz is making his Broadway debut in the hit musical Waitress. The multi-platinum recording artist will be be playing Dr. Pomatter, aka OBGYN/love interest to Jenna, a small town expectant, pie-making virtuoso/waitress, who's treading water in an abusive marriage buoyed by her fellow servers and oddball regulars.
For the record, Mranz is no stranger to the Tony and Grammy-nominated Waitress score, having recorded "Bad Idea" and "You Matter To Me" with show composer/singer Sara Bareilles on her Top 10 album "What's Inside: Songs From Waitress."
As for time frame, Mranz—who broke pop-music records with his song "I'm Yours" and boasts all kinds of U.S. and international platinum or multi-platinum recording cred—will begin his run at the Brooks Atkinson Theatre opposite Betsy Wolfe (Falsettos; Bullets Over Broadway) beginning Friday, November 3rd.


P.S. On October 30th, Waitress will be featuring a special Monday performance (7pm curtain) with Cast Album Karaoke.
---
MEAN GIRLS PREVIEW DAY: "SO FETCH!"
Photo: Jenny Anderson

Opening night on Broadway for the new musical adaptation of Mean Girls, based on the film—the 2004 teen cult comedy starring Lindsay Lohan—may not be giggling its way onto Broadway until March 12th, but it already managed to make a debut of sorts on October 3rd when "Mean Girls Day" kicked off early ticket sales.
Die-hard fans of the flick arrived at the August Wilson Theatre for the explosively pink preview event serving up cheese fries, swag bags, and a surprise celebrity appearance by screenplay and musical writer, nine-time Emmy winner Tina Fey (30 Rock).
Pre-Broadway, the show—starring up-and-comers Erika Henningsen as Cady Heron, Taylor Louderman as Regina George, Ashley Park as Gretchen Wieners, Kate Rockwell as Karen Smith, Barrett Wilbert Weed as Janis Sarkisian, and Grey Henson as Damian Hubbard—will make its world premiere at the National Theatre in Washington D.C. (10/31 to 12/3).
As for Mean Girls on Broadway, to ensure your totally must-have tickets, visit meangirlsonbroadway.com.
---
ONCE ON THIS ISLAND: OPTIMISM IN THE HEART OF DESTRUCTION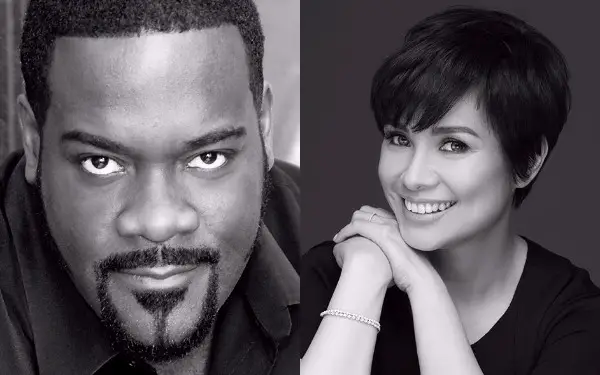 Once on This Island, with its storm-ravaged Caribbean village, will cut deep for theatregoers as they draw parallels to this year's horrific hurricane season and its painful ongoing aftermath. Yet in the end, this Romeo and Juliet musical revival laced with fantasy offers music, dances, and a message of hope—qualities that make this production a potential standout in the season's formidable cluster of new musicals.
The cast is made up of several prized Broadway performers, including Tony winner Lea Salonga, who originated the role of Kim in the original production of Miss Saigon to rave reviews and standing ovations, and Tony nominee Phillip Boykin, whose striking performance as Crown in Porgy and Bess opposite Audra McDonald still haunts me. As for the storyline, it juxtaposes star-crossed lovers with powerful island gods—including Erzulie, played by Salonga—and "the timeless power of theatre to bring us together, move our hearts, and help us conquer life's storms."
Previews for Once on This Island begin November 9th; for tickets visit onceonthisisland.com.