From Broadway to Lincoln Center to Central Park and beyond, NYC is amping up for its sunniest of seasons with a city full of stars (the 67th Annual Tony Awards on June 9th being the official jumping-off showcase), new productions, and a smattering of intoxicating surprises.

HOT TICKETS/LIMITED RUNS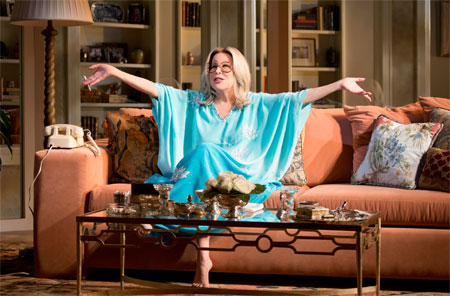 Midler as Hollywood superagent Sue Mengers. Photo: Richard Termine


If you're a Broadway fan with your heart set on checking out Tom Hanks in Lucky Guy and/or the dream team pairing of Jessica Hecht and Judith Light in The Assembled Parties, you'd best get into the ticket groove ASAP since all three plays will be ending their limited runs by early July. You might also want to step up your game plan leading up to late June/mid July as two of the finest tour de force productions are slated to pack up their VIPs and head back to Hollywood. I refer, of course, to I'll East You Last: A Chat With Sue Mengers, starring Bette Midler (closing 6/30); and Macbeth (extended through 7/14), with Alan Cumming in a staggeringly brilliant multi-role performance that I plan on seeing as many times as possible before it closes.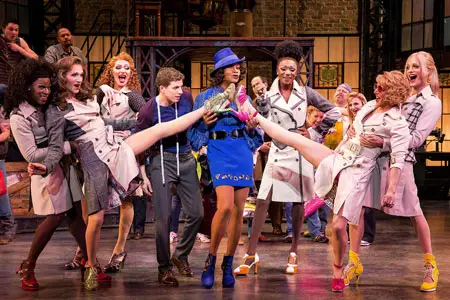 Kinky Boots' Stark Sands, Billy Porter, The Angels (L-R: Kyle Taylor Parker, Charlie Sutton, Joey Taranto, Kevin Smith Kirkwood, Paul Canaan, and Kyle Post), and cast. Photo: Matthew Murphy
And while all the above are plays, getting seats for one of the season's musical dazzlers will be, I assure you, a Wicked/Lion King/Book of Mormon-size challenge. Kinky Boots, with its book by Harvey Fierstein and music by Cyndi Lauper; Matilda, which arrived on U.S shores with Bertie Carvel as "the Trunchbull" and scads of London Olivier Awards under its belt; and Pippin, an eye-popper if ever there was one, featuring killer performances by Broadway vets Andrea Martin, Terrence Mann, Charlotte d'Amboise and Patina Miller (the latter in the role of Leading Player, originated by Ben Vereen).

A VERY BIG DEAL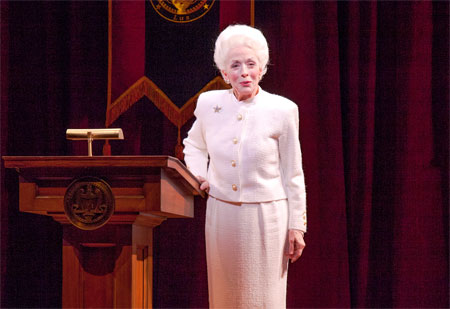 Holland Taylor in Ann. Photo: Ave Bonar

Ann, the hit Broadway show about former Texas Governor Ann Richards currently gracing Lincoln Center's Vivian Beaumont stage, is campaigning for the male vote in an almost "too good to be true" (but it is!!) way. This solo must-see—written and performed by Emmy-winning actress Holland Taylor (Two and a Half Men)—is seducing the testosterone set by inviting women to "bring the man in your life for free" to any 8pm Wednesday night performance through August 18. When you purchase your tickets by phone, online or in person, all you have to do is cite the official "man-date code": ANNYBYM1. I've seen it... Taylor is feisty and fabulous... and my husband loved it as much as I did. Enough said: go for the red, white, and blue!
AT THE DELACORTE: THE COMEDY OF ERRORS
The Public Theater's free Shakespeare in the Park kicks off its 2013 season with one of the Bard's most off-the-wall comedies -- the one where he juggles two sets of mismatched twins in a circus tent of endlessly hilarious mistaken identity shenanigans (both verbal and physical). Starring Jesse Tyler Ferguson (Modern Family) and Hamish Linklater (The New Adventures of Old Christine), the show begins previews on May 28 and runs through June 30 in Central Park's Delacorte Theatre.
shakespeareinthepark.org

BET YOU DIDN'T SEE THIS COMING...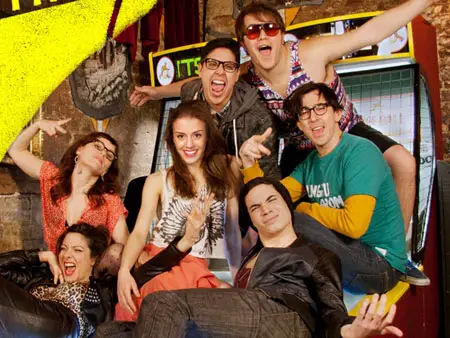 F#%king Up Everything (obviously for adults and/or teens with liberally raucous parents) delivers musical comedy hysteria that has critics singing its catchy score in tandem with high praise. High-octane with more than a little indie rock pulsing through its edgy fabric veins, FUE is the brainchild of writer/composer David Eric Davis, co-book writer Sam Forman and puppet designer David Valentine (guest puppet appearances include Noam Chomsky, the Cure's Robert Smith, Iggy Pop, and Def Leppard's one-armed drummer, Rick Allen). As for the cast of non-puppet actors, suffice it to say they are all amazing in their rad humanoid way. FUEonstage.com