Movies and television might provide hefty paychecks and global exposure, but that's not stopping dozens of stage and screen A-listers from showing up on New York City stages this fall to indulge their love of performing before a live audience on Broadway.
Riding the crest of the first wave of new Broadway previews is Orlando Bloom — far from both Middle Earth and Disney's swashbuckling Caribbean — in his Broadway debut, playing Romeo to two-time Tony nominee Condola Rashad's (Stick Fly; The Trip to Bountiful) Juliet in the first Broadway revival of Shakespeare's Romeo and Juliet in more than three-and-a-half decades. Set within a racially charged hot zone, this new production infuses the Bard's text with powerful contemporary relevance and must-see stature.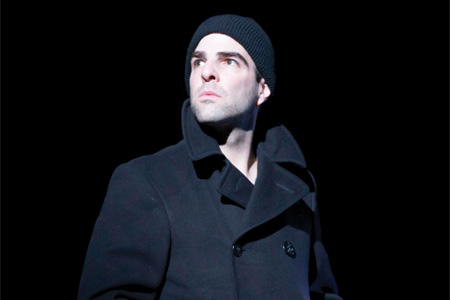 Also making his Broadway debut in September is Zachary Quinto (Star Trek; Heroes) in the American Repertory Theater's acclaimed revival of Tennessee Williams' The Glass Menagerie. Critically lauded for his portrayal of Tom, he shares the stage with Broadway legend Cherry Jones, who plays Amanda, his lapsed Southern belle mother who is determined to find a husband for her shy and physically-challenged daughter Laura (Tony nominee Celia Keenan-Bolger).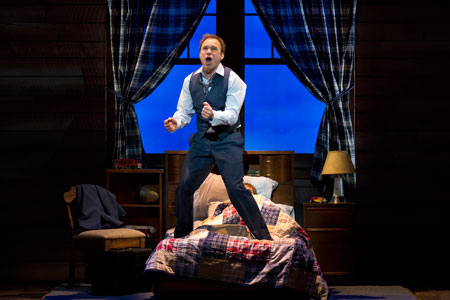 Paul Kolnik
Speaking of Broadway super-draws, I'd be remiss if I didn't mention the cast of the new musical Big Fish (currently in previews for an 10/6 opening): two-time Tony recipient Norbert Leo Butz (above; Dirty Rotten Scoundrels) and Tony nominees Kate Baldwin (Finian's Rainbow) and Bobby Steggert (Ragtime) — all under the direction of five-time Tony winner Susan Stroman (The Producers). To read a special interview with original author Daniel Wallace and screenwriter John August, click here.
The September/early October celebrity procession continues with Roundabout Theatre's revival of The Winslow Boy (previews start 9/20) starring Roger Rees, Mary Elizabeth Mastrantonio, and Michael Cumpsty; A Time to Kill, the first John Grisham novel to migrate from cinema to stage with a company led by Tony winner Tonya Pinkins and Tom Skerritt (another screen notable making his Broadway debut); and The Snow Geese, a WWI family drama starring Tony and Emmy winner Mary-Louise Parker.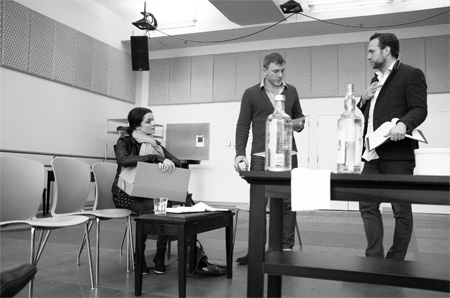 Weisz, Craig & Rafe Spall. Photo: Brigitte Lacombe

Then, of course, there's Betrayal (sharing an 10/1 preview date with The Snow Geese). This revival of Harold Pinter's Olivier-winning drama — directed by Mike Nichols, no less — stars Oscar winner Rachel Weisz alongside real-life husband Daniel Craig.
And just in case you're open to a little future temptation, the star count will be rising as the season progresses to include Billy Crystal, Ethan Hawke, Mark Rylance, Billy Crudup, Patrick Stewart, and Ian McKellen on the Great White Way, while Off-Broadway will be hosting Blythe Danner, Sarah Jessica Parker, Jeff Goldblum, Laurie Metcalf, Ed Harris, Bill Pullman, Betty Buckley, William Hurt, Jennifer Tilly, and others… but perhaps I've disclosed too much. Check back in October for the full scoop.

ON THE MOVE…
The two-actor/70-character thrill ride through the heart, soul, and funny bone of Manhattan known as How to Be a New Yorker is reopening at Planet Hollywood Times Square on 9/20 after a one-month hiatus. Written and performed by Margaret Copeland and Kevin James Doyle, the show teaches dubious tourists and dyed-in-the-wool New Yorkers alike all they need to know to fit into the City That Never Sleeps.

COVERING THE BASES
From the creative team that lit a fire under sports fans on Broadway via Lombardi and Magic/Bird comes a limited-run Off-Broadway premiere: Bronx Bombers. Zeroing in on baseball's New York Yankee franchise — from management to the iconic procession of players that graced the Bronx diamond (Ruth, Gehrig, DiMaggio, Mantle, Jackson, Jeter…) — the cast includes Emmy winner Joe Pantoliano as Yogi Berra and a collection of first-rate Broadway veterans. The show, which runs 9/17 through 10/19, pretty much ushers in this year's World Series on 10/23 — gotta love the timing!