Breaking news from the theatrical trenches: Broadway and Off-Broadway are basking in a banner season with 2013's dog day hotbed of high-impact family-fabulous shows—including both established hits and theatrical newbies. Must-see advisories are in effect!
Shows that can leapfrog over almost any generation gap are best-sellers in the Big Apple, so let's take the alphabetical route, beginning with Broadway: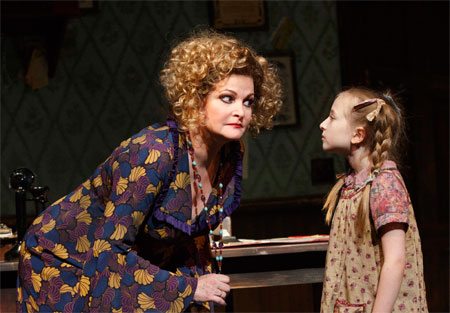 Faith Prince and Emily Rosenfeld. Photo: Joan Marcus
Annie - Going super-strong since it debuted last fall, the musical revival has recently added a new lead meanie, aka Miss Hannigan: Faith Prince (who cut her villainess teeth a few years ago playing Ursula in Disney's The Little Mermaid).


Cinderella - Magic, romance and a smattering of human rights arrive wrapped in satin, chiffon and glitter in this gorgeously remastered Rodgers and Hammerstein version of Charles Perrault's 17th-century fairy tale.
The Lion King - Still one of Broadway's most coveted tickets after 15 years and counting. Book early and get ready to fall in love with this reimagining of Disney's animated classic for the musical stage.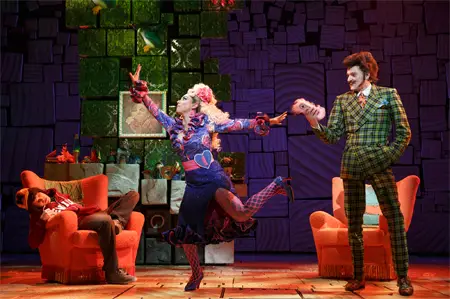 Matilda's Taylor Trensch, Lesli Margherita, and Gabriel Ebert. Photo: Joan Marcus
Matilda the Musical- As the Brits would say, "Brilliant!" This perfectly awesome adaptation of Roald Dahl's classic is one you won't soon forget. Kids and former kids are simpatico to the whole production, from the ingenious storyline, to the pitch-perfect costumes, to the hilarious celebration of nefarious adults getting their comeuppance.
Newsies - Disney's most recent conquering heroes—with turn-of-the-20th-century newsboys dancing from showstopper to showstopper—has a special appeal to preteen and teenage girls. So leave the wee ones with the sitter and let your underdog-vs.-the-establishment flag fly.
Spider-Man, Turn Off the Dark - Ah, the allure of a superhero duking it out with a super-villain high above the audience! Toss in teen angst 101 and mind-blowing special effects and you've got yourself a sure-fire crowd-pleaser.Wicked
Wicked - Oz from a whole different perspective, and one of the toughest tickets to score on the Great White Way. But make the effort, as this one's magical in every sense of the
Meanwhile, Off-Broadway is no slouch when it comes to delivering the family-friendly goods, with many shows custom-made for the very young, yet still offering plenty of grown-up appeal.
Blue Man Group - The cobalt trio is keeping it fresh (in every sense of the word), as well as messy, interactive and way funny.
Gazillion Bubble Show - One of the best long-running shows for little ones ever thanks to captivating bubble tricks you never dreamed possible. And thanks to the current "Next Generation" version, there's a dynamite laser show as well!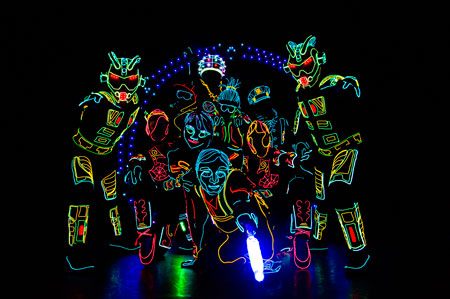 Photo: Charles Sykes
iLuminate - A new visual blockbuster in which dancers wearing high-tech light suits dazzle in audiences in the dark.
Peter and the Starcatcher - This very wonderful prequel to J.M. Barrie's Peter Pan is one of the most ingenious pieces of theatre to grace Broadway and Off-Broadway. (Incidentally, it has done both; its current open-ended run takes place at Off-Broadway's New World Stages.) I've seen it three times already and would happily double that count—the show is just that awesome. As for kid appeal, you just have to look around the audience to see how smitten the young crowd is—and I'm talking seven-year-olds to 16-year-olds. The present cast is as good as it gets with bonus points to the three current leads: Nicole Lowrance as Molly, Jason Ralph as Boy and Rick Holmes as Black Stache.
Potted Potter - A personal fave that squishes all seven Harry Potter books into a 70-minute parody/interactive laugh-a-thon (Quidditch match included!) via two off-the-wall Brits. (Thru 9/1)
Stomp - In this long-running hit, the beat goes on as dancer/percussionists make music via boxes, brooms, garbage cans and more unexpected surprises. Kids (ages 4 & up) find it irresistible.
Timmy the Great - This fast-paced kid-as-a-king world premiere is dubbed "A New Madcap Family Musical for Revolutionaries of all Ages..." (Thru 9/1)
Wanda's Monster The Musical - The demographic here is the rather-young-to-the-teeny-tiny with runaway imaginations that can veer toward scary. And oh boy, do these little ones love it—as do parents who totally enjoy the in-jokes, useful lessons and ultra-cool music. (Thru 9/8)