Here is everything you need to know about the Off-Broadway and Off-Off Broadway shows in NYC in 2023. Throughout Manhattan, Brooklyn, and Queens, Off- and Off-Off Broadway theatres present everything from the classics—plays and musicals—to cutting-edge experimental pieces, concerts, festivals, and immersive works.
As with Broadway, famous playwrights and actors gravitate here, and these stages have served as incubators for many Broadway shows, including the current hit Parade starring Ben Platt, and this coming fall's mounting of Merrily We Roll Along with Daniel Radcliffe.
In case you're wondering about theatre classifications, here's the basic formula:
         Broadway: 500 seats or more
         Off-Broadway: Between 100 & 499 seats
         Off-Off Broadway: Under 100 seats
Good to Know: The majority of Off- and Off-Off-Broadway shows have limited runs, but many extend their runs due to popular demand. With this in mind, be sure to check our listings for revised closing dates.
OFF-BROADWAY NEWS, VIEWS & REVIEWS
--Off-Broadway, Samuel Beckett's Endgame—helmed by director Ciarán O'Reilly—has extended its critically-acclaimed a second time, meaning it will now run through April 16th. No surprise here, as the hand-picked cast is one impressive troupe, from Tony-winner Bill Irwin (Who's Afraid of Virginia Woolf?; Fool Moon) to celebrated classical actor John Douglas Thompson (21 Bridges). Should you be a fan of Law & Order: SVU, you've probably caught episodes featuring Irwin, Thompson, and another Endgame performer, Joe Grifasi. As for the fourth member of the cast, Patrice Johnson Chevannes, you'll no doubt recognize her from her appearances in Undertow, The Marvelous Mrs. Maisel, and The First Lady.
FYI: Having seen Endgame at the Irish Repertory Theatre recently, I was struck by the brilliant theatrical juxtaposition of Irwin and Thompson. Inhabiting Clov and Hamm --two of Beckett's most believably absurdist characters in the most organic, funny, and heartbreaking ways -- the actors had me, and the rest of the audience, caught up in the dystopian servant-and-master headspace. Or, as O'Reilly and Irish Rep artistic director, Charlotte Moore note in the program, "What…emerges from the fissured cracks is the indomitable human spirit that continues to say in Beckett's immortal words: 'You must go on. I can't go on. I'll go on.'"
From L to R, Mia Barron, Rhys Coiro, Michelle Wilson, Will Harrison, and Jon Norman Schneider. Credit: T. Charles Erickson.
• Another not-to-be-missed production—The Coast Starlight—officially opened on March 13th at Lincoln Center's Mitzi Newhouse Theater. Infusing his script with a deftly spun of web of random interface between travelers on a long-distance train headed from Los Angeles to Seattle, playwright Keith Bunin reveals his people on a sliding scale of life trauma. They arrive in the train car one by one, with interior baggage—some crushing, some matter-of-fact – all more-weighty than any backpack, duffle, or briefcase.
It's a play set in tenses present and "what if", with provocative stream-of-consciousness thoughts that illuminate character but never make it into actual conversations. "I wanted to lean across the aisle and say…"—hypothetical back-and-forth's that stack like a Jenga tower until one key block is pulled and the dialogue crumbles into the unspoken… but too late, as we've already heard it and felt its emotional impact.
The production, under Tyne Rafaeli's exquisite direction, homes in on the script's poetic pragmatism, just as the cast—Will Harrison (whose character TJ forms the play's initial catalyst), Camila Canó-Flaviá (as Jane, an artists who draws animated cartoons), Rys Coiro (Noah, a former soldier), Mia Barron (as Liz, on the lam from a couples workshop), Jon Norman Schneider (Ed, a keyed up business dude), and Michelle Wilson (Anna who looks at TJ and says "I could tell right away that you were going through something awful. I hate to admit it, but it was such a relief that somebody was having at least as terrible a day as I was".
In the end, I came away feeling rather protective of these six characters… until we all disembarked into our assorted que sera sera lives.
• Heading downtown, I urge you to reserve tickets for War Dreamer currently playing at the wild project through March 25th. This original and compelling work by writer/co-director/sound designer Leegrid Stevens is a scorching melting pot of memory, dark humor, PTSD, and the mundane. The fulcrum character is Jesse, a veteran of the war in Iraq, back in the states, but hanging on by a tangled somnambulistic cord with a chokehold on her past, her mind and relationships vacillate between fact, fiction, and surrealism.
In the role of Jesse, Erin Treadway's constant presence onstage s pedal-to-metal in a striking performance that has her morphing from war zone to messy world and she now inhabits -- marriage, work, flash backs, and visits to a doctor whose advice devolves into: "Eat better and you start feeling better. Feel better and you start thinking better. Think better and, well… Anything can happen".
The overall production, from staging and lighting to sound and set (the latter, a study in multi-tasking genius that impressed me no end), features a strong supporting cast that includes Shawn J. Davis as Jesse's conflicted husband, E. James Ford as the doctor and two other roles, Sam Tilles as Jesse's sergeant in Iraq, and Miles Purinton, as both a soldier and Jesse's boss at WalMart. The role of daughter Alex, splits performances between three young actresses, Poppy and Rowan Luch, and the girl I saw in the role, Ruby Titus (very sweet), daughter of Stevens' co-director Jacob Titus.
• Letters from Max, a ritual, the production that launched MacArthur Fellow Sarah Ruhl's Signature Theatre residency, has extended its run through March 26th. The play, compiled from Ruhl's correspondence with her former student, the late poet Max Ritvo and adapted from their book together – "Letters from Max: A Poet, a Teacher, a Friendship" -- has allowed the playwright to translate theatre into her vision of a three-dimensional poem. "An unusual and inspiring thing about my friendship with Max is, he really pushed me to share my poetry. The gesture of opening my poetry to the audience is also a gesture of my having been affected by Max, very deeply."
Directed by Kate Whoriskey and starring Jessica Hecht, Ben Edelman, and Zane Pais, this singular labor of love fuses correspondence, poetry, dialogue, and music, to reach a beautifully theatrical crescendo.
--The Wanderers by Anna Ziegler, boasts a star turn by Katie Holmes who plays a movie star who puts a famous Jewish writer's marriage to the test – along with his belief that he can write his own future—when she sends him an email. The play, that debuted on January 26th at Roundabout Theatre Company's Laura Pels Theatre, is slated to run through April 2nd.
--In case you hadn't heard, Anthony Rapp's Without You, an intimate, memory-infused musical recently extended its run at New World Stages through June 11th. Based on his New York Times best-seller, the solo show, backed by a five-piece rock band, revisits Rapp's trajectory from Starbucks barista to mega-career-break-coup after he was cast in Jonathan Larson's groundbreaking Rent. The show also touches upon the legacy of loss that came with the Larson's death in 1996 at age 35—just prior to the show's first Off-Broadway preview. Notably, Without You features songs from Rent's score as well some of Rapp's original compositions.
--20-20 VISION: NYC's unparalleled bi-annual event that invites cost-conscious theatre insiders to binge with abandon on Off-Broadway is revving up for its first entrance of 2023. The Off Broadway Alliance (OBA) has officially earmarked March 20th to launch 20at20, in which participating Off-Broadway dramas, comedies, and musicals offer $20 tickets to theatregoers twenty minutes prior to curtain. The popular promo will continue through April 9th.
"Spring is here and 20at20 is back, offering the magical experience of great live theatre of the kind that Off Broadway is famous for," announced Peter Breger, OBA's president, adding, "These are innovative, intimate, nervy, playful shows that always take you by surprise and show you a good time. And… there's something for everyone". T
Participating shows (so far & in alphabetical order) are: Red Bull Theater's Arden of Faversham: A True Crime Thriller at the Lucille Lortel, Bereishit Dance Company's Balance and Imbalance/Judo at NYU Skirball, Cowboy at The Actors Temple, Keen Company's Crumbs from the Table of Joy at Theatre Row, Theaterworks USA's Crumbs from the Table of Joy at Theatre Row Dog Man: The Musical at New World Stages, Audible Theater's Drinking In America at the Minetta Lane, Drunk Shakespeare at The Garden at Selene, Easter Bunny HOP! Live at 53 Above, Fish In A Tree at Theatre Row, Friends! The Musical Parody at The Theater Center, GayLarious LGBT Laugh Festival at Broadway Comedy Club, Gazillion Bubble Show at New World Stages, Naked Boys Singing at AMT Theatre, Newsical The Musical at AMT Theatre, Perfect Crime at The Theater Center, Philip Glass & Phelim McDermott: Tao of Glass at NYU Skirball, Shake Rattle & Roll Dueling Pianos at The Cutting Room, Solo: A Show About Friendship at Soho Playhouse, Stranger Sings at Playhouse 46, The Little Mermaid The Musical at The Players Theatre, The Office A Musical Parody at The Theater Center, The Play That Goes Wrong at New World Stages, The Rose Room: Speakeasy at The Rose Room at Producer's Club, York Theatre Company's Vanities The Musical at Theatre at St. Jean's, The Very Hungry Caterpillar at The Daryl Roth Theater -DR2, and Walking With Bubbles at AMT Theatre. Additional shows to be announced soon. 20at20.com.
--And for kid-sized fun, March 4th marked (or barked!) the first New World Stages preview of Dog Man: The Musical—a must-see giggle-a-thon based on Day Pilkey's best-selling books. In this stage version by Emmy-winning writer (Peg + Cat) and one of my favorite character actors, Kevin Del Aguiia (book & lyrics), and Brad Alexander (music), the canine phenom wields his superpowers against evil cyborg fish Flippy and the devious cat, Petey and his equally devious clone. Rumor has it that even adults find Dog Man, his cohorts, and his wild musical adventures irresistibly hilarious.
FYI: 1) Mr. Del Aguila is currently courting laughs as loopy lover Osgood Fielding III in Some Like It Hot on Broadway and, 2) author Pilkey's latest, "Dog Man: Twenty Thousand Fleas Under the Sea", will be published by Scholastic before the month is out… 3/28 to be exact!
PLAYING OFF-BROADWAY & OFF-OFF BROADWAY, 2023
25th Anniversary MATA Festival (Roulette Intermedium, 509 Atlantic Ave., Brooklyn) Featuring small ensemble works performed by the Found Sound Nation Ensemble, a selection of hand-picked musicians that specialize in genres ranging from contemporary classical and experimental music to hip-hop, jazz, folk, and other traditional music from cultures around the world. 5/31 thru 6/3/23. (matafestival.org)
According to the Chorus (59E59 Theaters, Theater C, 59 E. 59th St.) In the basement quick change room of a Broadway theater in the mid-1980s, the chorus girls are at war with their dressers. Will the new dresser be able to navigate this minefield? A funny and nostalgic look at a pivotal period in the history of Broadway where women's issues and the AIDS crisis play out through the everyday lives of Equity performers and union dressers. 3/23 thru 4/15/23. (59e59.org)
The Acting Company's Louanna O. Carlin & John MacDonald Reading Series (Peter Jay Sharp & Mainstage Theaters, 416 W. 42nd St.) Three staged readings: Neil Bartlett's translation of Molière's The Misanthrope transports the court of Louis XIV to a Hollywood film studio (2/6); Billy Strayhorn: Something to Live For, is a musical about openly gay jazz innovator Strayhorn and his collaborations with Duke Ellington ( 3/6); and in Three Sisters (after Chekhov) playwright Mustapha Matura examines the question of cultural identity with three sisters living in Colonial Trinidad, 1941 (5/22). 2/6 thru 5/22. (theactingcompany.org)
Anthony Rapp's Without You (New World Stages, 340 W. 50th St.) Based on his bestseller of the same name, and backed by a 5-piece rock band, Anthony Rapp's acclaimed one-man musical is an intimate evening of unsurpassed joy and unspeakable loss as the actor recounts his real-life story that began in 1994 when he auditioned for a new musical by a young writer named Jonathan Larson—Rent. Thru 6/11. (withoutyoumusical.com)
Arden of Faversham (Lucille Lortel Theatre, 121 Christopher St.) Inspired by actual events, this sexy, bloody, darkly comic Elizabethan noir thriller of unknown authorship centers on Alice Arden and her lover, Mosby, who hire a cluster of killers to murder her husband. If only they weren't so spectacularly inept. 3/6 thru 4/1. (redbulltheater.com)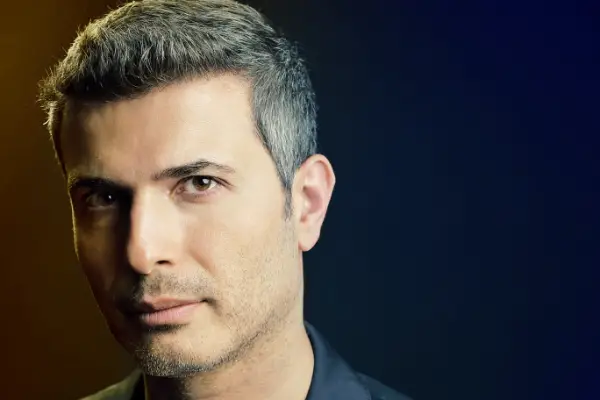 Asi Wind's Inner Circle (The Gym at Judson, 243 Thompson St.) (75 mins.) The moment audiences enter the intimate theatre space, they become a part of acclaimed magician Asi Wind's exhilarating, mysterious, and hilarious show. The unique setting intensifies the performance and creates a logic-defying experience: theatregoers not only witness the magic, they become the magic itself. Thru 5/28. (asiwind.com)
At The Illusionist's Table (The Hideout at Gallow Green, McKittrick Hotel, 530 W. 27th St.) Created and hosted by internationally acclaimed illusionist Scott Silven, this show features an evening of culinary delight interwoven with illusion, mentalism, and storytelling. Senses will appear to deceive as candles flicker, whisky pours, and conversation stirs throughout a three-course dinner filled with unbelievable illusions. Thru 4/2. (mckittrickhotel.com)
Balance and Imbalance/Judo (NYU Skirball, 566 LaGuardia Pl.) Drawing from many sources, including street dance and martial arts, the Korean Dance Company Bereishit Dance presents these two NYC premieres. Dancers seamlessly partner and then hurtle through space, employing the laws of physics to illustrate the constantly turning wheel of opposition and harmony at the heart of all relationships. 3/24 & 25. (nyuskirball.org)
Photo credit: Todd Cerveris.
Becomes a Woman (New York City Center Stage II, 131 W. 55th St.) Nineteen-year-old Francie lives with her family in Brooklyn while working at the sheet music counter of a five & dime store. Her co-workers describe her as afraid of her family, the boss, and dating. Still, she gets involved in a relationship that goes south, leaving her to pick up the pieces with a shocking display of independence and courage. 2/7 thru 3/18/23. (minttheater.org)
Being Mr. Wickham (59E59 Theaters, Theater B, 59 E. 59th St.) On the eve of his 60th birthday, Pride and Prejudice's most roguish gentleman, George Wickham (embodied by Adrian Lukis who played the role on the BBC TV adaptation), is primed to tell what happened 30 years from where we left him, along with his own version of famous literary events. What really happened with Darcy? Were his feelings for Lizzie real? What about Georgina and Lydia? 5/25 thru 6/11. (59e59.org)
Best Friends (Rattlestick Theater, 224 Waverly Pl.) Sophie, Tirzah & Lelly met in high school in the late 1960s and a life-long friendship was born. Now, 20 years later, when Lelly brings them together (to discuss "a matter of life and death") in an attempt to reconcile Sophie and Tirzah, who haven't spoken to one another for nearly two years. The friends are seen in all phases of their lives and friendship, with flashbacks throughout the years starting from their youth until their 40s. Performed in both English and Hebrew. 3/23 thru 4/2. (rattlestick.org)
The Best We Could (a family tragedy) (Manhattan Theatre Club at New York City Center—Stage I, 131 W. 55th St.) A daughter's road trip with her father becomes a theatrical journey across more than just state lines. This funny, wise, and heartbreaking debut from playwright Emily Feldman is directed by Daniel Aukin. 2/7 thru 3/26/23. (manhattantheatreclub.com)
black odyssey (Classic Stage Company, 136 E. 13th St.) This vibrant reimagining of the Odysseus saga, set in modern-day Harlem, tells the epic tale of Ulysses Lincoln, a soldier facing the most daunting of voyages to reunite with his family. While fate may seem in control of Ulysses' destiny, his ancestors and their buried history will help guide his journey home. 2/9 thru 3/26/23. (classicstage.org)
The Black That I Am (HERE Arts Center's Dorothy B. Williams Theater, 145 Sixth Ave.) Inspired by an original poem of the same name, Karl O'Brian Williams' play meditates on blackness, questioning themes of gender, sexuality, and nationalism. The show explores what it means to be Black, Jamaican, and a "foreign" immigrant—an experience that can be both empowering and disempowering. 3/17 thru 4/2. (braataproductions.org)
Bliss Street (Theater for the New City, 155 First Ave.) An indie rock band performs original music inspired by an iconic era in rock 'n' roll history, taking audiences back to NYC in the '70s and the famous nightclub the Coventry. Artists such as Kiss, The Ramones, and The New York Dolls debuted here. 4/19 thru 5/7. (theaterforthenewcity.net)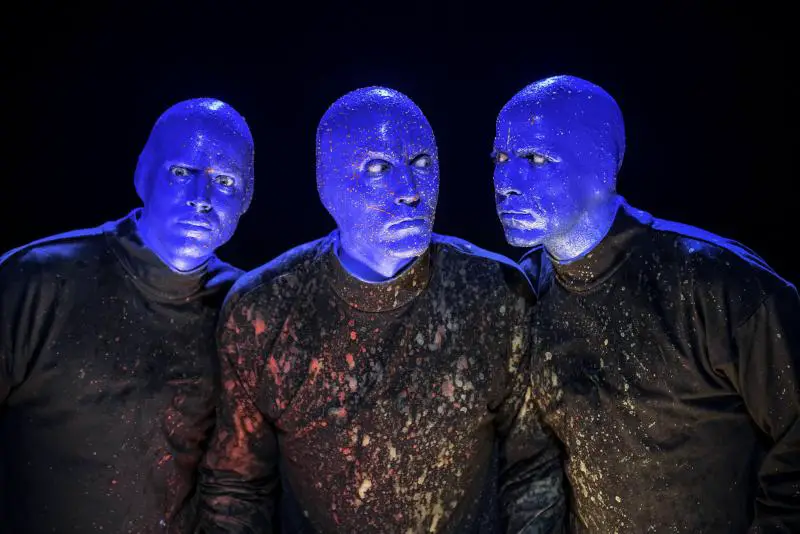 Blue Man Group (Astor Place Theatre, 434 Lafayette St.) (105 mins., no intermission) No plot, dialogue, or ripped from headlines drama, just a romp and a half orchestrated by three blue-hued alien dudes. This long-running Off-Broadway show and international sensation combines music, paint drums, snacks, high-tech hijinks, and unpredictable physical comedy. (blueman.com)
Breathless (59E59 Theaters, Theater C, 59 E. 59th St.) A funny, honest, and stylish exploration of the knife-edge of hoarding, from the joy to the addiction and suffocating shame. Opening up to new experiences in her late-30s, Sophie is exploring long repressed sides of herself. When a secret she's keeping from those she loves, and even from herself, threatens to unravel it all, she must make a choice. Who or what will she decide to give up?  4/18 thru 5/7. (59e59.org)
Bringer of Doom (Players Theatre, 115 MacDougal St.) With a surprise visit from her estranged, despised mother and her mother's young lover on tap, Lotte enlists an alcoholic ex-stand-up comedian, Demetrius, to brutally "roast" the maligned pair at dinner. As the night progresses, however, even darker ulterior motives come to light, and events take a madcap, morbid turn that nobody saw coming. 4/6 thru 4/23. (amttheater.org)
Broadway Barbara LIVE! Off-Broadway (SoHo Playhouse (15 Vandam St.) Broadway Barbara, the international entertainment titan returns to NYC in a glittering theatrical event packed with songs, stories, and a Fosse dance move or two. You won't believe your eyes (or ears) as Barbara over-shares her way through her life and career, with ribald showbiz tales and comedic interpretations of classic Broadway tunes. 4/9 thru 4/17. (sohoplayhouse.com)
Cassie and the Lights (59E59 Theaters, Theater B, 59 E. 59th St.) Three sisters in foster care wrestle with the question "Can kids be parents?", as they try to write the next chapter in their story. Based on real life events and interviews with children in foster care, the show incorporates live music and video projection to transport audiences between the adult realm and the fantastical world of childhood. 6/13 thru 7/2. (59e59.org)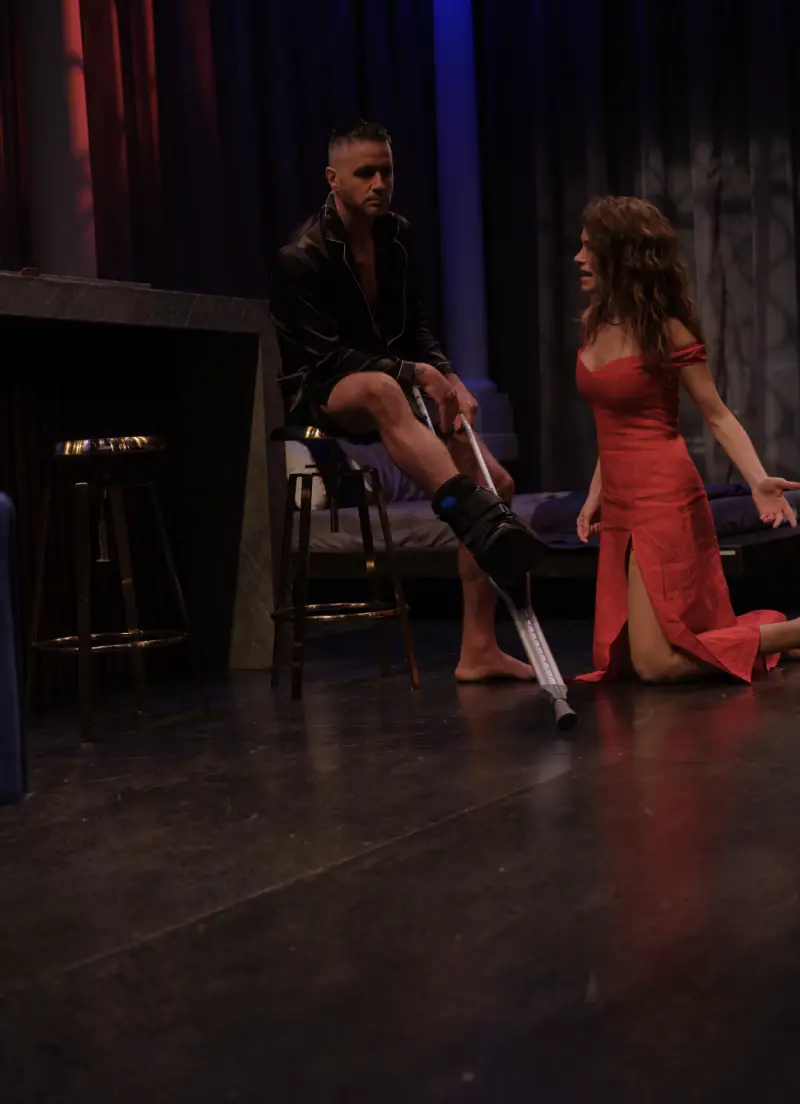 Photo by Max Bieber.
Cat on a Hot Tin Roof (Theatre at St. Clements, 423 W. 46th St.) Tennessee Williams's Pulitzer Prize-winning southern storm of a play returns to St. Clements after a successful run last summer. The provocative and controversial modern interpretation is set in the Mississippi Delta estate of Big Daddy Pollitt where it examines the dysfunctional relationships within the cotton tycoon's family—primarily the one between his son Brick and daugther-in-law, Maggie the Cat. 2/24 thru 3/31. (ruthstage.org/cat)
Cecil Beaton's Diaries (59E59 Theaters, Theater B, 59 E. 59th St.) The diaries of photographer and designer Sir Cecil Beaton come to the stage accompanied by his most iconic images. While the photos show his versatility, the diaries expose his inner turmoil for a blisteringly funny self-portrait of the 20th-century's most compelling dandy. Adapted and performed by Richard Stirling, the show includes "cameos" by the Queen Mother, Elizabeth Taylor, Audrey Hepburn, and Truman Capote. 5/2 thru 5/21. (59e59.org)
Chamber Magic (Lotte New York Palace, 455 Madison Ave.) Theatregoers, dressed to impress in cocktail attire, experience the mystifying artistry of Steve Cohen in an elegant and intimate salon within the legendary New York Palace. Recreating the up-close parlor entertainment of Manhattan in the early 20th century, Cohen conjures, mind-reads, and performs sleight of hand, along with a trick called Think-A-Drink. (chambermagic.com)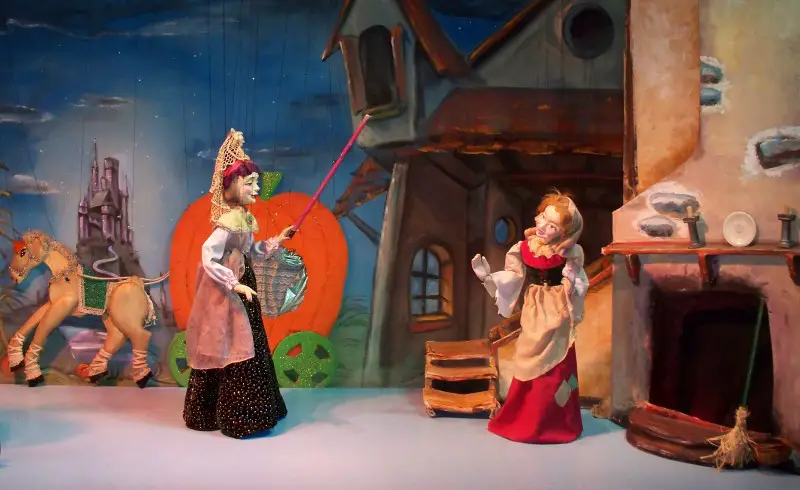 Cinderella (Puppetworks, 338 Sixth Ave., Park Slope, Brooklyn) This adaptation of the famous fairy tale includes a cast of hand-carved, wooden marionettes in costumes and settings of 18th-century France, including Cinderella's spectacular ball gown, the pumpkin coach, and French silhouette figures in a stunning ball-arrival sequence. Featuring the music of Jules Massenet. Thru 4/16. (puppetworks.org)
The Coast Starlight (Lincoln Center Theater's Mitzi E. Newhouse Theater, 150 W. 65th St.) In Keith Bunin's new play, a young man armed with a secret that can land him in terrible trouble boards the Coast Starlight, the long-distance train that runs from Los Angeles to Seattle. With the help of his fellow travelers, all of whom are reckoning with their own choices, he has roughly one thousand miles to figure out a way forward. Previews begin 2/16 for a 3/13 opening. (lct.org)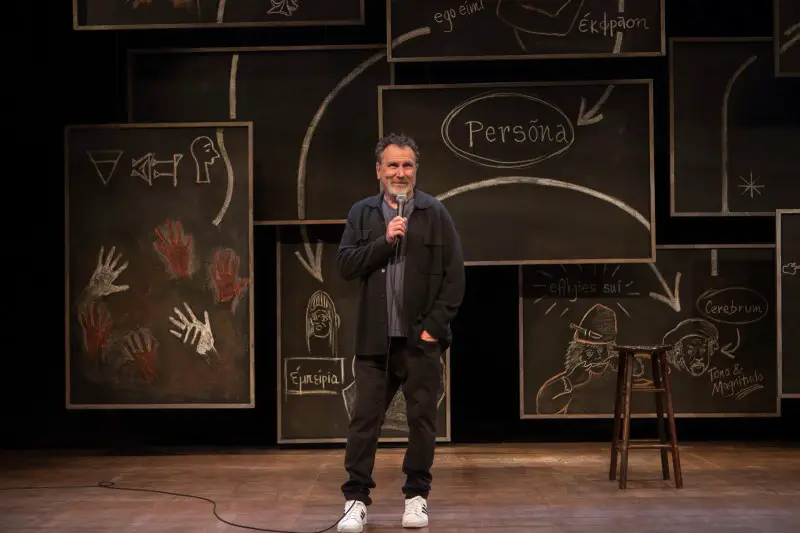 Colin Quinn: Small Talk (Greenwich House Theater, 27 Barrow St.) In his latest attempt at humor, Colin breaks down the one area he's actually gifted in: Personality. Mr. Quinn has been chatting it up with friends, family, municipal employees, and counter people for his whole life and now he can teach you how to stop sucking the energy out of the room. 3/30 thru 5/6. (colinquinnshow.com)
The Conductor (Theater for the New City, 155 First Ave.) Based upon the recall of three school board members accused of instituting a lottery system that would lead to a more diverse student body at one of San Francisco's elite high schools, playwright Ishmael Reed uses satire to explore the recall that pitted Asians against Asians, Blacks, and Latinos. 3/9 thru 3/26. (theaterforthenewcity.net)
The Cotillion (Mezzanine Theater, A.R.T./New York, 502 W. 53rd  St.) Presented in real time as a Black debutante ball in a large U.S. city with an all-Black-women cast, creative team & three-piece band, The Harriet Holland Social Club Presents The 84thAnnual Star-Burst Cotillion in the Grand Ballroom of The Renaissance Hotel (aka The Cotillion) explores the complexities of Black debutante ball culture and finds that beneath all the respectability politics and sweet serenades lie contradictions even quality make-up can't cover up. 5/3 thru 5/27. (newgeorges.org)
Photo by Maria Baranova.
A Crowded Field (Abrons Arts Center, 466 Grand St.) In their new standup show, comedian Morgan Bassichis uses humor and music to explore Jewish radicalism as they perform a crash course in the uses and abuses of the Jewish holidays. L'Chaim!? 3/31 thru 4/8. (abronsartscenter.org)
Crumbs from the Table of Joy (Theater Row, Theater 5, 410 W. 42nd St.) Pulitzer Prize winner Lynn Nottage's funny and moving play, set against the social politics of the 1950s, follows 17-year-old Ernestine Crump after the passing of her beloved mother. When her father relocates the family from Pensacola to Brooklyn, the Crumps must navigate a changing family dynamic, an unwelcoming neighborhood, and a shifting set of American ideals. Thru 4/1. (keencompany.org)
Darkness of Light: Confessions of a Russian Traveler (36th Street Theatre, 312 W. 36th St., 4th Fl.) Based on Alexander Kaletski's semi-autobiographical novel, the play follows Nikolai Rodnin, a Russian painter and Soviet Defector, chronicling his sexual relationships with women throughout his life. Fighting not to lose his artistic soul, Nikolai travels around the world, while facing the pull to return to Moscow and finish what he started. 3/30 thru 4/16. (darknessoflight.com)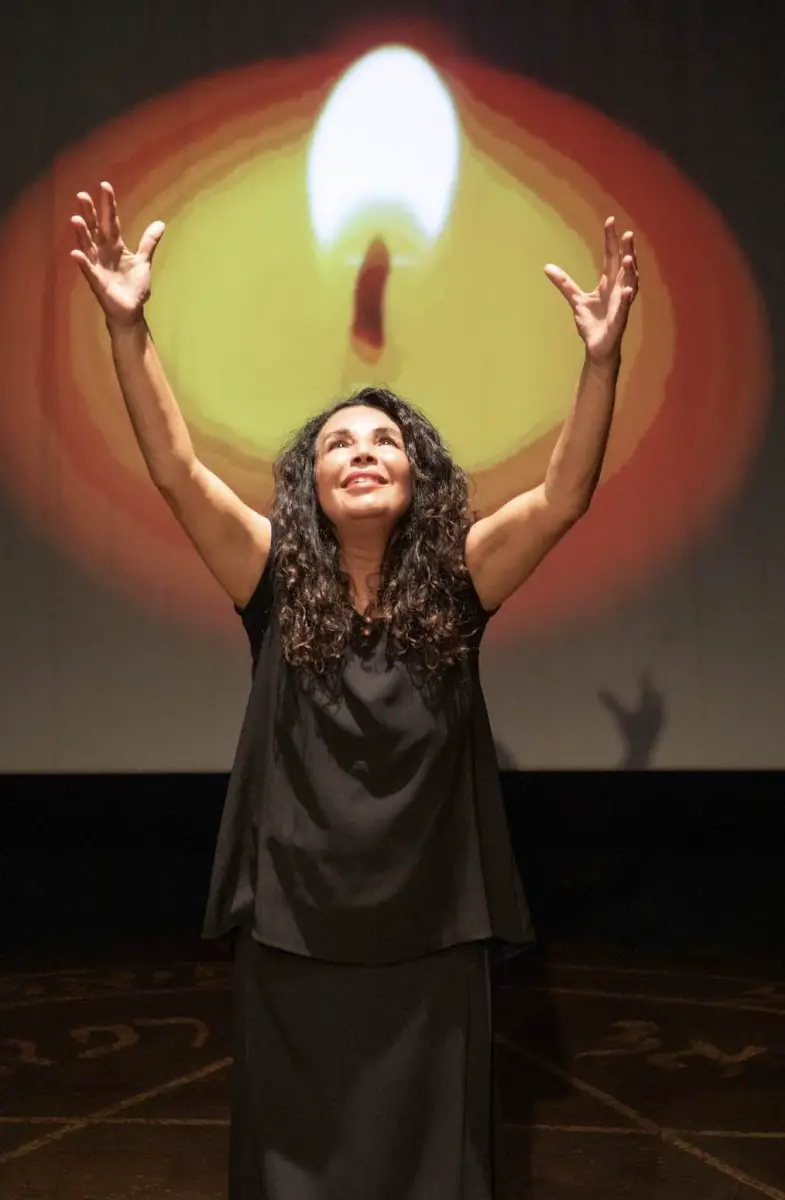 Daughter of the Wicked (New York City Center, Stage II, 131 W. 55th St.) An original new solo play written and performed by Shanit Keter Schwartz that details her return to her homeland Israel in search of her missing sister—a victim of the Yemenite Children Affair. She journeys through her past, reflecting on her strength, loss, perseverance, independence, and her homecoming. We experience the struggles of the Jewish people that came to build the new state of Israel. 4/15 thru 5/14. (nycitycenter.org)
Days of Wine and Roses (Linda Gross Theater, 336 W. 20th St.) This world premiere musical, adapted from the 1962 (and 1958 teleplay), this searing new work about a couple falling in love in 1950's New York and struggling against alcoholism and themselves to rebuild a family, stars Tony winner Kelli O'Hara and Tony nominee Brian d'Arcy James. 5/5 for 6/25. (atlantictheater.org)
demons. (Connelly Theater, 220 E. 4th St.) In this new Afro-surrealist dark comedy, when the death of their patriarch draws family members home, they must reckon with grief and the haunting realities that death often brings to the surface. A meditation on getting older, losing a parent, and the elusive quest to exorcize the trauma passed down through the generations. 5/10 thru 6/13/23. (connellytheater.org)
Dia Y Noche (59E59 Theaters, Theater B, 59 E. 59th St.) Sex, drugs, queerness, and punk-rock. Welcome to border city life in El Paso, Texas, 1984 for an unfiltered coming-of-age story about class struggles and the search for acceptance between Danny, a lower middle-class Chicano punk-rock kid who thinks he might be an artist and Martin, a Black upper-middle class band nerd who is gay and in the closet. 3/18 thru 4/15/23. (59e59.org)
Dimanche (BAM Fishman Space, 321 Ashland Pl/, Brooklyn) In their small city house, a family is about to spend their Sunday together, but the walls are shaking, strong winds and torrential rain rage outside, and the storm has only just begun. Amidst the climatic chaos, they absurdly attempt to maintain their family traditions. Meanwhile, three wildlife reporters are doing their best to document Earth's last living species. 5/3 thru 5/13/23. (bam.org)
Dog Man: The Musical (New World Stages, 350 W. 50th St.) Based on the bestselling book series by Dav Pilkey, this acclaimed musical chronicles the crimefighting canine superhero as he attempts to save the city from Flippy the cyborg fish and his army of Beasty Buildings, and catch Petey, the world's most evil cat out to exact revenge on the doggy do-gooder. 3/4 thru 4/30. (dogmanthemusical.com)
Drinking in America (Minetta Lane Theatre, 18 Minetta Ln.) Written and originated by Eric Bogosian in the 1980s, this is back in a gritty, muscular restaging starring Andre Royo. Taking on a new persona in our present day, with terms like toxic masculinity and male fragility at the forefront of the zeitgeist, the work challenges society's ideal of what exactly makes a man, and just how easy it can be to break that same man down. 3/10 thru 4/8. (audible.com/minettalane)
Drunk Musicals (Green Fig Piano Bar, 570 10th Ave.) Half scripted, half improv, this interactive show's cast solicits highlights from favorite musicals, pops them into a parody script, and are off and creating a madcap production—with a twist: theatregoers can send the performers shots during the show. The sobriety—and hilarity—of the actors is in the audience's hands. Totally. (Ages 21 & up.) From 4/10. (thegreenroom42.com)
Drunk Shakespeare (The Garden at Selene, 11 Hanover Sq.). Five actors meet as members of The Drunk Shakespeare Society. One of them has five shots of whiskey and then attempts to perform a major Shakespearean role while the four sober actors attempt to keep the script on track. Suffice to say, every wildly madcap show is different. Craft cocktails are available for purchase and entry is strictly 21+. (drunkshakespeare.com)
Easter Bunny HOP! Live (53 Above, 318 W. 53rd St.) The Easter Bunny and Ester (the Easter Bunny's Best Friend) are hopping to it to locate all of their Bunny friends—from Peter Rabbit to Little Bunny FooFoo—to help find the lost eggs for Easter. You're invited to hop to "The Bunny Hop," "Easter Parade," "Rockin' Robin," and more so the Easter Bunny and Ester can save Easter! Thru 4/16. (easterbunnyhoplive.com)
Eleanor and Alice (Urban Stages, 259 W. 30th St.) In this historical drama spanning 60 years, Eleanor and Alice Roosevelt—friends, cousins, and rivals— meet at eight crucial moments in their lives. They feud, laugh, commiserate, and argue over their husbands, children, politics, and the state of the world. One a Democrat and one a Republican, they witness a changing world; through their accomplishments they ultimately help build a foundation that benefits women in politics today. 4/5 thru 4/30. (urbanstages.org)
Elyria (Atlantic Stage 2, 330 w. 16th St.) 1982. Elyria, Ohio: Two mothers collide 20 years, two continents, and two oceans after making a deal of a lifetime, forcing them to face the knots of the past and the uncertainty of their inextricably linked future. 2/9 thru 3/26/23. (atlantictheater.org)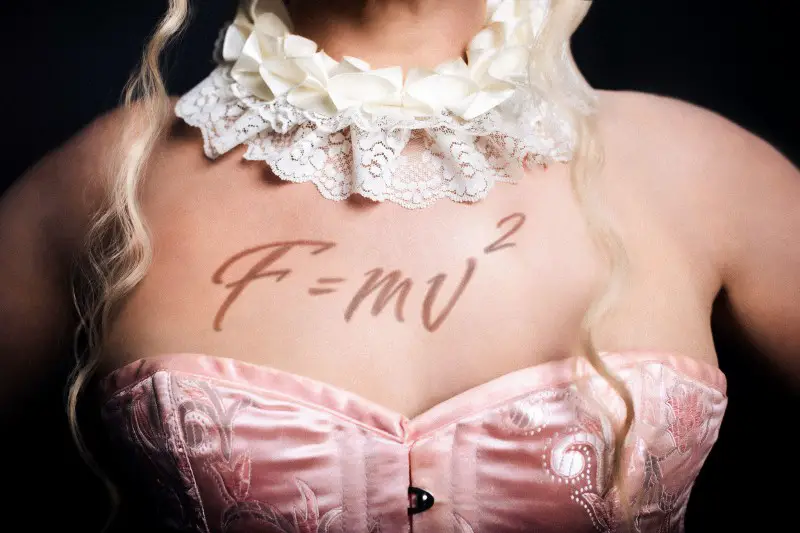 Photo credit Sam Rothermel.
Emilie; La Marquise du Châtelet Defends Her Life Tonight (The Flea Theater, 20 Thomas St.) One of the first female physicists, the 18th-century Marquise du Châtelet died from complications in childbirth in the midst of disproving Newton's Laws of Physics. Her work became the basis for Einstein's theory of relativity, but her long-time lover, Voltaire, remained more noted for her work than she did until very recently. 4/6 thru 4/30. (eventbrite.com)
Endgame (Irish Repertory Theatre's Francis J. Greenburger Mainstage, 132 W. 22nd St.) Playwright Samuel Beckett's favorite play tells the story of blind and chair-bound Hamm, whose existence is reduced to one room that he shares with his aging, legless parents, who live in garbage bins. His shuffling servant, Clov (Bill Irwin), comes when whistled for, like a dog. The only thing left for Hamm is to wait for the inevitable end. Thru 4/9. (atlantictheater.org)
Esencial (BAM Fisher, Fishman Space, 321 Ashland Pl., Brooklyn) A combination of storytelling and circus skills comes to life with Vaivén's Circo staging of "Waldorf's Rainbow," a toy for children featuring arches and pillars—a scenography of changing architecture and poetic tints. Kids and families witness the changing and inventive architecture in the same way as a human being who always wants to evolve. 3/25 & 3/26. (BAM.org/kids)
EstroGenius Festiva BAN(NED)TOGETHER (Kraine Theater, 85 E. 4th St.; UNDER St. Marks, 94 St. Marks Pl.; Arts on Site, 12 St. Marks Pl.' and Decatur Community Garden, 1052 Decatur St., Brooklyn) The longest running festival celebrating the work of women and gender non-conforming artists. While four venues offer live performances, most will also be available for livestreaming. Visit website for a complete schedule of events. 3/18 thru 4/2/2023. (frigid.nyc/events)
A Father & The Sun (Minetta Lane Theatre, 18 Minetta Ln.) Chris Gethard is taking on his most prolific role yet: father. Charting the emotional experiences and revelations each new parent faces, the comedian and actor offers a hilarious ride as he explores generational differences, toxic masculinity, what it means to be a dad, and the truly unexpected joys of lawn maintenance. 3/31 thru 4/2. (audible.com/minettalane)
The Fears (Pershing Square Signature Center, Irene Diamond Stage, 480 W. 42nd St.) Every week at a Buddhist center in New York City, a group of fractured souls share a commitment to eccentric yet restorative teachings. When a new member shows up not knowing the rules, it sets off heated confrontations and deep meditations on how finding peace in a city of millions can be hilarious. From 4/25. (telecharge.com)
Fish in a Tree (Theatre Row, 410 W. 42nd St.) In this 60-minute play with music, Ally is a smart girl with a big imagination but she often causes distractions that get her in trouble in class. She doubts her intelligence due to her dyslexia until she, with the support of her teacher, learns to unlock her inner potential. Soon she discovers that great minds don't always think alike. Best for ages 5-9. 3/18 thru 4/9. (nycchildrenstheater.org)
FLEX (Lincoln Center Theater's Mitzi E. Newhouse Theater, 150 W. 65th St.) It's 1997, and the women of the Lady Train team, inspired by the successes of the WNBA, aspire to going pro, but first they must navigate the pressures of being young, Black, and female in rural Arkansas. Will their fouls off the court tear their team apart, or can they keep their pact to stick together through hell or high water? Previews 6/23 for a 7/20 opening. (lct.org)
Foxes (59E59 Theaters, Theater A, 59 E. 59th St.) Daniel is a young black man trying to keep up with his life in London's Caribbean community while balancing his goals with his family's expectations. When his relationship with best friend, Leon, brings an unexpected change, it creates turmoil, bringing a taboo into his family home that has the power to tear the closest and most loving relationships apart. 6/1 thru 7/2. (59e59.org)
Friends! The Musical Parody (Jerry Orbach Theater at The Theatre Center, 210 W. 50th St.) The unauthorized comedic musical that lovingly pokes fun at TV's Friends celebrates the adventures of Ross, Monica, Rachel, Phoebe, Joey, and Chandler as they navigate the pitfalls of work, life, and love in 1990s Manhattan. The show recreates favorite moments from all 10 seasons of the iconic sitcom through an uncensored, fast-paced, music-filled romp! (ticketmaster.com/friends-the-musical-parody-new-york)
FRIGID Fringe Festival (Kraine Theater, 85 E. 4th St. & UNDER St. Marks, 94 St. Marks Pl.) This 17th annual open and uncensored theater festival gives artists an opportunity to let their ingenuity thrive in a venue that values freedom of expression and artistic determination. Visit website for descriptions of scheduled performances as well as dates & times. 2/15 thru 5/5/23. (frigid.nyc/events)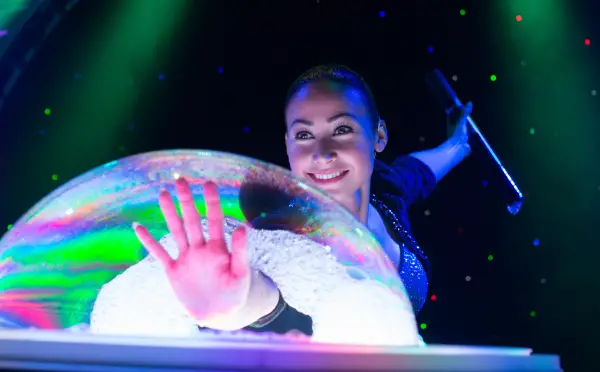 Gazillion Bubble Show (New World Stages, 340 W. 50th St.) A family phenom for your family from the Yang family of bubble virtuosos. "We are so thrilled to be bringing bubbles back to the stage and smiles to our audiences," says master bubble maker Melody Yang. (gazilllionbubbleshow.com)
The Good John Proctor (Connelly Theater, 220 E. 4th St.) This new look at the lead-up to the Salem Witch Trials imagines the inner lives of the girls depicted in Arthur Miller's The Crucible. The girls churn butter, play with poppets, and listen to The Woods at night. But their world is turned upside-down when one of them—Abigail Warren—starts to work for a farmer named John Proctor. 3/11 thru 4/1. (bedlam.org)
The Goodbye Girl (Theatre Row, 410 W. 42nd St) This musical based on Neil Simon's film of the same name follows the unlikely romance between Paula, a single mother who has been jilted one too many times, and Eliot, the opinionated actor who shows up on her doorstep with a lease to sublet her apartment. Featuring music by Marvin Hamlisch and lyrics by David Zippel. 5/11 thru 5/21. (j2spotlightnyc.com)
The Great Gatsby (The Mansion at The Park Central Hotel, 870 Seventh Ave.) In this immersive take on the F. Scott Fitzgerald classic, theatregoers find themselves ensconced in a 1920's Jazz Age world of bootleg liquor, dancing, and self-indulgence, alongside the seminal characters Nick Carraway, Daisy & Tom Buchanan, Myrtle Wilson, and Jay Gatsby. From 5/23. (immersivegatsby.com/new-york)
The Habit of Art (59E59 Theaters, Theater A, 59 E. 59th St.) While working on his new opera Death in Venice, Benjamin Britten seeks advice from friend and former collaborator, W.H. Auden. As this imagined meeting unfolds, they're observed and interrupted by their future biographer, a young man from the bus station, and others. By Alan Bennett (The History Boys), the play looks at the desires of two difficult men, and at the ethics of biography. 4/29 thru 5/28. (59e59.org)
Hang Time (The Flea, 20 Thomas St.) In this new play written and directed by Pulitzer Prize finalist Zora Howard, three men chew the fat under an old, wide tree. Setting the romantic and the macabre in sharp relief, the play invites the viewer to peek into the great loves and bitter blues of Black men in America and envisage the living Black body triumphant over the legacy of violence that it holds. 3/15 thru 4/3. (theflea.org)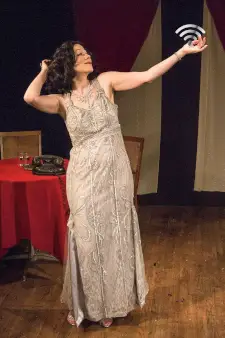 Hedy, The Life & Inventions of Hedy Lamarr, photo by Al Foote III.
Hedy! The Life & Inventions of Hedy Lamarr (Morningside Players, 100 La Salle St.) Heather Massie performs her acclaimed solo play centering on the Viennese-born Hollywood film star of the 1930s-1950s who, in her spare time, invented the Frequency-Hopping Spread Spectrum Technology that makes the world of wireless communication tick. 3/23 thru 3/29. (heathermassie.com/hedy)
Home Street Home (Frank Shiner Theater, Sheen Center, 18 Bleecker St.) For Jared, a homeless NYC youth, each day is a struggle of surviving the streets and the potential for violence, abuse, betrayal, and heartbreak – a burden that also impacts countless other young people. This original musical drama is written and performed by a diverse group of teenagers who have been involved in the NYC justice system. 3/29 thru 4/1. (sheencenter.org)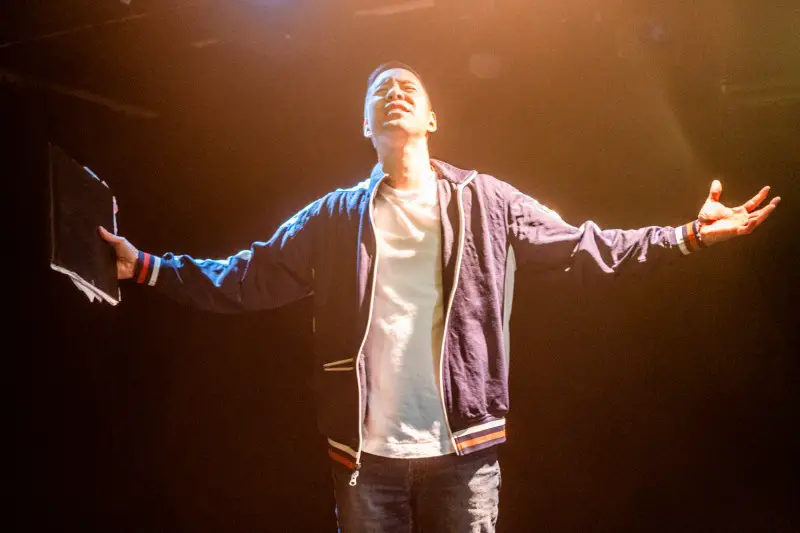 Photo: Bill Froggatt.
Hong Kong Mississippi (La MaMa, 66 E. 4th St.) In his solo show, Wesley Wu explores a Chinese kid navigating the complexities of identity, culture and tradition. When he encounters brilliant black blues guitarist Cannonball—who hates Asians, blaming them for killing his son in Vietnam—the boy sets out to convince him to become not only his teacher, but also the father he never had. 4/27 thru 5/14. (lamama.org)
How to Defend Yourself (New York Theater Workshop,74 E. 4th St.) With humor and brutal honesty, Liliana Padilla's play explores what we want, how to ask for it, and the violator and violated inside us all. In a DIY self-defense class, college students learn to use their bodies as weapons. They learn to fend off attackers. They learn "not to be a victim." Self- defense becomes a channel for their rage, anxiety, confusion, trauma, and desire—lots of desire. 2/22 thru 4/2/23. (nytw.org)
The Hunting Gun (Baryshnikov Arts Center, Jerome Robbins Theater, 450 W. 37th St.) Josuke Misugi receives three letters: from his wife, his mistress, and her daughter. Japanese author Yarushi Inoue turns what could have been a mundane account of adultery into a love story considered a classic of world literature. This stage adaptation is a monologue for three voices, with a single actress embodying all three women. Starring Miki Nakatani and Mikhail Baryshnikov. 3/16 thru 4/15/23. (thehuntinggun.org)
I Just Want to Tell Somebody (Theater for the New City, 155 First Ave.) Ronald "Smokey" Stevens's solo show/adaptation of his autobiographical novel dramatizes the author's career and lifelong battle with drugs. Playing both himself and his nemesis, a doppelgänger called "D MAN," Smokey ushers us through modern moments of theater history and the drug usage that was nearly his undoing. 6/1 thru 6/18/23. (theaterforthenewcity.net)
I'm Gonna Marry You Tobey Maguire (The Cell Theatre, 338 W. 23rd St) In 2004, while coping with a dysfunctional home life and her 8th-grade classmates, Shelby obsesses over Spiderman, opting to kidnap actor Toby Maguire and marry him in her basement. Her fantasies start to crumble, however, as she realizes he may not be the charismatic heartthrob she thinks she knows. Opening July, 2023. (theceltheatre.org)
ICELAND, a re-Creation Myth (La MaMa, 66 E. 4th St., 2nd Fl.) A contemporary love story that plays with the ancient mythology of the country itself, this new opera theatre work uses movement, music, and design to explore how longing, courage, and the transcendent power of love create a vibrant relationship between the intimacy of human life and the vast dynamic life of the earth. 3/24 thru 4/2. (lamama.org)
In Scena! Italian Theater Festival NY (Various venues throughout the five boroughs) A survey of the best Italian theater from Italy. Featured are productions that have already toured in Italy, readings of Italian plays in translation, lectures, and exchanges between Italian and international artists. All shows will be in Italian with English subtitles. Visit website for a complete list of events, venues, and playing schedules. 5/1 thru 5/16. (inscenany.com)
Invisible (59E59 Theaters, Theater C, 59 E. 59th St.) Zayan, under-employed actor/ over-employed dealer, sees himself as the hapless lead in the sitcom that's his life. Others see him as lazy, self-centered, and useless – if they notice him at all. As he tries to transition from being neglected to being notorious, we see how a man whose brushes with oppression, grief, and the suspicion that he's become invisible, can drive him to the unforgivable. 6/13 thru 7/2. (59e59.org)
Kahn!!! The Musical! (Players Theatre, 115 MacDougal St.) In this sci-fi send-up, an older Captain Kirk is experiencing a "coming of middle age" story when his nemesis Khan escapes exile and vows revenge. The ensuing cat-and-mouse game sparks an adventure that includes Vulcan tap dancing, Kirk's long-lost son (a William Shatner impersonator), and of course, mutant space chickens! 5/4 thru 6/4. (kahniscoming.com)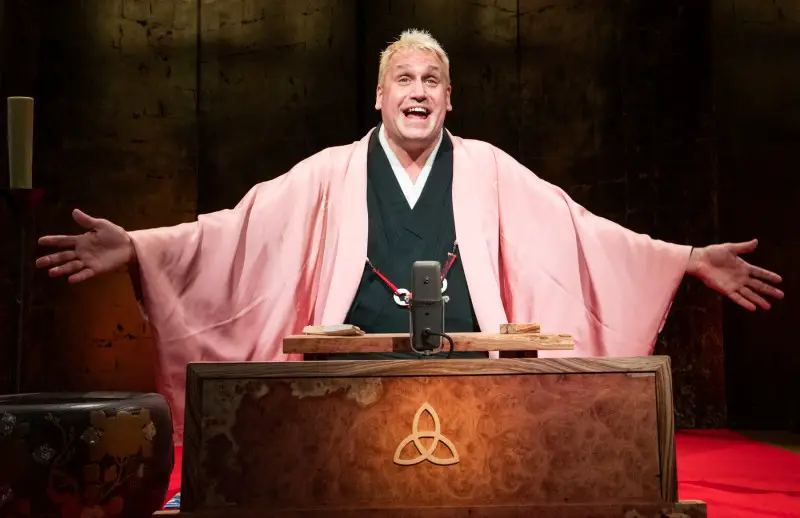 Katsura Sunshine's Rakugo (New World Stages, 350 W. 50th St.) (75 mins., no intermission) Rakugo, the 400-year-old Japanese art of comic storytelling, features a lone storyteller using only a fan and a hand towel for props. He performs a comic monologue followed by traditional stories handed down from Master to Apprentice for centuries. Sunshine is the only Western Rakugo Master and has performed all around the world promoting Rakugo and Japanese culture. Thru 12/23. (rakugo.lol)
Katy and Jennifer vs. the Flasher on New Year's (Theater for the New City, 155 First Ave.) On the first post-9/11 New Year's Eve, a couple of Gen X babes, whose sexy plans for the night are jettisoned, slam the front door on a flasher and turn to Katy's currently somnolent boyfriend for protection, with madcap consequences. 3/16 thru 4/2. (theaterforthenewcity.net)
King James (Manhattan Theatre Club at New York City Center—Stage I, 131 W. 55th St.) One of the greatest NBA players to ever hit the court, "King" LeBron James was just the hero that Cleveland needed, his influence on the city looming large for the 12 years of his reign. Playwright Rajiv Joseph's funny and moving new play chronicles the unexpected friendship between two men whose intertwined fortunes are tied to those of their idol. Directed by Tony winner Kenny Leon. From 5/2. (manhattantheatreclub.com)
The Knight of the Burning Pestle (Lucille Lortel Theatre. 121 Christopher St.) In this Elizabethan comedy, a play about the elopement of star-crossed lovers is interrupted so the actors invent a new story which takes over the stage in hilariously disruptive ways. Everyone shares in the triumph of love, adventure, and the anything-can-happen nature of live theater. 4/17 thru 5/13. (redbulltheater.com)
Letters From Max, a ritual (Pershing Square Signature Center's Alice Griffin Jewel Box Theatre, 480 W. 42nd St.) Playwright Sarah Ruhl's adaptation of her book "Letters from Max: A Poet, a Teacher, and a Friendship", sharing letters and poems passed between herself and her former student Max Ritvo, as he candidly discusses terminal illness and tests poetry's capacity to put to words what otherwise feel ineffable. Thru 3/26. (signaturetheatre.org)
Lewberger & The Wizard of Friendship: The Musical (Theatre Row, 410 W. 42nd St.) When best friends and comedy band Lewberger get into a fight, the rift in their friendship grows so large that it breaks the heart of the Wizard of Friendship. Lewberger is sent on a musical quest in NoFriendia, a wild land where they must venture to the intimidatingly Handsome Forest, through the Adults-only Haunted House, and more amazing places, guided by a giant sausage man. 2/23 thru 3/26/23. (theatrerow.org)
The Light in the Piazza (New York City Center, Main Stage, 131 W. 55th St.) Part of the 2023 Encores! season of musical revivals, this Tony-winning musical follows an American mother and daughter living in the shadow of a tragic accident who find joy, memories, and undreamt-of opportunities while on vacation in 1950s Florence. Heralded as a new direction for musical theater when it opened on Broadway, the City Center production stars Tony winner Ruthie Ann Miles. 6/21 thru 6/25. (nycitycenter.org)
The Little Mermaid the Musical (The Players Theatre, 115 MacDougal St.) A little mermaid dreamed of the day she would be old enough to explore the world above the sea. When her time comes, she falls in love with a prince she saves from drowning and desires to become mortal so they can marry. But she soon learns that getting her wish means making hard choices – and how much she is willing to give up for someone she loves. Thru 4/12. (theplayaerstheatre.com)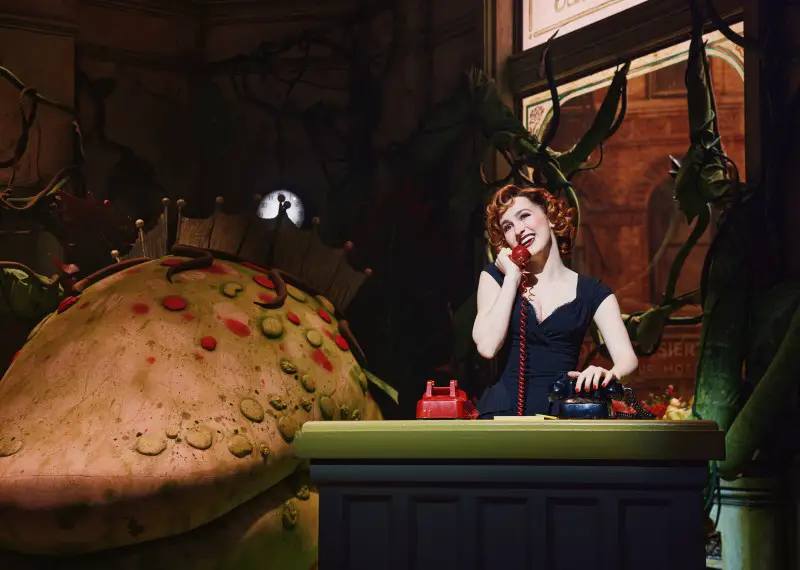 Maude Apatow. Credit: Emilio Madrid.
Little Shop of Horrors (West Side Theatre, 407 W. 43rd St.) The wildly acclaimed Tony-winning musical revival is now a long-running Off-Broadway hit! The story follows hapless flower-shop employee, Seymour, who finds himself trapped under the blood-thirsty fronds of the plant he's named Audrey II, after the girl of his dreams. (littleshopnyc.com)
Lucy (Minetta Lane Theatre, 18 Minetta Ln .) After Mary hires professional nanny Ashling to care for her young children, things start to feel a little…off. This play by Erica Schmidt explores the wild range of parents' emotions, asking if we can trust others with the safety of our home. Thru 3/25. (audible.com/minettalane)
A Midsummer Night's Dream (92nd Street Y, 1395 Lexington Ave.) An all-new original musical retelling of William Shakespeare's comedy about love's enchantment for kids 7+ and teens. The show's original songs and choreography come together to make Shakespeare fun, accessible, and inspiring. 4/16 thru 4/23/23. (92ny.org)
Millennials Are Killing Musicals (Theatre 71 at the Church of the Blessed Sacrament, 152 W. 71st St.) An irreverently funny musical centering on Millennial single mom Brenda who wants to do better "adulting" like Jake's Mom at her daughter's school. She's finally ready for love and creativity in her life when her kid sister shows up, eight months pregnant, totally unprepared for motherhood. 5/7 thru 5/28. (ootbtheatrics.com)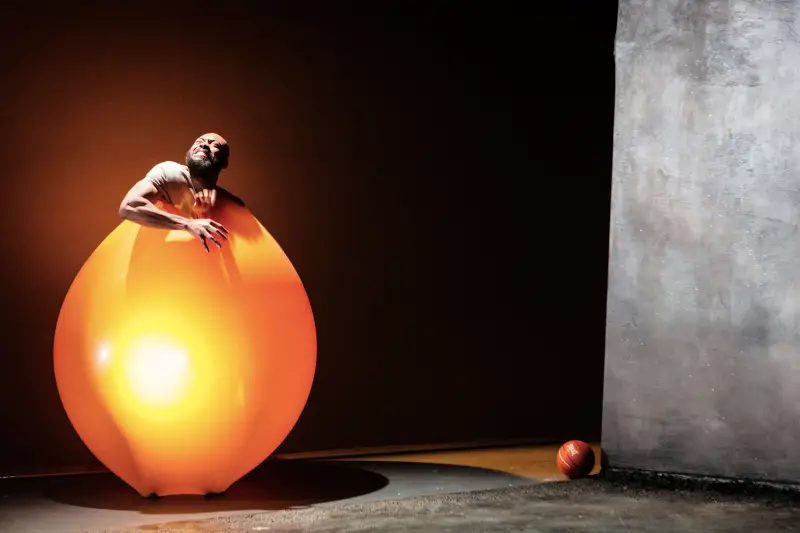 Photo by Helen Murray.
Misty (The Shed's Griffin Theater, 545 W. 30th St.) A genre-defying absurdist comedy fusing live music, spoken word, and absurdist comedy. Set in gentrifying London, the work —part poem, part concert, part confession—has playwright/actor Arinzé Kene wrestling with cultural representation and identity politics as they pertain to a play he's writing. 3/9 thru 4/2. (theshed.org)
The Mystery of the Mosaic Bridge (Players Theatre, 115 MacDougal St.) For his final case before retiring a detective opens up a case which was easily dismissed a year prior—a case regarding a young woman's "suicide." As the witnesses come in one by one, each offering a piece of the story, it quickly becomes clear that the case isn't as straightforward as it seemed. 3/9 thru 3/26. (themosaicbridge.com)
The Office! A Musical Parody (Jerry Orbach Theatre at The Theatre Center, 210 W. 50th St.) It's a typical morning at Scranton's third largest paper company until, for no logical reason, a documentary crew begins filming the lives of the employees of Dunder Mifflin. An hilarious, unauthorized parody of the Long-running hit TV show. (theofficemusicalparody.com)
Oliver (New York City Center, Main Stage, 131 W. 55th St.) Part of the 2023 Encores! season of musical revivals, Lionel Bart's coming of age classic based on Charles Dickens' Oliver Twist, follows a child who dares to trust in others, search for love, and ask for more in London's seedy underworld. The production's stars are: Lilli Cooper (Nancy), Raúl Esparza (Fagin), Julian Lerner (The Artful Dodger), Tam Mutu (Bill Sikes), Brad Oscar (Mr. Bumble), Benjamin Pajak (Oliver), and Mary Testa (Widow Corney). 5/3 thru 5/14. (nycitycenter.org)
On The Right Track (AMT Theater, 354 W. 45th St.) This new musical tells the story of three couples traveling on board a magical train, each at a turning point in their lives. The Conductor is the narrator and mystical figure in their lives who steers them in different directions but allows them to choose how events will unfold. Ultimately, none of them will be the same as when they began the journey. 4/5 thru 5/11. (amttheater.org)
Orlando (59E59 Theaters, Theater C, 59 E. 59th St.) Playwright/performer Lucy Roslyn's new play is the story of a person looking for escape—just as Virginia Woolf imagined her own freedom in the pages of Orlando, a book which strains at the boundaries of identity: are we any one thing? Or are our selves "stacked like dinner plates," one on top of the other? 5/23 thru 6/11. (59e59.org)
Othello (Casa Clara, 218 E. 25th St.) In a former foundry with skylights, balconies, and statuary, this Shakespearean tragedy unfolds offering a searing look at shame, manipulation, and the devastation it provokes. With music, movement, swordplay, and language, this production offers a fresh take on the timeless story. Thru 3/25. (newplaceplayers.org)
Paperboy (Manhattan School of Music's Neidorff-Karpati Hall, 130 Claremont Ave.) This new musical based on the award-winning novel by Vince Vawter, is based on his real-life experience growing up in the 1950s as a person who stutters. The book has been translated into 17 languages, but this translation into the language of musical theater might just be its most universal expression. 3/24 thru 3/26. (msmnyc.edu/performances)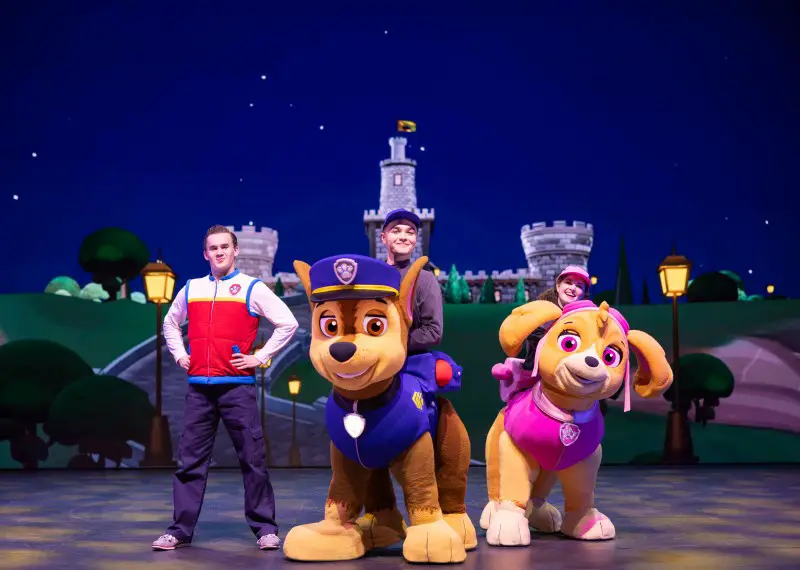 PAW Patrol Live! "Heroes Unite" (Theater at Madison Square Garden, 4 Pennsylvania Plaza) Based on the animated preschool series, this interactive live stage show follows Ryder and the PAW Patrol pups as they face their greatest challenge yet. When Mayor Humdinger clones Robo Dog, it's up to the PAW Patrol to catch the clones, rescue Robo Dog and show that lending a paw makes you the ultimate top hero! 4/22 & 4/23.  (pawpatrollive.com)
Perfect Crime (Anne Bernstein Theater at The Theater Center, 210 W. 50th St.) This ultra-long-running murder mystery is the story of brilliant but money hungry psychiatrist/ suspected cold-blooded killer Margaret Brent, her wealthy husband, deranged patient, and the handsome detective who's falling in love with her while trying to solve the crime. (perfect-crime.com)
Photo by Jeremy Daniel.
The Play That Goes Wrong (New World Stages/Stage 4, 340 W. 50th St.) (2 hrs.) A madcap hybrid of Monty Python and Sherlock Holmes, this award-winning comedy is bringing down the house—literally—Off-Broadway. It's opening night of The Murder at Haversham Manor where an unconscious leading lady, corpse that can't play dead, and actors who trip over everything are only some of the hilarious mishaps. (broadwaygoeswrong.com)
Powerline Road (Jeffrey & Paula Gural Theatre at ART/NY, 502 W, 53rd St.) This new musical follows four different stories of four Floridians over the course of 24 hours. Driven by choral narration and a synth-based pop-rock score, the four face multiple threats ranging from the twisted world of social media to the corruption of the private prison industrial complex. 3/17 thru 4/1. (tnny.or/powerline-road)
Primary Trust (Laura Pels Theatre, Harold & Miriam Steinberg Center for Theatre, 111 W. 46th St.) In this world-premiere by playwright Eboni Booth, Kenneth, a 36-year-old bookstore worker who spends his evenings sipping mai tais with his best friend Bert at a local tiki bar. When he's suddenly laid off, Kenneth is encouraged by a quirky waiter to face a world he's long avoided—with transformative and even comical results. 5/4 thru 7/2/23. (roundabouttheatre.org)
Queerly Festival (Kraine Theater, 85 E. 4th St. & UNDER St. Marks, 94 St. Marks Pl.) The 9th annual celebration of all things LGBTQ+ returns in Pride Month, 2023. 6/18 thru 7/2. (frigid.nyc/events)
Regretfully, So the Birds Are (Playwrights Horizons' Peter Jay Sharp Theater, 2537 Broadway) Arson. Affairs. Incest. Murder...are only the beginning of problems for the Whistler siblings. Mora's gotta find her birth mother, Neel's gotta find himself, and Illy's gotta keep her piece of the sky...but the birds have other plans. 3/22 thru 4/30. (playwrightshorizons.org)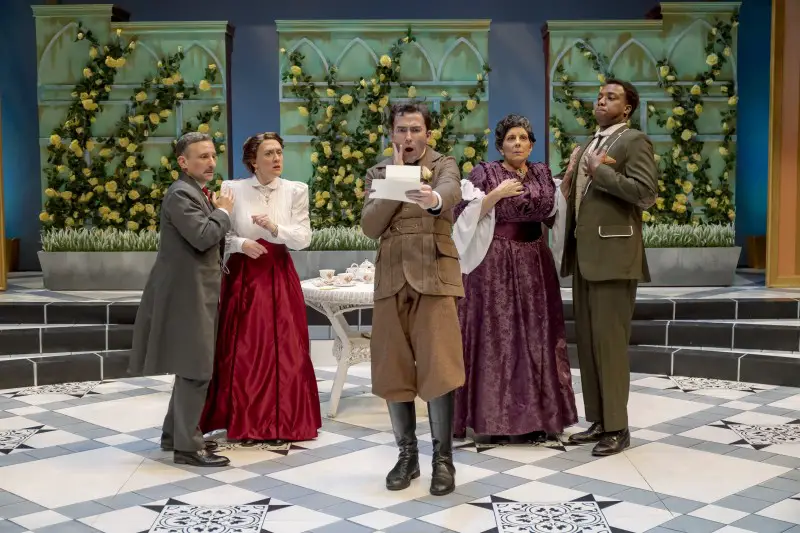 Photo by Mikki Schaffner.
The Rewards of Being Frank (Mezzanine Theatre at ART/New York Theatres, 502 W. 53rd St.) Oscar Wilde's much-loved The Importance of Being Earnest receives a hilarious sequel in this world premiere. Set seven years after Wilde's play, see what happens to our characters when they meet Frank. And, after all, the only more important than being Earnest is being Frank. 3/3 thru 3/26. (nyclassical.org)
Rock & Roll Man (New World Stages, 340 W. 50th St.) A new musical chronicling the life of boundary-smashing DJ Alan Freed who popularized the records that became the foundation of rock. The original score also includes retro hits like "Why Do Fools Fall in Love," "Tutti Frutti," "Good Golly," "Peggy Sue," "Wake Up Little Susie," "Roll Over Beethoven," "Yakety Yak," "I Put A Spell On You," "Smoke Gets In Your Eyes," "Great Balls of Fire," and more. From 6/2. (92ny.org)
Rodgers & Hammerstein's Cinderella (The 92nd Street Y, New York, 1395 Lexington Ave.) The timeless magic of the beloved fairy tale is captured in this adaptation of the original Broadway production featuring new characters, a hilarious libretto, surprising twists, and an unforgettable score by two musical theatre giants: Richard Rodgers and Oscar Hammerstein II. 3/12 thru 4/2/23. (92ny.org)
Rough Trade (The Tank, 312 W. 36th St.) Living together was going just great for gay besties Bunting and Finch: balancing ruthless day jobs with aspiring visual arts careers, while still finding time to blackout after one too many vodka sodas. But when Finch starts dating a wealthy pharma daddy finance bro, the intertwining web of Gay New York proves just how toxic and self-destructive it can be. 3/17 thru 4/8/23. (thetanknyc.org)
Ryan Raftery: Mother of the Year (Joe's Pub, 425 Lafayette St.) Ryan Raftery returns to Joe's Pub, premiering his new celebrity bio-musical comedy—an irreverent fable about the woman behind arguably the world's most famous and oddly enduring brand...The Kardashians. "The devil works hard, but Kris Jenner works harder." 3/15 thru 3/26. (joespub.com)
Sancocho (WP Theater, 2162 Broadway) Forced to confront the reality of their father's rapidly declining health, Puerto Rican sisters Renata and Caridad clash over cultural divides, unearth old wounds, and reveal long-buried secrets. As Caridad's sancocho bubbles on the stove, will the two reconcile their past resentments to face their uncertain futures together? 3/11 thru 4/9/23. (wptheater.org)
The Seagull/Woodstock, NY (Pershing Square Signature Center, 480 W. 42nd St.) When a group of New York theater people retreat to a house in the Hudson Valley hoping to get away from it all, they can't seem to escape the rivalries and egos that follow them everywhere. Chekhov's eye for the hypocrisy, self-absorption, and the emotional volatility of ambitious artists is given fresh emphasis in this contemporary reworking of the tragicomic classic. Thru 4/9. (thenewgroup.org)
Shadowland (La MaMa E.T.C., 66 E. 4th St.) Kari Hoaas's choreographic response to an unstable post-pandemic world is a poetic investigation of continuum and the body moving through loss. Inspired by the work of Norwegian visual artist Jan Groth, the project centers around physical solo dance practice. 4/6 thru 4/8. (lamama.org)
Shakespeare Festival (Kraine Theater, 85 E. 4th St. & UNDER St. Marks, 94 St. Marks Pl.) FRIGID's annual summer Shakespeare festival. Visit website for dates and details. July/August. (frigid.nyc/events)
Shakespeare's Stars (New Victory Theater, 209 W. 42nd St.) Created by Spellbound Theatre this unique production invites tiny hands and feet to discover infinite possibilities in an intimate multisensory experience. Bringing The Bard's best lines about the cosmos to life with starlit props, musical instruments, and mesmerizing movement, this gentle show reminds us that "we are such stuff as dreams are made on." 5/11 thru 5/21/23. (newvictory.org)
A Simulacrum (Atlantic Stage 2, 330 w. 16th St.) Lucas is a playwright. Steve is a magician. Lucas asked Steve to show him some magic tricks. Steve did. And this is what happened. Tony Award nominee Lucas Hnath (Dana H.) directs this unique collaboration starring leading sleight of hand artist Steve Cuiffo. 5/25 thru 6/25/23. (atlantictheater.org)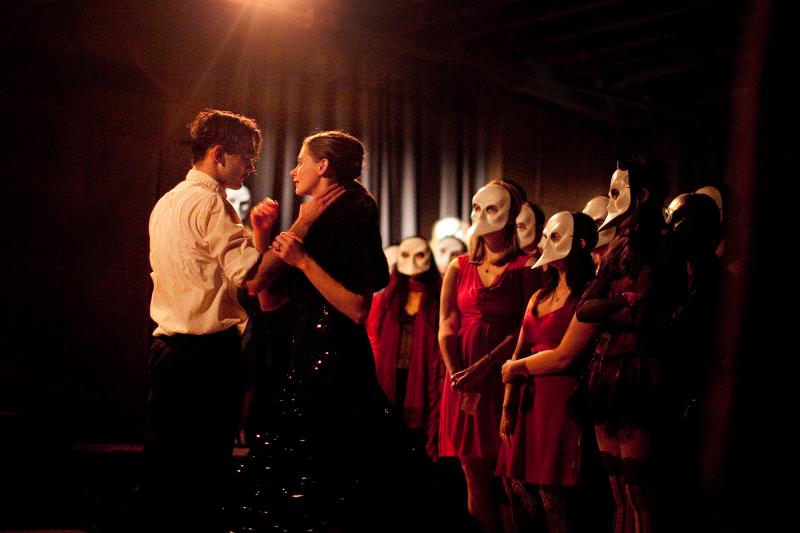 Photo by Robin Roemer.
Sleep No More (McKittrick Hotel, 530 W. 27th St.) This award-winning theatrical experience tells Shakespeare's classic tragedy Macbeth through a darkly cinematic lens. Audiences move freely through the epic world of the story at their own pace, choosing where to go and what to see, ensuring that everyone's journey is different and unique.(mckittrickhotel.com)
sleeper (The Tank, 312 W. 36th St.) Sleeper is a millennial archetype of an every-person, who, from a self-imposed, bedridden exile ponders the imperative of a lived existence. Ultimately, the key to Sleeper's liberation hinges on a visit from their mother and a return to their Indigenous Chickasaw roots, where dreams have the power to unlock the relationship between parent and child, descendant and ancestor, body and earth. 3/2 thru 3/26. (thetanknyc.org)
Solo: A Show About Friendship (Soho Playhouse, 15 Vandam St.) Gabe Mollica begins his show one-man show declaring "I turned 30 and it occurred to me that I don't have any friends". He goes on to dive into what it means to have friends in your 30s, his special relationship with Stephen Sondheim, working at a summer camp for children with chronic illnesses, and what happens when you break up with your best friend. 3/23 thru 4/15. (sohoplayhouse.com)
Sorry for Your Loss (Minetta Lane Theatre, 18 Minetta Ln.) On the 10th anniversary of a profound loss, comedian Michael Cruz Kayne tweeted his feelings. Over 140,000 messages of support came back to him from across the globe. Overwhelmed by the response, he put together a hilarious, heartrending look at life and death that reaches out to anyone who has ever experienced loss—or will. So...everyone. From 4/28. (audible.com/minettalane)
Spark Theatre Festival NYC (28th Street Theater, 15 W. 28th St.) Emerging Artists Theatre (EAT) kicks off their 30th anniversary season with seven new musicals, 34 dance pieces, five solo shows, and 13 short and full-length plays, as well as readings of some their past hit plays. A complete list of productions, descriptions, and playing schedules can be found on the company's website. 3/6 thru 3/26. (emergingartisttheatre.org)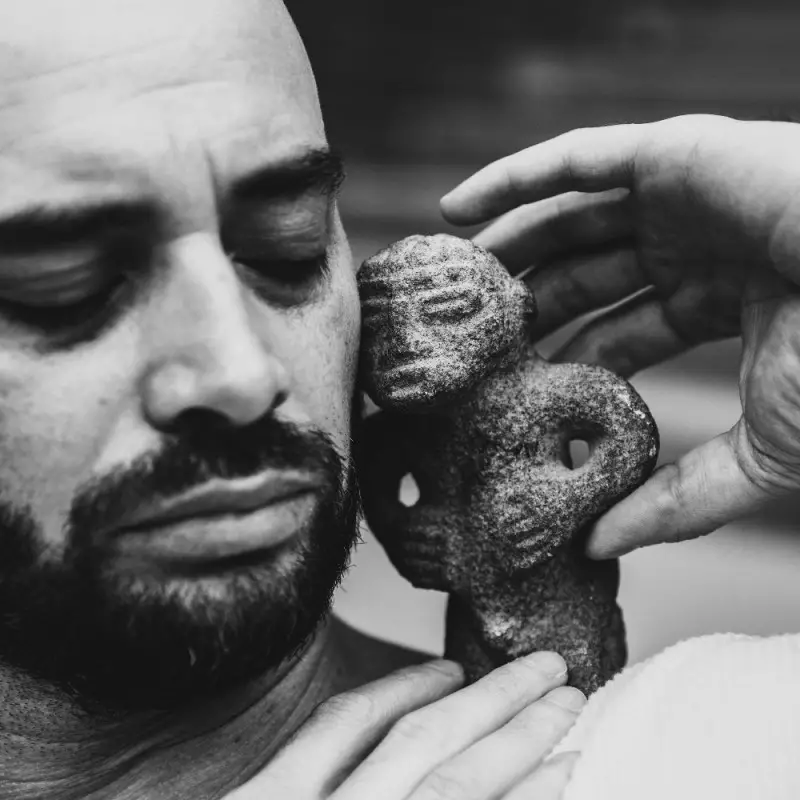 Photo by Maria Baranova.
The Square: Displacement with no end (Abrons Arts Center, 466 Grand St.) Christopher "Unpezverde" Núñez draws from his embodied memory, ancestry, anthropological research, and community stories to recount the colonial geographies faced by his nomadic Indigenous ancestors over the past 200 years. Audiences are invited to participate in a form of collective Audio Description to narrate this journey through time, space, and identity. 3/23 thru 3/25. (abronsartscenter.org)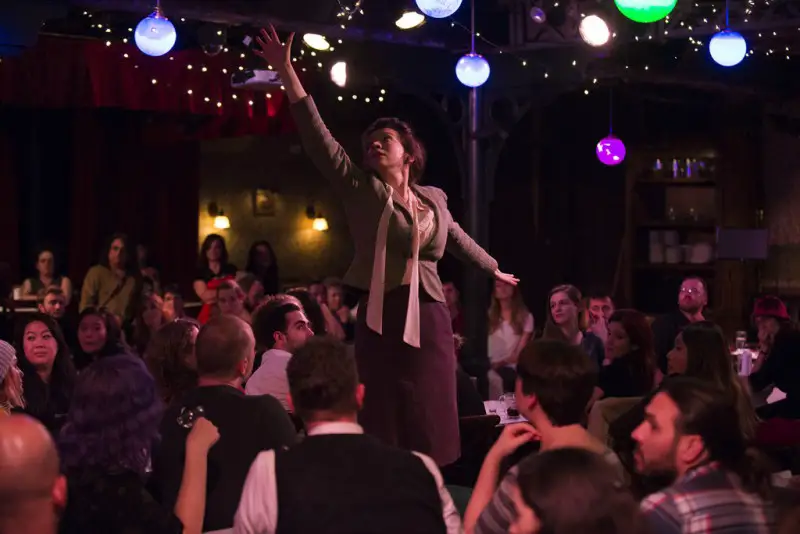 The Strange Undoing of Prudencia Hart (The Club Car at the McKittrick Hotel, 530 W. 27th St.) A transporting and music-filled Scottish folk theater fable unfolds among and around its audience, weaving an ingenious, lyrical, and enchanting story (told with live music throughout its intimate and supernatural setting). The Club Car is transformed into a high-spirited Scottish pub for the occasion. Thru 4/30. (mckittrickhotel.com/prudencia-hart/)
Stranger Sings! The Parody Musical (Playhouse 46 at St. Luke's, 308 W. 46th St.) A wild send-up of the hit Netflix series Stranger Things. Take a trip back to Hawkins, Indiana, 1983, when times were simpler, hair was bigger, and unsupervised kids were getting snatched by inter-dimensional creatures. Get ready for a night of pubescent angst, heavy synth, poor parenting, convoluted love triangles, cheap effects, and dancing monsters. Thru 4/30. (strangersings.com)
Sugar (Theatre Row, 410 W. 42nd St) Based on the film Some Like It Hot, this Jule Syne-Bob Merrill-Peter Stone collaboration is set during Prohibition and follows musicians Jerry and Joe who witness a gang slaying. To hide from the mob, they join an all-female orchestra disguised as Daphne and Josephine. Complications ensue when Joe falls for Sugar Kane, the group's lead singer. 4/27 thru 5/7. (j2spotlightnyc.com)
An-Noor/Linda Van Egmond.
The Tale of An-Noor (Kraine Theater, 85 E. 4th St.) The tale of a magic bird who flies great distances to visit her friends the Old Tree and the Old River is written and performed by Marina Celander. Told through dance, puppetry, and light, the play lets children know that there is magic all around us as long as we keep on dreaming and following the stars. Part of the 2023 EstroGenius Festival. 3/19 & 3/26. (frigid.nyc)
Tao of Glass (NYU Skirball, 566 LaGuardia Pl.) Composer Philip Glass and performer-director Phelim McDermott's latest collaboration is inspired by a dream, marries 10 meditations on life, death, and Taoist wisdom with 10 pieces of music from Glass, presented by McDermott with an ensemble of musicians and puppeteers. Part-concert, part-performance, the production is a compelling storytelling tapestry. 3/30 thru 4/8/23. (nyuskirball.org)
TeatroFest NYC 2023 (Various Latin theater venues) A citywide festival of live drama, dance, music, and conversations with Latin artists. Look for never-before-seen world premiere productions of new works, as well as celebrated revivals from individual theaters and other exciting cultural offerings from NYC's extraordinarily rich Latin community of artists and performers. 3/1 thru 4/30. (latinotheatersny.com)
The Tempest (92nd Street Y, 1395 Lexington Ave.) The Bard's stormy story of redemption and forgiveness in an enthralling and accessible production for kids and teens! Told through music and dance, Shakespeare's play becomes easy to access for young audiences, helping to build their confidence as readers, writers, and theater-lovers. For families with children and teens ages 7+. 4/30 thru 5/7. (92ny.org)
This G*d Damn House (Chain Theatre, 312 W. 36th St.) Jet lagged, without warning, Danny is summoned from NYC by his brother Jacob to Florida. Their mother has 24 hours to vacate their childhood home. The problem is, their mother is a hoarder and the house is an indoor trash heap. The brothers dig through the filth and garbage with memories, trauma, and the past rising to the surface as the deadline closes in. 3/15 thru 4/8. (chaintheatre.org)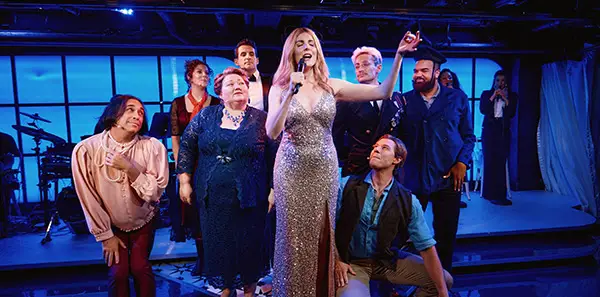 Titanique (Daryl Roth Theatre, 101 E. 15th St.) A musical celebration that turns one of the greatest love stories of all time into a hysterical and joyful slay-fest. Want to find out what really happened to Jack and Rose on that fateful night? Leave it to Céline Dion to casually hijack a Titanic Museum tour and enchant the audience with her totally wild take, recharting the course of Titanic's beloved moments and characters with her iconic song catalog. Thru 5/14. (titaniquemusical.com)
Tortoise and Hare Next Generation (Sheen Center, 18 Bleecker St.) With dazzling visuals, poignant storytelling, and music ranging from classical to pop, this unique production brings the legendary tale to brilliant new light. Recommended for ages 5 through 9. 3/25 & 3/26. (sheencenter.org)
Trilogy 2 (Gene Frankel Theater, 24 Bond St.) Playwright Garry Batson's three short one acts include Ill Winds, Fort Knox, and Flight Risk—each play showing the struggles a family goes through when humanity presents the choice between good and evil. 3/15 thru 4/2. (thebatsontrilogy.eventbrite.com)
Truckers (INTAR Theatre, 500 W. 52nd St., 4th Fl.) In Mariana Carreño's darkly humorous new play, Mayor, Lollipop, and Freckles don't know when they'll be leaving a truck stop with their unique cargo, or where they'll be taking it, but they do know that things are starting to get really, really weird. Thru 3/26. (intartheater.org)
Vámanos (INTAR Theatre, 500 W. 52nd St., 4th Fl.) It's a year after 9/11 and the fun-loving Dominican Torres family of the Bronx is gathering to celebrate a christening while navigating a new reality that challenges their sense of security: the threat of the U.S. waging war in Iraq. When it's time to party, the Torres' still deliver—and yet the comforts of home fall short. 4/22 thru 5/21. (intartheater.org)
Vanities The Musical (Theatre at St. Jean's, 150 E. 76th St.) A heartfelt and humorous chronicle of the lives of three women, Joanne, Kathy, and Mary, tracing them from their late teen years through adulthood. They grow and change, testing the limits of what they thought they knew about themselves, as well as the narrow views of women society has presented them. 3/21 thru 4/22. (yorktheatre.org)
The Very Hungry Caterpillar Show (DR2 Theatre, 101 E. 15th St.) Children and families are invited to be part of author Eric Carle's beautifully imagined stories as they come to life at this very special theatrical event. Featuring 75 enchanting puppets and audience participation, young theatregoers also have the opportunity to take a photo with the star of the show: The Very Hungry Caterpillar! From 2/10. (hungrycaterpillarshow.com)
Photo by Joan Marcus.
The Wanderers (Laura Pels Theater in the Harold and Miriam Steinberg Center for Theatre, 111 W. 46th St.) Orthodox Jews Esther and Schmuli are newly married, and their future is written in the laws of the Torah. Secular Jew Abe is a famous novelist who believes he can write his own future…until an unexpected email from movie star Julia Cheever (Katie Holmes) puts his marriage to the test and threatens to prove him wrong. 1/26 thru 4/2. (roundabouttheatre.org)
War Dreamer (wild project, 195 E. 3rd St.) Inside Jesse, they are building something… From playwright Leegrid Stevens comes a spellbinding audio-centric, psychological horror play that follows a soldier grappling with conspiracy theories in post-war life. 3/3 thru 3/25. (loadingdocktheatre.org)
we were promised honey! (59E59 Theaters, Theater C, 59 E. 59th St.) A lone performer tells the story of the future of the audience; what's going to happen to them in the post-show decades, centuries, millennia. A baby's born in a lighthouse; someone's on fire in the middle of the desert; two lovers reunite in a flooded city; a spaceship is on the edge of a black hole. Everything has already been decided. This is the story of the end. 5/9 thru 5/21. (59e59.org)
Wet Brain (Playwrights Horizons' Mainstage, 416 W. 42nd St.) In a crumbling house in Arizona, a family haunted by addiction wrestles with the alcoholic ruin of its patriarch, who may or may not be repeatedly abducted by aliens. 5/17 thru 6/25. (playwrightshorizons.org)
White Girl in Danger (Second Stage's Tony Kiser Theater, 305 W. 43rd St.) A new musical from Michael R. Jackson (A Strange Loop). While the citizens of the soap opera town Allwhite face high-stakes drama and intrigue all the days of their lives, Keesha and the other Blackgrounds have been relegated to backburner stories of slavery and police violence. Keesha is determined to step into the juiciest storylines, but can she handle the Allwhite attention? 3/15 thru 5/21/23. (2ST.com)
The Wife of Willesden (Harvey Theater at BAM Strong, 651 Fulton St., Brooklyn) This modern translation of an excerpt from Chaucer's Canterbury Tales, bestselling author Zadie Smith's debut play gives us Alvita...a local legend. Married five times, a mother, a lover, an aunt, and a friend, Alvita is a Jamaican-born British woman in her mid-50s holding court at a North West London pub. 4/1 thru 4/16. (bam.org)
Wink (New Victory Theater, 209 W. 42nd St.) Fall fast asleep and wake up in the world of Wink, where mountains morph into oceans, stars turn into fish, and ships sail into the night sky. With playful shadow puppetry and magical movement, Spellbound Theatre brings you the sweet dreams of a small girl and her teddy as they adventure across land, sea, and air. After all, anything is possible under moonlight's spell! 4/22 thru 5/7/23. (newvictory.org)
Woman of the Year (Theatre Row, 410 W. 42nd St) With a score by Kander and Ebb, this Tony-winning musical adaptation of the classic film centers on famous TV reporter Tess Harding, and equally famous cartoonist Sam Craig. When Tess goes on air to insult Sam's work, the two start an epically public feud in their respective mediums that turns to romance—but not to harmony. 4/13 thru 4/23. (j2spotlightnyc.com)
Word. Sound. Power. 2023: WORD—The New Storytellers (BAM Fishman Space, 321 Ashland Pl., Brooklyn) BAM's annual showcase of hip-hop and spoken word includes performances by Helixx C. Armageddon of the gender justice collective the Anomolies and MC and activist Silent Knight; choreography by artist/filmmaker Jade Charon; and hosted by longtime director/co-curator MC Baba Israel. 4/21 thru 4/28/23. (bam.org)
Yes, I Can Say That!  (59E59 Theaters, Theater A, 59 E. 59th St.) Comedy veteran Judy Gold knows the value of a good joke—and the steep price of silencing comedians. Unnerved and infuriated, she shares her reverence for the intimacy of collective laughter and her passion for the vital work comedians do to bring us together, make us think, and speak truth to power. 3/4 thru 4/16/23. (59e59.org)
Zephyr (New Victory Theater, 209 W. 42nd St.) Set on a rotating turntable, there's practically nothing in Zephyr that won't spin as the adrenaline-driven daredevils of Cirque Mechanics brazenly balance atop the windmill's blades and fearlessly face the Wheel of Destiny. A turbine tug of war between man, nature and machine. Zephyr is a whirlwind of circus that'll blow you away. 3/24 thru 4/16/23. (newvictory.org)
Be sure to check websites for Covid-related performance cancellations before heading to the theatre, and do have a back-up show or two on your must-see radar!
For the latest news on Broadway scheduling and cancellations, check out this great resource from the Broadway League.
Vaccination and Mask Policy for Broadway and Off-Broadway Shows in NYC
For information regarding safety and safety protocols, please consult your show's official website or the website of the theatre you are planning to visit. Please verify the theatre policies and requirements before making your purchase.
More information is available here.—The Broadway League Sq..S