In New York City, Broadway Shows are a mega draw—if not THE mega draw—thanks to blockbuster musicals and plays, historical theatres, celeb performers, and unsurpassed production values. Read on for the latest news and notes on New York theatre, along with a guide to traveling through eras and destinations courtesy of Broadway's magic.
BROADWAY's BREAKING BUZZ
SPAMALOT RETURNS!
Monty Python's cartoon finger of fate is once again pointing to Broadway, indicating the second coming (or first Broadway revival) of 2005's Tony-winning musical, SPAMALOT. Following a spectacularly victorious procession of performances at Washington DC's Kennedy Center, the 2023 Broadway edition is slated to begin previews on October 31st and officially open on November 16th at the St. James Theatre. Josh Rhodes (Bright Star; Cinderella), who directed and choreographed the Kennedy Center production, has signed on for the Broadway transfer. (Cast TBA) Huzzah or some such!
The show, featuring a book and lyrics by Eric Idle and music by John Du Prez and Mr. Idle, is part musical-of-the-ridiculous, part homage to the classic 1975 film Monty Python and the Holy Grail, in which King Arthur and the knights of Camelot go a-questing and encounter a bunch of odd people and odder adventures. Not surprisingly, SPAMALOT is on the same page as its cinematic predecessor, serving up killer rabbits, French taunters, flying cows, rubbery shrubbery and other cult faves along with a score that includes "The Song That Goes Like This," "Find Your Grail," and "Always Look on the Bright Side of Life".
"I'm thrilled to see SPAMALOT back on Broadway," said Idle. "More than ever, it seems we need a good laugh and it's inspiring to see audiences still embracing this, the most happy of shows I have ever worked on. So put the News Cycle on Rinse Cycle and take a couple of hours to relax with the Lady of the Lake, King Arthur and the Knights Who Say Ni because we're not dead yet!"
Vice President & Executive Producer of Theater and Artistic Director, Broadway Center Stage at The Kennedy Center Jeffrey Finn "As we near the almost 20th anniversary of the original production, it is a great honor to restore SPAMALOT's place on Broadway for fans who have longed for its return and for new audiences to meet the Knights of the Round Table for the first time," said producer Jeffrey Finn. "I'm thrilled to continue the Kennedy Center's legacy of bringing great productions from D.C. to audiences in the town that never sleeps—Camelot!...I mean, New York!"
FALLING IN LOVE AGAIN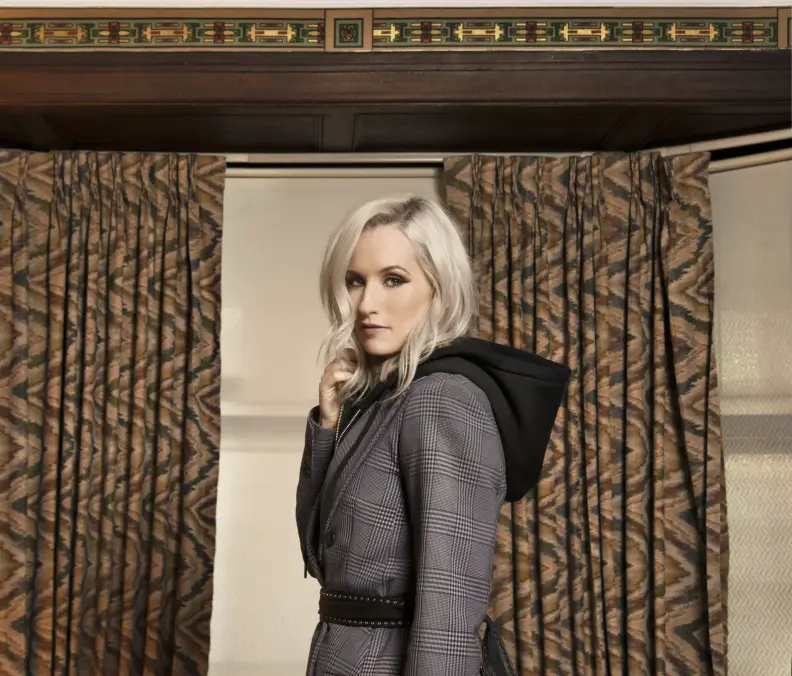 Ingrid Michaelson. Photo: Shervin Lainez.
This just in: A new musical based on Nicolas Sparks bestselling novel The Notebook is headed to Broadway on February 6th ahead of a March 14th opening night. And while casting has yet to be announced (the film version starred Rachel McAdams and Ryan Gosling), rest assured hankies and/or tissues are recommended for this romantic drama set to a score by folk-pop singer-songwriter Ingrid Michaelson (four Top 20 albums; two platinum singles—"The Way I Am" and "Girls Chase Boys"—as well as the score of Hulu's Tiny Beautiful Things).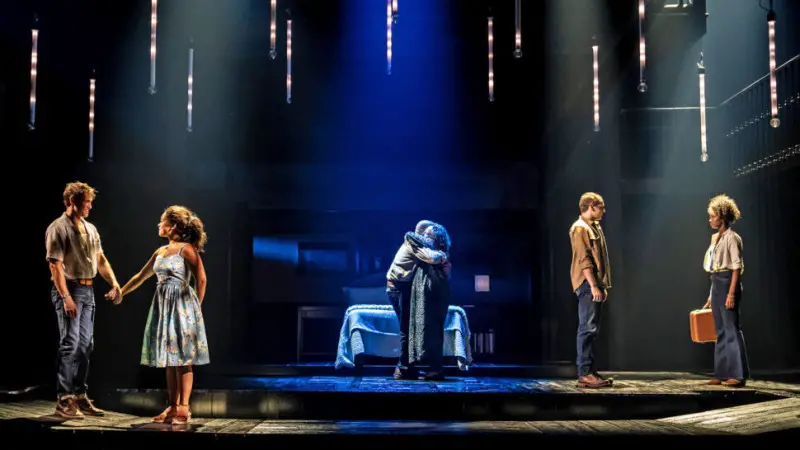 John Cardoza, Jordan Tyson, John Beasley, Maryann Plunkett, Ryan Vasquez, and Joy Woods in Chicago Shakespeare Theater's world premiere production of The Notebook, Broadway cast TBA. Photo by Liz Lauren.
The book for this Broadway original, set to play the Gerald Schoenfeld Theatre, is by playwright Bekah Brunstetter, who also penned This is Us and The Cake. Co-directing the show are four-time Tony-nominee Michael Greif (Dear Evan Hansen, Next to Normal, Grey Gardens and the groundbreaking 1996 production of RENT) and Schele Williams, who has several other directorial projects in the works, including this spring's revival of The Wiz.
Completing the announced creative team is choreographer Katie Spelman.
EAST COAST SHARK ALERT!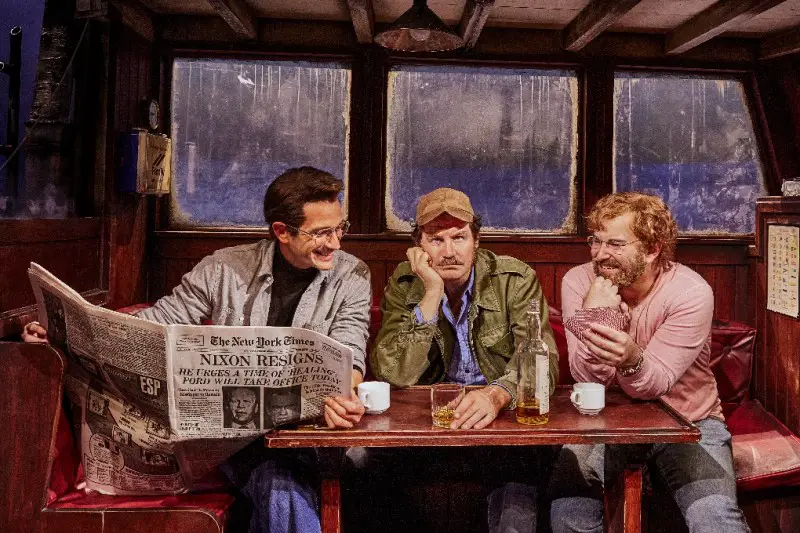 On July 25th, Broadway began swimming with the mechanical sharks – or at least a theatrical version of one that terrified audiences and tormented director Stephen Spielberg and stars Robert Shaw, Roy Scheider, and Richard Dreyfuss during the filming of JAWS in 1974. The Shark Is Broken—a hit U.K. comedy by Ian Shaw (son of Robert) and Joseph Nixon—that dazzled at the Edinburgh festival, was derailed by the pandemic, but eventually made it to London's West End and an Olivier nomination, has booked the John Golden Theatre for a limited 16-week engagement. The official opening date is August 10th.
Co-starring with Shaw are Tony-nominee Alex Brightman (Beetlejuice; School of Rock) as Richard Dreyfuss and Colin Donnell (Chicago Med; Irreverent) as Roy Scheider.
Bonus Buzz: The show's director is Olivier-Award winner Guy Masterson. Mr. Masterson is also an acclaimed solo performer who is set to bring his A Christmas Carol to NYC for the 2023 holiday season.                                                
RADCLIFFE, GROFF & MENDEZ to MERRILY ROLL ALONG
After an extended sold-out run Off-Broadway, Olivier Award-winning director Maria Friedman's celebrated Menier Chocolate Factory & New York Theatre Workshop production of Merrily We Roll Along has set a date for its Broadway transfer: Tuesday, September 19th. With music & lyrics by Stephen Sondheim and a book by George Furth, the showbiz saga centers on a trio of friends/collaborators—composer Franklin Shephard, writer Mary Flynn, and playwright/lyricist Charley Kringas. Jonathan Groff, Lindsay Mendez, and Daniel Radcliffe—the trio who raked in kudos for their Off-Broadway performances—return to their roles. Not surprisingly, the limited 18-week run is already showing signs of being a runaway Broadway must-see.
Based on the play of the same name by George S. Kaufman and Moss Hart, the musical's Broadway debut in 1981 under the direction of Hal Prince was a flop—a rarity for both composer and director—closing after 16 performances and 52 previews. However, the current Friedman incarnation has clearly turned the corner in terms of success, with reviews for the New York Theatre Workshop calling the production "intoxicating," "superlative," "hilarious," and "heartfelt."
BROADWAY: TIME-TRAVEL-MEGAHIT CONTINUUM
Broadway: where it's possible to travel to multiple countries, eras, and/or fantasy worlds night after incredible night.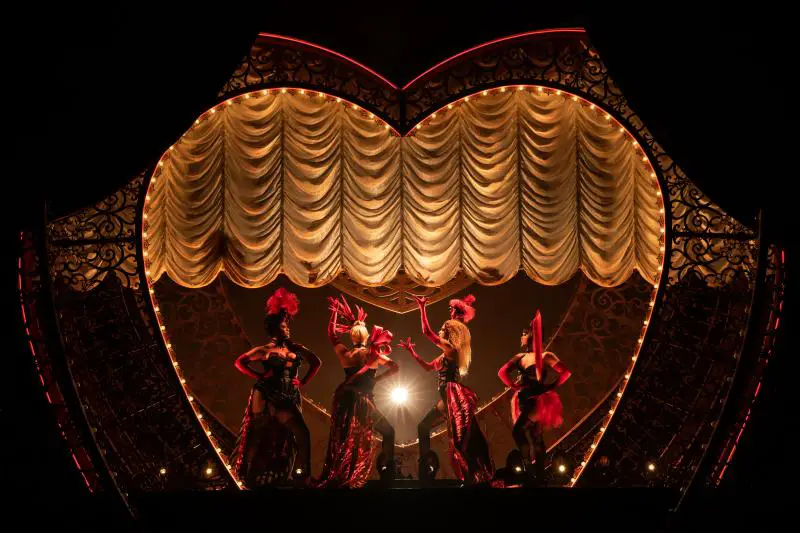 Moulin Rouge! Photo by Matthew Murphy.
Say you want to visit Paris at the turn of the 20th-century, in which case Moulin Rouge! The Musical would be the trip to book. If you've always wanted to explore Africa, you have two wildly diverse, extraordinary options: alongside cub-to-king Simba and other anthropomorphic characters inhabiting the Pride Lands of Disney's The Lion King; and through the wide eyes of a couple of Mormon missionary lads assigned to a remote Ugandan village in the hilariously irreverent The Book of Mormon.
If historic England beckons (with a savvy dose of 21st-century twists and tweaks, of course), you'll find the 1500s are nicely covered in the musicals Six, a cheeky concert concoction in which the wives of Henry XIII tell all and then some; and & Juliet, a jukebox "what if" romp of Shakespearean proportions. Prefer your U.K. Victorian and tinged with gothic gore? "Attend the tale" of Sweeney Todd: Demon Barber of Fleet Street—a full-bodied/full-orchestral revival of Stephen Sondheim's dark and funny masterwork starring Josh Groban and Annaleigh Ashford.
Should the 1920s be your cup of tea, you've hit the Jazz Age jackpot, from long-running Chicago, to Fanny Brice bio Funny Girl, to last-season's blockbuster must-see, Some Like It Hot, starring Tony winners J. Harrison Ghee and Christian Borle.
And then you have The Cottage, a madcap romcom set in bucolic Britain directed by Seinfeld alum Jason Alexander, and featuring a cast that includes Emmy winner Eric McCormack (Will & Grace), Tony nominees Laura Bel Bundy (Legally Blonde), Lilli Cooper (Tootsie), and SNL's Alex Moffat. Veer Off-Broadway and you can thumb your nose at Prohibition as you Charleston the night away with F. Scott Fitzgerald's iconic characters throughout the interactive phenom The Great Gatsby—The Immersive Show.
Meanwhile, if you're one to take time travel literally, there's, a) Broadway's latest cinema-to-stage adaptation—Back to the Future: The Musical, starring Tony winner Roger Bart as Doc Brown and Hugh Coles (Atlanta), reprising his Olivier-nominated performance as George McFly; and b) Harry Potter and the Cursed Child, the Tony-winning play/extravaganza sequel to J.K. Rowling's book and film series filled with enchanted illusions, heart-stopping surprises, and fan-fave character cameos. (For the ultimate Potterhead experience, double down with a pre- or post-show visit to Harry Potter: The Exhibition near Herald Square where total Wizarding World immersion is the order of the day—along with Butterbeer.)
That said, Broadway's magical globetrotting doesn't end with the Hogwarts Express, it continues on to Oz where the mega-hit musical Wicked has been Defying Gravity for nearly 20 years; takes the scenic magic carpet route to Agrabah where Genie conjures A Whole New World in Aladdin; and flies across a storybook landscape populated by a determined group of heroines who power through Britany Spears' pop anthems as they burst traditional fairy tale bubbles in Once Upon a One More Time.
BEHIND-THE-SCENES BUZZ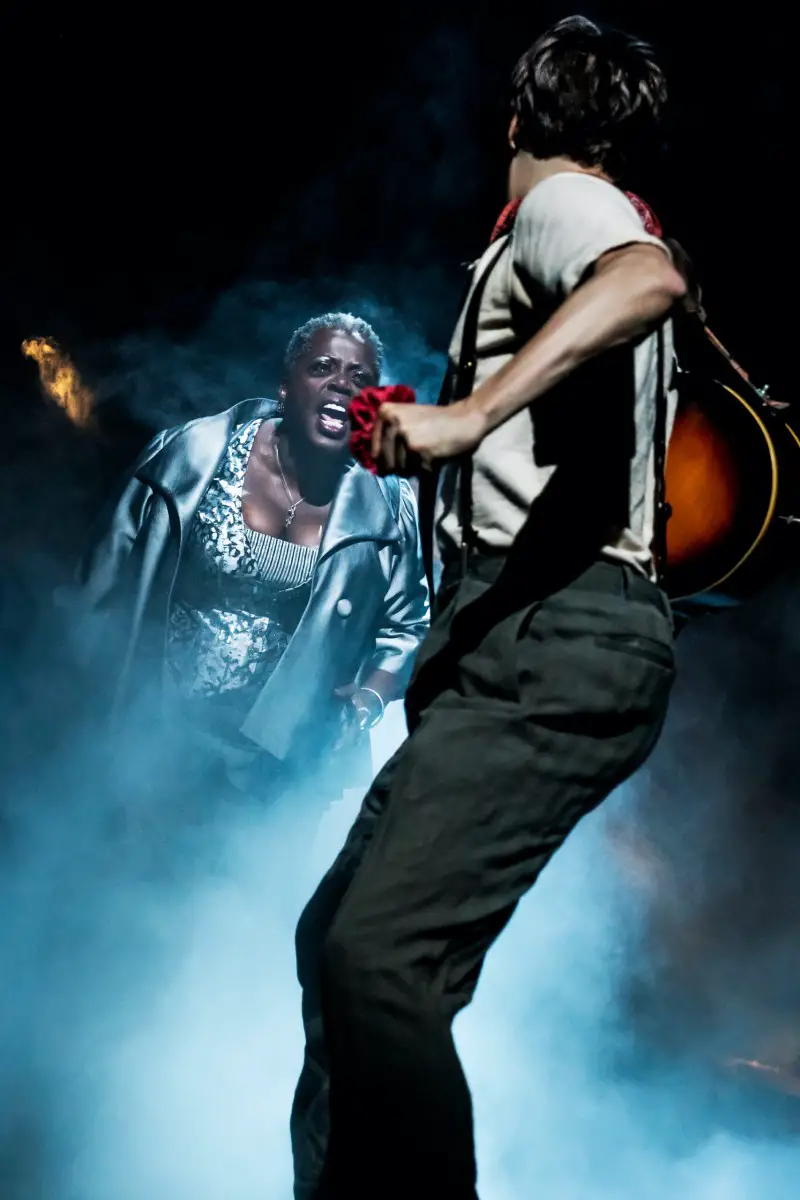 When it comes to casting news, August and September are coming in white hot at the Tony-winning musical Hadestown, starting with the announcement that Tony winner Lillias White has extended her show-stopping run as Hermes through February 4th, 2024.
As for new performers joining the company, Solea Pfeiffer, last seen on Broadway in Almost Famous, recently stepped into the role of Eurydice, originated by Tony nominee Eva Noblezada. And beginning September 5th, Australian-American pop star Betty Who and Tony/Grammy nominee Phillip Boykin will star as power couple Persephone and Hades. "Musical theatre was one of my first loves—one of the main reasons I wanted to sing in the first place," notes Who. "So, to have arrived at this place in my life, making my Broadway debut!—I am just completely overwhelmed and excited." Adds Boynton, "After seeing the first scene, I was hooked. I fell in love with this masterpiece…I am beyond honored to step into a role created by the phenomenal Patrick Page."
In case you haven't heard, Broadway has officially thrown its hat into the immersive arena with the musical extravaganza tracking the rise and fall of Imelda Marcos. Here Lies Love has launched a limited run at the revamped and fiercely amped Broadway Theatre. Here you can either embrace your inner Studio 54 persona alongside the cast, or assume a more voyeur-esque role perched above the playing area. Also making history is the pedal-to-metal performance by an all-Filipino cast led by Arielle Jacobs, Jose Llana, and Conrad Ricamora. And that's on top of the disco/electro-pop score created by David Byrne and Fatboy Slim.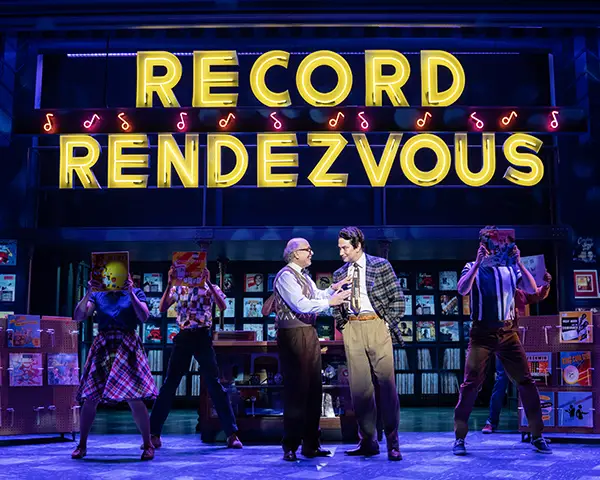 Joe Pantoliano as Leo Mintz, Constantine Maroulis as Alan Freed, and the cast of Rock & Roll Man. Photo credit © Joan Marcus (2023).
In contrast, ramping up retro rock Off-Broadway is Rock & Roll Man—another rise and fall saga, only this one centering on DJ Alan Freed who bucked the establishment big time by breaking down racial barriers, both on-air and in the concerts he promoted during the 1950s. The show smoothly transitions from his early radio days in Cleveland—"Now everybody get on your dancin' shoes, I'm gonna play you some rockin' Rhythm and Blues" to his up-and-down trajectory in NYC and touring concerts—"Listen kids, kids! The cops are insisting that we turn the lights on. They obviously don't want you to have fun..." Constantine Maroulis (Rock of Ages) is amazing as Freed, capturing the man's passion and drive, while Joe Pantoliano (The Sopranos) shines as two prominent players in Freed's life: Leo Mintz and Morris Levy.
BROADWAY BRIEFS
INTERACTIVE PLAYGROUND

J. Harrison Ghee and Alexa Meade, photo by Mike Monaghan. 
Wonderland Dreams on Fifth Avenue and 44th Street is an interactive playground that invites visitors to immerse themselves in all manner of things "Alice in Wonderland" as seen through the prism of artist Alexa Meade's expansive imagination and unique style. Known for transforming models into two-dimensional works of art, Meade recently hosted Broadway Night at the venue during which she worked her metamorphosing magic on Broadway stars Brian Stokes Mitchell, Eden Espinosa, and Hailee Kaleem Wright. Totally theatrical, from opening brush strokes to final flourish! (FYI: 2023 Tony winner J. Harrison Ghee was Meade's subject for the event's posters.) This amazing exhibit is only around through September 10th so make your plans accordingly!
CASTING NEWS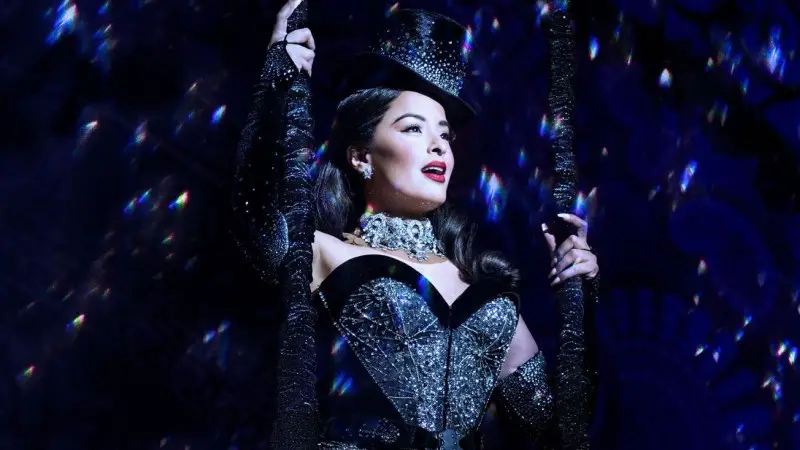 MOULIN ROUGE—Courtney Reed is the new Satine, August, 2023. Credit: Matthew Murphy & Evan Zimmerman for MurphyMade.
Moulin Rouge! The Musical: on July 30th, Joanna "JoJo" Levesque and Derek Klena playws their final performance as Satine and Christian. Taking over the roles as of August 1st are Courtney Reed (Broadway's original Jasmine in Aladdin), and Casey Cott of CW's Riverdale, in his Broadway debut.  
Hadestown: Tony nominee Tom Hewitt and original cast member Jewelle Blackman have extended their run as power couple Hades (aka Lord of the  Underworld) and Goddess of Spring Persephone through September 3rd.
BROADWAY BOMBSHELL
Remember when Smash was a hit NBC musical drama in 2012-2013, regaling viewers with the good, the bad, and the boffo world of Broadway? Well, if all goes according to plan, it will be transformed into a stage musical during the 2024-2025 season. Here's the award-winning superteam low-down as it stands right now: Marc Shaiman (music & lyrics), Scott Wittman (lyrics), Rick Elice & Bob Martin (book), Joshua Bergasse (choreography) and Susan Stroman (direction).
Several songs written by Shaiman and Wittman for the TV show — including the Emmy-nominated "Let Me Be Your Star" — will be incorporated into the musical, and in case you were wondering, the storyline will still follow the madcap putting together of the fictional Marilyn Monroe musical "Bombshell". That said, the Broadway version will not be a carbon copy of the series. In short, expect some major theatrical twists and turns.
Steven Spielberg, whose original idea led to the NBC series, had this to say about the project: "Smash is near and dear to my heart, and it was always my hope that a musical inspired by the show would eventually come to the stage. We now have an incredible creative team, and I'm looking forward to completing the Smash journey which began with my producing partners over ten years ago."
Added producer Neil Meron, "Ever since the show ended…not a week goes by that someone doesn't ask us when will they see Smash as a musical. We think we've come up with something the die-hard series fans will love but that will also be exciting for people who never saw an episode of the show. And above all else it will be a valentine to the Broadway musical and the exhilarating rollercoaster ride of bringing one to life."
FUTURE FINALE
It was recently announced that Funny Girl's high-profile quartet of stars of—Lea Michele, Ramin Karimloo, Jared Grimes, and Tovah Feldshuh—have signed on to ride the show's record-breaking run into its final performance sunset on September 3rd, at which point it will have played 599 performances and 30 previews at the August Wilson Theatre. 
This first ever Broadway revival of Jule Styne's musical bio based on legendary comedienne Fanny Brice—multiple-Tony Award winner Harvey Fierstein provided the revised book for the show—opened April 24, 2022 starring Beanie Feldstein as Brice; Ms. Michele, made her first appearance in the role less than five months later on September 6th. And, for a bit of nostalgia trivia: Funny Girl director, Michael Mayer, won a Tony Award in 2007 for Spring Awakening, in which he directed Michele in her Broadway debut.
THEATRE LOVERS REJOICE!

Photo: Monique Carboni.
For those of us who live and breathe all things theatre, The Museum of Broadway is an excursion through decades of cherished memories as well as a visual exploration of all that unfolded theatrically before our time. And it's spot-on amazing.
Created by Tony-winning producer Julie Boardman and Rubik Marketing founder Diane Nicoletti, the museum is smartly situated in the Times Square area (145 W. 45th St.), meaning landmark theatres and legendary addresses are within walking distance. But the big payoff is the exhibition itself, with historical data dating back to the 18th-century and immersive showcases like Oklahoma's corn field and set recreations from shows like West Side Story. Labyrinthine, for sure, but blissfully so since visitors are invited to snap photos throughout. There are a handful of show-specific photo-op backdrops along the way, a case in point being Hair, where a swing beckons you into a "Let the Sun Shine In" backdrop. Earworm alert: show tunes match up to the displays. 
For me, the reconstructed Ziegfeld Follies dressing room with its vintage costumes (the real awesomely preserved deal, right down to the feathers) was especially seductive.
Just when you thought you missed some of Broadway's big buzz moments—from exhibits to stars to shows—the narrow window of opportunity is not shut after all.
A PRODUCER'S LIFE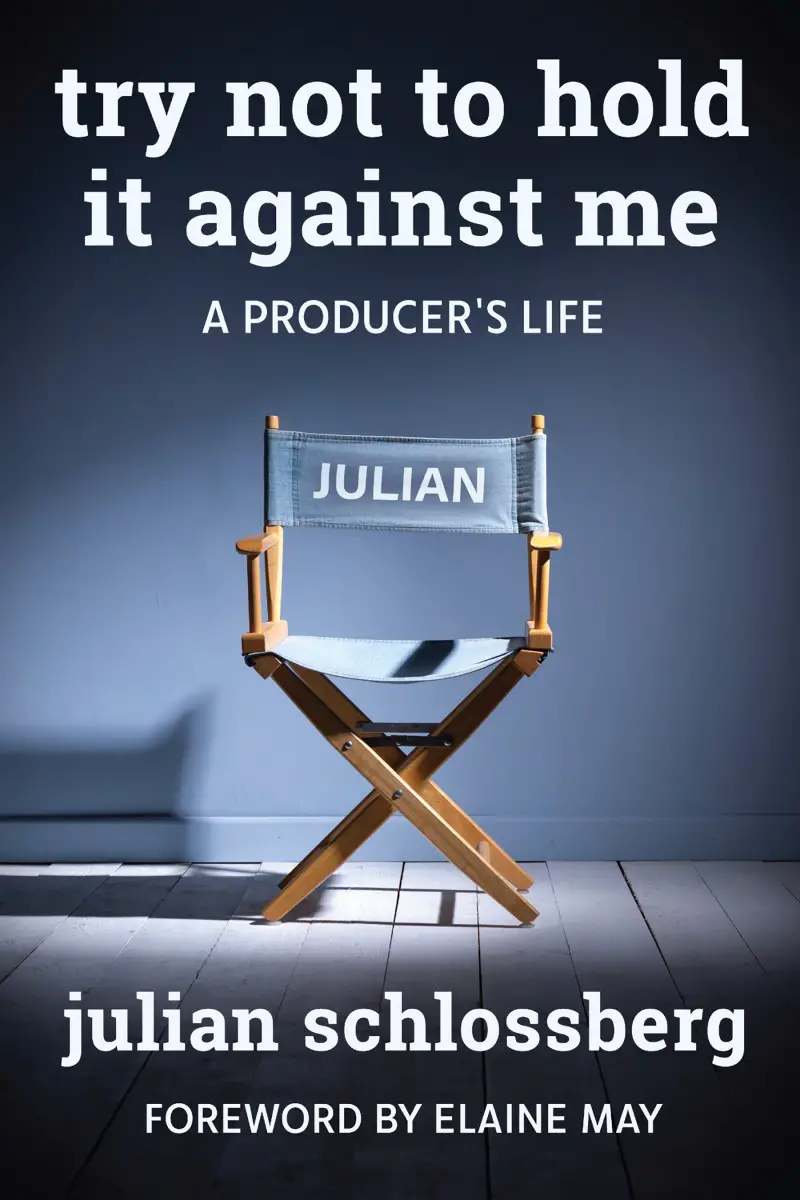 The early chapters of legendary producer Julian Schlossberg's bio Try Not to Hold It Against Me remind me of a 1940s black & white movie: spunky kid growing up in a New York neighborhood pals around, gets into scrapes, learns life lessons, etc. As the book progresses, however, it turns vivid technicolor, shining a klieg light on a cinematic-theatrical-celebrity-spangled life. Mr. Schlossberg shares it in short, episodic chapters spanning decades of eclectic, insightful, and captivating showbiz memories. Five bravos and a standing ovation.
THE TOAST OF BROADWAY
With a title deftly plucked from the musical Company, I'll Drink to That! is an intoxicating new theatre/"cocktail table" book that immerses the reader in "Broadway's Legendary Stars, Classic Shows, and the Cocktails They Inspired." Written by musical theatre historian Laurence Maslon, with photography by noted theatrical photographer Joan Marcus, the book is a savvy blend of craft cocktail recipes, showbiz scuttlebutt, and stunning Broadway production shots and drink close-ups.
Notes Maslon: "Ever since my parents took me, as a wee lad, to see Maggie Smith in Noël Coward's Private Lives, it struck me that the glamour of Broadway and the elegance of a cocktail will always go hand in glove—or 'hand and glass,' I should say. This book—with Joan Marcus's sparkling photos—gives readers an effervescent overview of that bubbly relationship, as well as more than a few choice anecdotes to dazzle any after-show cocktail conversation."
Available wherever books are sold.
REMEMBERING TODD HAIMES
Photo credit: Teddy Wolff, 2015
May 7, 1956 – April 19, 2023
To me and others within New York's theatrical community, Todd Haimes has been the heartbeat of the Roundabout Theatre Company for decades—certainly in his role as artistic director and chief executive, but also as a generous, good guy who loved and respected the people and the process. He didn't only work to make good theatre, he was instrumental in making theatre better. His passing on April 19th from cancer was a loss that has been, and will continue to be, reflected in an outpouring of posts, emails, articles, and photographs. Having interviewed Todd, watched him in action behind the scenes, and felt his presence in countless Roundabout productions, his absence is surreal; his legacy…prolific, unique, and profound.
[Scott Ellis, who alongside Todd has served as Deputy Artistic Director for over 30 years, has taken over as Roundabout's Interim Artistic Director.]
In early June, it was announced that the American Airlines Theatre was to be renamed the Todd Haimes Theatre. The idea of the name change was proposed prior to Haimes' passing, as Roundabout's current sponsorship agreement with American Airlines would be ending in early 2024.
"Last year, when the thought of naming the theater after Todd arose, our instinct was to honor a visionary producer who had led Roundabout from a basement under a supermarket in Chelsea to an indelible force in the American theater," said board member Lawrence Kaplen. "I am proud to be a member of a board of directors, which is united in their commitment to preserve Todd's legacy with this distinct honor."
The theater will be officially dedicated and renamed during Roundabout's 2023-2024 season.
THE BROADWAY STUDIOS TOUR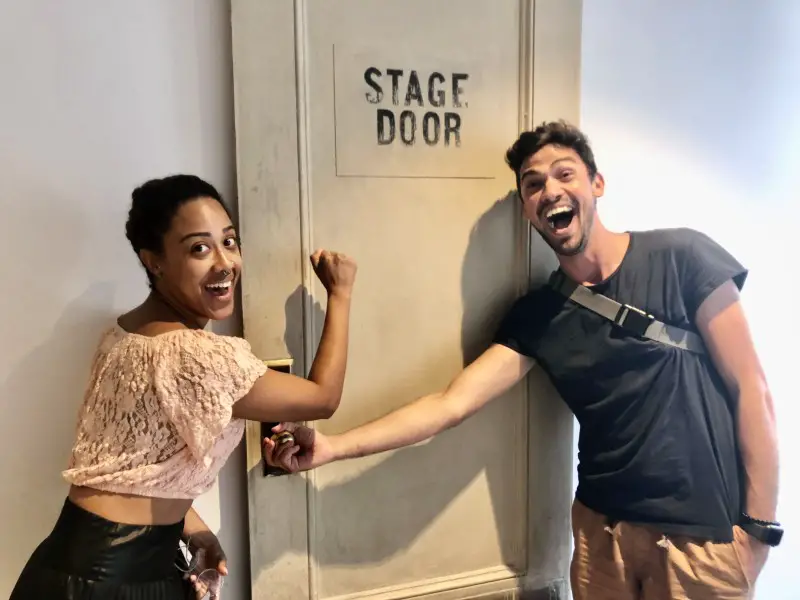 Times Square's newest attraction is turning theatre lovers into Broadway insiders via a first-ever private tour of Open Jar Studios—a rehearsal studio complex where shows like Moulin Rouge!, Hadestown, and MJ got their start. Officially launched this past June, The Broadway Studios Tour offers a behind-the-scenes look at what goes into mounting a Broadway show, from development, writing, and design to auditions, rehearsals, and preview performances.
Each 30-minute tour is led by a member of New York's theatrical industry, well versed in the ins and outs of all things Broadway, including personal stories and direct insight. Also included is a up-close look at some rare showbiz artifacts, including scenery from a legendary movie musical. And, because you're inside a working studio, you never know what shows or stars will be around…but a sneak peek inside a rehearsal room is always a possibility!
Tickets are available at BroadwayStudiosTour.com.
Check out our comprehensive look at what's on Broadway now and what's coming soon. (And we've got Off-Broadway too!)