In the past, when it came to new Broadway shows, the lazy, hazy days of summer were a notorious black hole—maybe a limited run specialty show would arrive and depart in a heartbeat, or a surprise debut or two would slip in, but on the whole June, July, and August were seen as placeholders between the Tony Awards and the new Fall Season. Not anymore, and definitely not in 2023, a year that is serving up an unprecedented feast of Broadway previews and openings.
Photo credit: MurphyMade.
Teetering on summer with a May 30th opening night is Grey House, a psychological thriller steeped in the supernatural starring Tony winner Laurie Metcalf and Orphan Black's Tatiana Maslany. Next came June and the musical Once Upon a One More Time (heads up to fans of Britney Spears' greatest hits and anyone up for several fairy tale princesses revising their "happily ever afters"), followed by Just For Us, Alex Edelman's hilarious limited-run solo show built around his one-night misadventure at a White Nationalist meeting.
Arielle Jacobs (Imelda Marcos—blue dress) and the cast of Here Lies Love. Photo credit: Billy Bustamante, Matthew Murphy, and Evan Zimmerman (2023).
June also saw the New York premiere of the immersive disco pop Imelda Marcos musical Here Lies Love, featuring music by Grammy winners David Byrne and Fatboy Slim. Previews in June cleared the way for an August 3rd opening for Back to the Future: The Musical (Marty McFly, Doc Brown, DeLorean time machine…enough said).
Moving into July, it's comedy times two with the arrival of The Cottage, a romcom farce set in 1923 starring Eric McCormack and Laura Bell Bundy, and The Shark Is Broken, a behind-the-JAWS look at three actors, Richard Roy Dreyfuss (Alex Brightman), Roy Scheider (Colin Donnell), and Robert Shaw, played by his son Ian Shaw–relegated to a small boat waiting out a storm and the repair of the mechanical title character. Finally, August 17th marks the launch of a two-week stint for European illusionist Antonio Díaz (Discovery Max) whose show/stage name, El Mago Pop, is poised to amaze in every sense of the word.
THREE TO SEE
Showstopping numbers, epic characters, performances that exceed expectations, and an ever-growing word-of-mouth cachet—together these elements are musical theatre gold, and shared by two of Broadway's seismic hits and a big buzz Off-Broadway newcomer that shines a klieg light onto vintage rock history. Not surprisingly, all three productions feature plots and/or backstories rooted in show business.
At the Shubert Theatre's Some Like It Hot, it's the 1920s when a couple of down-on-their-luck musicians (Tony winners Christian Borle and J. Harrison Ghee) find themselves in desperate need of both work and a get-out-of-Chicago-quick escape hatch after witnessing a mob hit. Salvation comes with a west coast gig. The catch? No-nonsense bandleader Sweet Sue (Natasha Yvette Williams) helms an orchestra that is all dames, no dudes. The solution? Joe and Jerry become Josephine and Daphne, bewigged and befuddled…and romantically involved (cue Adrianna Hicks as Sugar and Kevin Del Aguila as Osgood). Expect several deviations from its cinematic source material,  Billy Wilder's 1959 classic, but the farce remains first-rate and boasts a maniacally madcap chase scene as the perfect topper.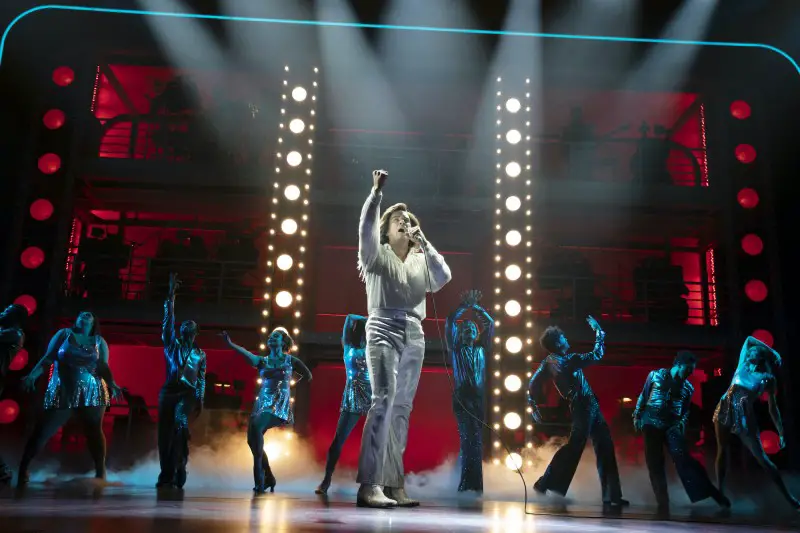 Will Swenson (Neil – Then) leads the cast of "A Beautiful Noise, The Neil Diamond Musical." Photo by Julieta Cervantes.
Fast forward a bunch of decades and you have A Beautiful Noise: The Neil Diamond Musical, a showbiz biopic that reaches into the hearts of Neil Diamond's loyal fan base and recruits new disciples at every performance thanks to its formidable company led by Tony nominee Will Swenson. In nuancing Diamond's persona, from virtual unknown to pop music icon, Swenson is fearless as he delivers one hit after another and brings his subject's conflicted life into focus. The book, keenly crafted by Anthony McCarten (Bohemian Rhapsody), begins, and is punctuated throughout, with Neil "Now" (Mark Jacoby) in therapy sessions that inevitably flashback to Swenson's Neil and "Solitary Man"…or "America"…or the in-show and curtain call showstopper "Sweet Caroline," a.k.a. sing-along catnip.
Valisa LeKae as LaVern Baker, Constantine Maroulis as Alan Freed, Rodrick Covington as Little Richard, and the cast of Rock & Roll Man. Photo credit © Joan Marcus (2023).
Speaking of flashbacks, the new Off-Broadway musical Rock & Roll Man, homing in on the life and legacy of trailblazing DJ/concert promoter Alan Freed, is built around blasts from the pasts and alcohol-fueled nightmare sequences featuring J. Edgar Hoover (Bob Ari) as prosecutor and a deliciously over-the-top (as if that were possible!) Little Richard (Rodrick Covington) as defense attorney. Driving the production is Constantine Maroulis's extraordinary linchpin embodiment of the man who coined the term "rock & roll" while defying the pervasive segregation codes of the 1950s. Sharing stage time with Maroulis is Joe Pantoliano (The Sopranos) who plays two roles—one lovable, one not so much. And, like A Beautiful Noise, the roster of rock classics is impossible to resist.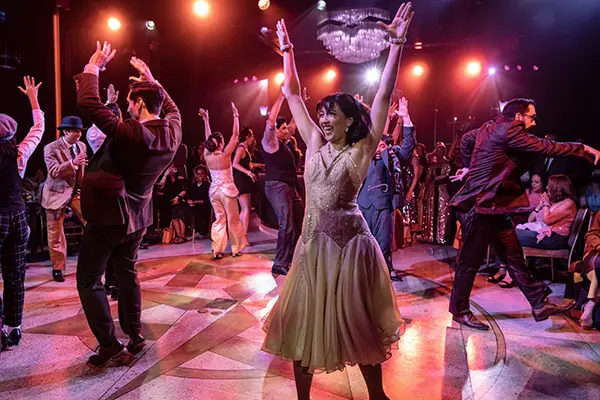 The Great Gatsby—The Immersive Show is not so much a theatre ticket as a coveted invite to a night of jazz-infused 1920's decadence that unfolds at Gatsby Mansion in the Park Central Hotel New York. From the moment you arrive (dapper dinner jacket and flapper chic optional, but highly recommended), you'll find yourself being chatted up by iconic characters from F. Scott Fitzgerald's classic novel, including Nick Caraway (Rob Brinkmann), Jordan Baker (Stephanie Rocío), Daisy & Tom Buchanan (Jillian Anne Abaya and Shahzeb Hussain), and, of course, your host for the evening, the handsome albeit enigmatic Jay Gatsby (Joél Acosta). The atmosphere is irresistibly real and saturated in retro glam as you toss back bootleg cocktails at the bar, Charleston on the dance floor, are seduced into exploring various manor rooms, and watch as the story unfolds organically in pop-up scenes around you.
Having gathered accolades and bragging rights as the UK's longest-running immersive production, this multi-faceted Immersive Everywhere import is the brainchild of Brit Alexander Wright, who adapted and directed the piece in a way that allows theatregoers to be interactive or merely observant—your call. And, since Wright's vision is fluid, what you take in is dependent on where you happen to be at any given moment. You can, in fact, see the production five, 10, or 100 times and never have the same experience twice. From personal dressed-to-the-Roaring-'20s-nines experience, I can assure you this Art Deco shindig is all that and then some…i.e., it's The Cat's Meow.
Check out our complete roundup of what's playing on Broadway and everything going on Off-Broadway and Off-Off-Broadway.