The Babylon Line – If you haven't had a chance to check out this funny, poignant, thought-provoking and blissfully acted Richard Greenberg play at Lincoln Center's Mitzi Newhouse theatre before it closes on Sunday, January 22nd, I strongly urge you to get your tickets immediately. The cast alone should be motivation enough to immerse yourself in a night school writing class during the fall and winter of 1967 in Levittown, Long Island.
The actors include Josh Radnor (How I Met Your Mother), Elizabeth Reaser (Grey's Anatomy; How I Learned to Drive), Tony winner Frank Wood (Side Man; Flight Of The Conchords), Tony winner Randy Graff (City of Angels; Notes From the Underbelly), Maddie Corman (Some Kind of Wonderful; Picnic). Julie Halston (Sex and the City; You Can't Take It With You) and Michael Oberholtzer (Hand to God; Good Girls Revolt).


As Time Out New York put it, "Director Terry Kinney steers a fine cast to a nice balance of whimsy and wistfulness. Indeed.
*****************
BroadwayCon Update: TV & Broadway Stars Panel Up
For the next couple of weeks leading up to BroadwayCon's three days kicking off on January 27th, I expect there will be one, two, or several more updates to my original story. This is the first.
Madam Secretary Panel—Stars of this critically acclaimed CBS show—all of whom entered the TV fray with impressive stage pedigrees—come together to discuss the transition from the Great White Way to the small screen.
BroadwayCon co-creator Anthony Rapp moderates this celebrity-spangled panel comprised of Tony winners Bebe Neuwirth and Patina Miller, Tony nominees Keith Carradine and Željko Ivanek, and Braodway veterans Tim Daly, Sebastian Arcelus and Erich Bergen.
The Madam Secretary panel is scheduled for Saturday, January 28th.
Dear Evan Hansen Panel—Ben Platt, who plays the title character in this outstanding new Broadway musical (and already a top Best Actor in a Musical contender), will be joining the other members of this major event set for BroadwayCon's closing day, January 29th.
Moderated by Julie James, the panel will also include Benj Pasek (Music & Lyrics), Michael Greif (Director), Steven Levenson (Book), and cast members Laura Dreyfuss, Rachel Bay Jones, Will Roland, Michael Park, Jennifer Laura Thompson, Kristolyn Lloyd and Mike Faist.
For complete up-to-date BroadwayCon information—and to purchase tickets for this second annual event—visit BroadwayCon.com.
*****************
Hamilton's New Acquisition: James Iglehart Moves From Genie to Jefferson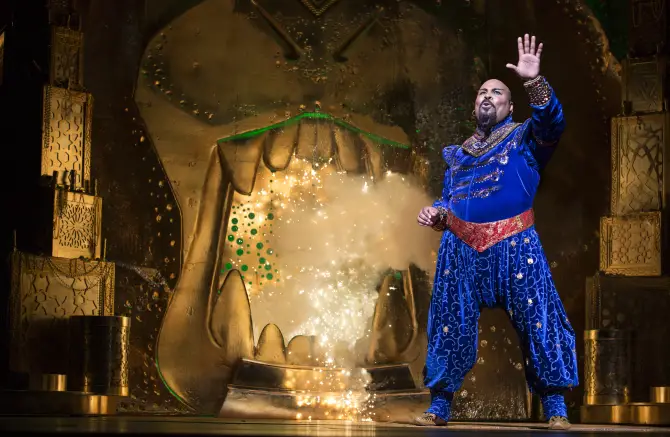 James Iglehart, who created the role of Genie in Disney's Aladdin three years ago—and picked up a Tony Award in the process—is returning to his Hamiltonian roots. Yep, for most Hamilton lovers (and those who aspire to be), it's news that Iglehart was involved in Hamilton's prequel days: he took part in The Hamilton Mixtape concert staging at Lincoln Center in 2012.

Iglehart, whose role in the Mixtape version was Hercules Mulligan, will be moving into the dual roles of Marquis de Lafayette and Thomas Jefferson beginning mid-April (he'll be exiting Aladdin on February 19th).

As for the new Genie who will be rocking the show-stopping "A Friend Like Me," it will be Major Attaway—Iglehart's current standby on the Great White Way.

"Making my Broadway debut in Aladdin was an affirmation beyond imagining. To now be given the opportunity to tell this beloved story with this phenomenal Broadway cast every night is definitely a wish granted," says Attaway, adding "I get to play a catalyst for joy and hope, and I'm really looking forward to moving into the lamp on a full-time basis; I've got some BIG TEX-an ideas for redecorating!"

And while we're announcing Aladdin cast changes, the show's original title star Adam Jacobs is leaving the fold on February 14th and heading out this spring to headline a Disney North American tour. His replacement will be announced at a later date, but in the meantime, his understudy, Joshua Dela Cruz, will helm the hit show.