Camp Morning Wood is not what you'd call family fare—unless your family consists of LGBTQ+ members and straight women who love a feature-length musical full of male nudity, catchy melodies, and puns that arrive with traffic light precision.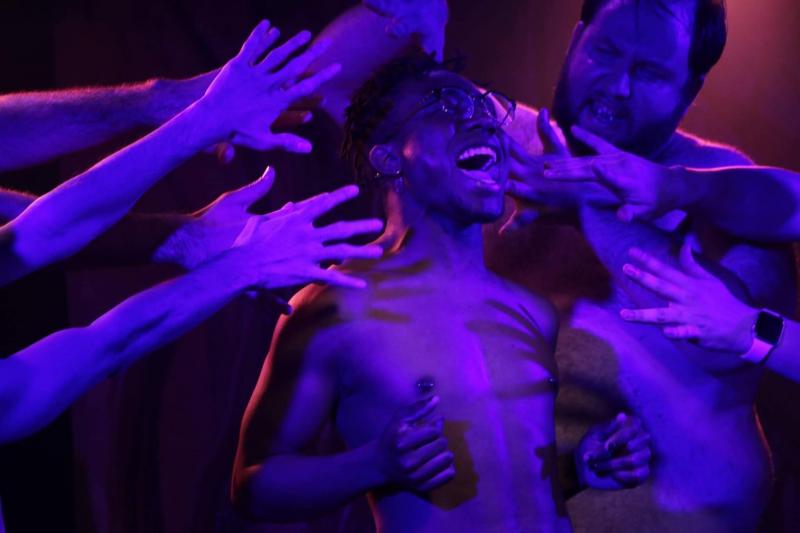 The show (which has just been extended through the summer) follows the exploits of Randy, the sole Professor of Colonial Queer Studies at Columbia University, who happens upon a gay nudist camp after an auto mishap.
Hilarity and hijinks ensue, as the phrase goes. And while the humor isn't particularly highbrow and the gents who spend most of their stage time entirely as nature outfitted them run the gamut of your tastes, it's good, clean bawdy fun. The actors all demonstrate vocal prowess and comedic sensibilities equal to the material, and while the solos are delivered with panache, the ensemble numbers crackle with crisp harmonies and dynamics.
The show's original music (with book and lyrics by Jay Falzone and tunes composed by Trent Jeffords, Derrick Byars, Matt Gumley, and Jeff Thomson) draws from a variety of inspirations, ranging from classic disco to Britney Spears and beyond. There are nods in the plot to The Wizard of Oz, Rocky Horror, and Wet Hot American Summer, and while the actors all sing live, the arrangements and orchestrations are on tracks provided by Matt Gumley & Trent Jeffords.
If you're in the mood for something gayer than a Pride float that will remind you of a very explicit Avenue Q, then the 90 minutes (plus intermission) you'll spend at Camp Morning Wood will certainly put you in your happy place.
---
Camp Morning Wood: A Very Naked Musical is playing at the Asylum Theatre, 307 W. 26th St.  The show has been extended to August 29th. You can get tickets here.