The Dessert Mashups You Don't Want to Miss in NYC
August 4, 2017 - by Chelsey Grasso
When you go for dessert in New York City, the options are endless. For those who have become a bit bored of the more traditional options, the city has you covered with hybrid desserts you won't find anywhere else. Rounded up below are our top five picks, from ice cream cupcakes to chocolate chip cookie shot glasses. These desserts are so good, you're going to want to skip dinner. In our opinion, you should go for it.
Best of NYC Hybrid Desserts: Ice Cream Cupcakes at Soft Swerve (Lower East Side)
It's official, an ice cream cupcake exists. Beginning on July 28th, Soft Swerve started selling the Coquito Swerve Cake, which is essentially a cupcake that's been injected with coquito (a rum-spiked Puerto Rican eggnog) and topped with Filipino ube (purple yam… trust us, it's delicious) soft serve. Oh, and did we mention that the cupcakes are made at Brooklyn Cupcakes? Finish the dessert off with your desired toppings, flakes, chips, and drizzles. 85B Allen St., 646-476-6311, softswervenyc.com
Best of NYC Hybrid Desserts: Ice Cream Cereal Bar at Kith Treats (Greenwich Village)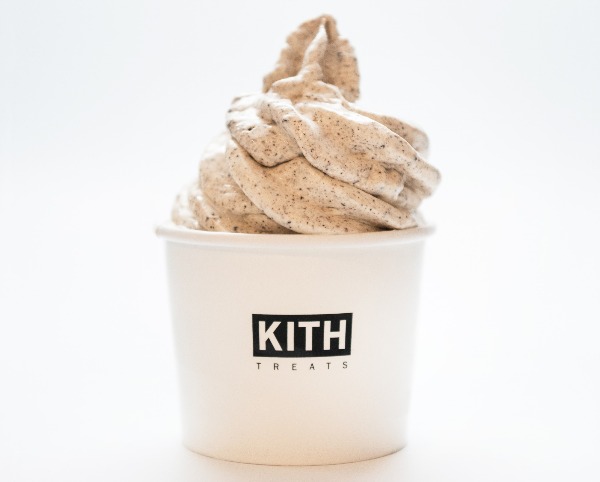 Ever dreamt of putting vanilla ice cream, milk, and cinnamon toast crunch in a blender together and seeing what happens? Kith Treats is two steps ahead of you. This cereal bar and café stocks all of your favorite cereals, from Apple Jack and Rice Krispies to Cocoa Puffs and Fruity Pebbles, along with 22 assorted toppings and four milk options. Create your own custom cereal ice cream swirl or cereal milkshake and then go shopping for some new kicks while you down the treat. Additional location in Brooklyn. 644 Broadway, 646-648-6285, kithtreats.com
Best of NYC Hybrid Desserts: Cookie Shots at Dominique Ansel Bakery (South Village)

What goes better with cookies than milk? Nada. Get your fix of both with Dominique Ansel Bakery's Cookie Shots. These unique dessert cups are served up at 3pm daily, and whether you choose to drink and then eat, or gobble down the whole dessert at once, they will not disappoint. The milk is brought in from Swede Farms from upstate New York and cold-infused with vanilla beans for 24 hours before its served, adding to the dessert's memorable flavor. 189 Spring St., 212-219-2773, dominiqueansel.com
Best of NYC Hybrid Desserts: "Cant's Say No" Sundae at Serendipity 3 (Upper East Side)
If you can't decide between a slice of pie, a banana split, or a hot fudge sundae, then you won't be able to say no to the "Can't Say No" Sundae, hence its name. Serendipity 3 serves up this dessert, combining humble pie, ice cream, banana, hot fudge, and whipped cream. Another mashup you can't refuse? How about the Outrageous Banana Split pictured above. If you're feeling extra ambitious, wash it all down with a legendary Frrrozen Hot Chocolate or Serendipitous Hot Chocolate. 225 E. 60th St., 212-838-3531, serendipity3.com
Best of NYC Hybrid Desserts: Egg Waffles at Eggloo (Chinatown)

Eggloo has brought Hong Kong's famed egg waffles to the city's dessert scene. Served up with ice cream (vanilla, chocolate, strawberry, and cookies & cream) and soft serve (Thai tea, green tea, swirl), and then topped with the likes of crushed Oreos, strawberries, diced almonds, Pocky, and fruity pebbles, these egg waffles come in original, chocolate and green tea flavors. The egg waffles are made with a sweet egg based batter, producing a cone that's simultaneously soft and crispy. This is the ice cream cone perfection. Additional location in the East Village. 60 Mulberry St., myeggloo.com
Looking for Free Group Planning Services?
Get free advice on planning your group's trip to New York.
RESTAURANTS

The newest member to the Heartland Brewery family, HB Burger...

THEATER

Gaston Leroux's famous period thriller is now one of Broadwa...

SHOPPING

Shop or sell at this weekend bargain hunters' paradise....

SIGHTSEEING

CitySights' hop-on, hop-off bus tours are operated on a flee...