How do you pass on your favorite family recipes? If you're Chef Pietro Mosconi, you learn them from your mother and memorize them forever. If you're Joanne Mosconi, you follow your father around his busy restaurant kitchen and record his every move. The owner and chef of two classic New York establishments, Villa Mosconi and Monte's Trattoria, shares his best recipes with the help of daughter Joanne in the new cookbook The Chef of Greenwich Village.
The Chef of Greenwich Village contains essential recipes from Pietro Mosconi and his family. Chef Pietro rarely wrote these recipes, so Joanne spent years learning them throughout observing her father in the kitchen of Monte's Trattoria and Villa Mosconi.
With the help of this cookbook, you can prepare dishes like torta di riso, linguini vongole, and zabaione in your own kitchen. And if you're like Chef Mosconi, you'll choose only the best ingredients for your Northern Italian feasts!
The Mosconis brought these recipes to America over 50 years ago. As Joanne shares in her Introduction to the book, Pietro Mosconi and his father Paolo emigrated from Piacenza in the Emilia-Romagna region of Northern Italy. They arrived in New York City in 1966 on the SS Michelangelo, with the rest of their family following later. Pietro worked in several New York restaurants before his family established Villa Mosconi in 1976. A few years later, they took over Monte's Trattoria, a longtime Greenwich Village restaurant just a few doors down on MacDougal Street.

Image: Billie Grace Ward/Flickr
These restaurants have become essential Village destinations that have outlived the many other Italian spots that once surrounded them. Visit either Villa Mosconi or Monte's and you'll see why: the food is fresh and flavorful, and both dining rooms boast old-New York appeal and warm, inviting atmosphere for regulars and newcomers alike. 
Even if you master every recipe in The Chef of Greenwich Village, there's no replacing a visit to Monte's Trattoria or Villa Mosconi. Monte's, located on MacDougal Street between West 3rd and Bleecker, is the subterranean spot where Chef Pietro still hand-makes pasta daily. Affordable, delectable dishes and chef's specials will make you a regular in no time. The restaurant has been operating since 1918, making it 102 years old! Read more about Monte's here.  
Villa Mosconi serves Chef Mosconi's treasured Northern Italian cuisine, including staples like Oysters Rockefeller, osso buco with risotto, and stuffed veal. Three dining spaces including the sunlit garden room are each uniquely romantic and welcoming for dates, group dinners, or special occasions. Check out City Guide's review here.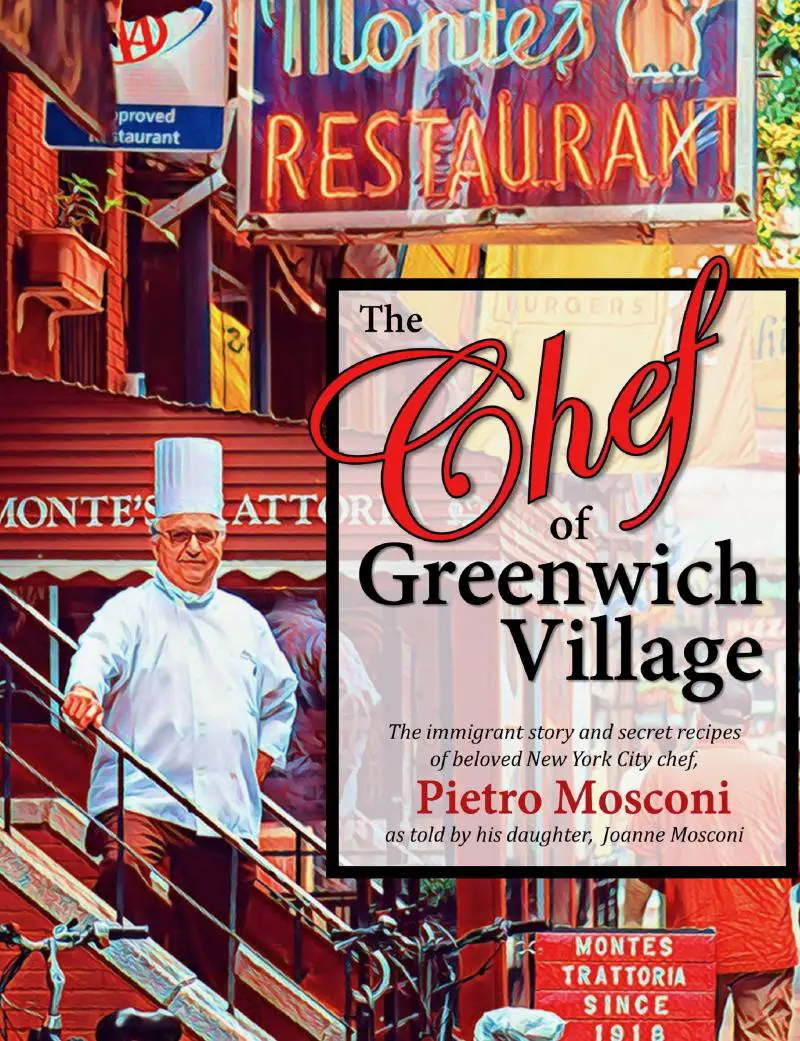 Find The Chef of Greenwich Village online at thechefsdaughter.nyc or in person at Monte's Trattoria, located at 97 MacDougal St. For reservations at Monte's, call 212-228-9194 or visit montestrattorianyc.com. Villa Mosconi is located at 69 MacDougal St. For reservations, call 212-673-0390 or visit villamosconi.com.