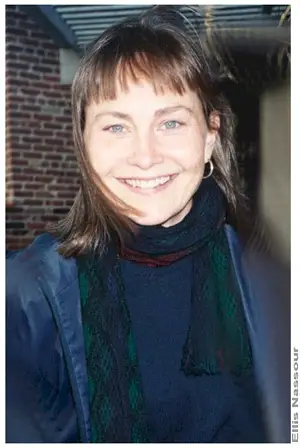 After five years of TV and film, John Tiffany's revival of The Glass Menagerie marks the return of two-time Tony (with four nominations) and three-time Drama Desk-winner Cherry Jones to the stage -- and it appears she is at the very apex of her game. She's been hailed as one of the greatest stage actresses of her generation, and been called "the high priestess of New York theater." Told of these accolades, Jones shrugs and laughs, "I'm just happy to be acting." That's all this Southern charmer with the raspy voice ever wanted to do.

As beloved as she is for her theatrical roles to the masses, Jones' is probably best known for her Emmy-winning portrayal of President Allison Taylor on 24 during the Day 8 season. Needless to say, watching her on TV and in films doesn't compare to watching her onstage.

Unconstrained by a camera, she has a powerful sweep and amazing breadth of emotion (sometimes, as we saw in her Tony-winning portrayal of Sister Aloysius in John Patrick Shanley's Pulitzer Prize-winning Doubt, often in the just one sentence). Of course, as Jones herself laughingly says, "It's acting."
Regarding film vs. theater, she states, "In film, you play a character. There's no projection. The camera's in front of you and the boom mike looms overhead. It's a world of fifteen-second bites. You have make-up and wardrobe fussing over you and three hundred others concentrating on that tiny sequence to bring to life one moment.
"I love the language of the theater," she continues. "There's a heightened, articulate, poetic language that I crave in my work that you don't get in movies, even the best of them." There's something childlike about theater, she observes. "You enter the fantasy. You wrap your character around the audience and you never forget the people in the last row of the balcony. You're always on, even offstage in the wings or doing a quick change. You're out there because you're listening, watching, totally immersed, and involved."


Though theater is her first love, Jones bursts excitedly, "It's always good to put hay in the barn! I needed a job. It wasn't like I wasn't dying to come back to theater. I didn't have a play. No one was throwing scripts at me. I was approaching my mid-, then late-50s – that fun age for an actress."
Upon exiting Doubt in January 2006 (replaced by Eileen Atkins) after 10 months on Broadway and, prior to that, almost two-and-a-half months Off Broadway at MTC, Jones opened five months later in Brian Friel's Faith Healer, which ran three-and-half-months. Then there was the Doubt tour that September.
So, 24 was a financial blessing. After her season on the series, Jones hoped to be back on the boards, but that didn't happen until late 2010 with Roundabout's revival of Mrs. Warren's Profession. "When we closed," explains Jones, "I hoped I'd get something for spring and summer, but there was nothing. When I was offered a TV pilot, I took the job." It was the psychological series Awake, where she played psychiatrist Judith Evans. NBC went forward with it for season, in spite of lackluster ratings.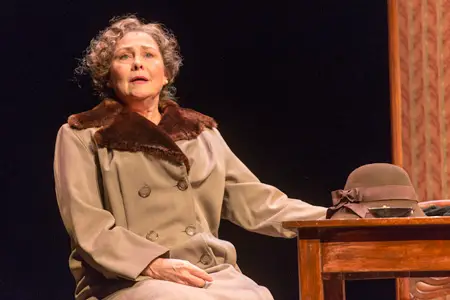 Jones in The Glass Menagerie. Photo: Michael Lutch
But Cherry Jones is back in Tennessee Williams' The Glass Menagerie, which director John Tiffany (Once), premiered last year at Cambridge's American Repertory Theater (of which Jones is a founding member). "It's the most incredible homecoming gift I could ever receive," she rejoices.
Yes! But why was she reluctant to take on the role of Amanda Wakefield, the devoted mother, living in early 40s St. Louis in less than luxurious circumstances, vainly attempting to sell magazine subscriptions to help with household expenses, mostly contributed by her son Tom?
"This is embarrassing," she begins hesitantly, "but I lacked the depth and experience to appreciate the play for the masterpiece it is, and Amanda Wingfield for the utterly amazing woman she is. Now, into my 50s, a woman of a certain age, I understand what a gift it is. What a masterpiece it is, and a deeply emotional experience."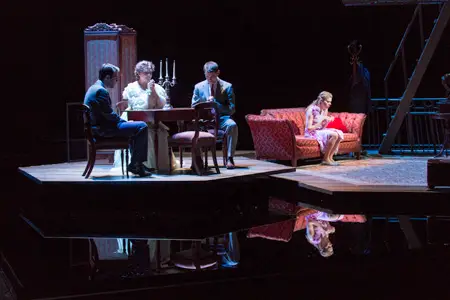 Quinto, Jones, Smith, and Keenan-Bolger. Photo: Michael Lutch
Tiffany knew Jones would be ideal and he kept after her. "I kept saying 'No,' 'No!' I told John I'd do any other role for him. He wouldn't let go, finally hogtieing me into doing a reading, I couldn't believe the beauty and power of the play. I was a goner! I squealed like a pig! It's amazing that for a play over sixty-eight years old, it's so fresh and contemporary. It's been the most gratifying experience I've had in 30 years onstage. I'm enjoying playing Amanda more than any other role. I must admit, having such a role I feel as if I'm cheating. It's an extraordinary gift.
"Amanda's a heroine," Jones continues. "She's crafty. Behind all that fluttering and lilt, there's a woman on a mission. It's things like this that make the production extraordinary. We cry sometimes, because it's heartbreaking at times. And we cry because there're moments that have such artistic perfection that you cry from seeing something so beautiful. As heartbreaking as it is, the craftsmanship, the artistry make it sublimely uplifting."
The Glass Menagerie is a 17-week limited engagement, set to run into January. It co-stars two-time Tony-nominee and Drama Desk winner Celia Keenan-Bolger; TV/film star Zachary Quinto, making his Broadway debut; and Brian J. Smith (The Columnist, Come Back Little Sheba revival).