Chill the Champagne...get out the confetti...pump up the volume on the Grammy-grabbing cast recording: the irresistible hit musical Chicago is inching up on its 20th Broadway birthday and the gin has never been colder or the piano hotter than it is right now at the Ambassador Theatre. So snag a couple primo tickets and settle in for one sizzling night of murder, greed, corruption, skin-tight costumes, and (dare I say it?) killer musical numbers.
Naomi Kakuk, Shamicka Benn, Amra-Faye Wright, Jennifer Dunne, and Angel Reda of Chicago; photo by Max Vadukul


Those numbers come from songwriters John Kander and Fred Ebb, perfectly matched by the choreography of Ann Reinking "in the style of Bob Fosse." For those unfamiliar with the book (penned by Ebb and Fosse)—or the blockbuster 2002 screen adaptation starring Renee Zellweger and Catherine Zeta-Jones—it's set in the 1920s and kicks off with housewife/aging chorine Roxie offing her lover when he tries to quash their affair. From there it's all media frenzy (led by disturbingly perky tabloid columnist Mary Sunshine), with Mrs. Hart becoming the headline toast of the town: "ROXIE ROCKS CHICAGO."
As the new belle of Cook County Jail's femme fatale rogues gallery, Roxie's brazen capture of the media spotlight from the prison's star murderess—a seethingly disgruntled Velma Kelly—sets in motion major league one-upmanship, with silkily corrupt lawyer Billy Flynn holding all the get-out-of-jail cards.
With the stakes at a life and death high, both celeb convicts turn to lovable, duplicitous, Matron "Mama" Morton for pricey patronage: "If you want my gravy/Pepper my ragout/Spice it up for Mama/She'll get hot for you!"
Like the lyrics for "When You're Good to Mama" above, a good number of the songs embrace the voraciousness shared by the show's leading characters: Roxie insists "The name on everybody's lips is gonna be Roxie"; Velma offers a litany of machinations designed to get her proclaimed innocent, as a hunky chorus of guys sing "When she rolls her eyes/watch her take the prize/When Velma takes the stand!"; and Flynn (aka the "Silver Tongued Prince of the Courtroom") insists the world, the trials, everything is a three-ring circus: "Give 'em the old razzle dazzle...And they'll make you a star!"
And yet this unabashedly self-serving group of characters is the most seductive, most vibrant, most fun to watch on Broadway today. It's also why audiences have been falling under their spell for two decades—no matter who plays what role at any given performance.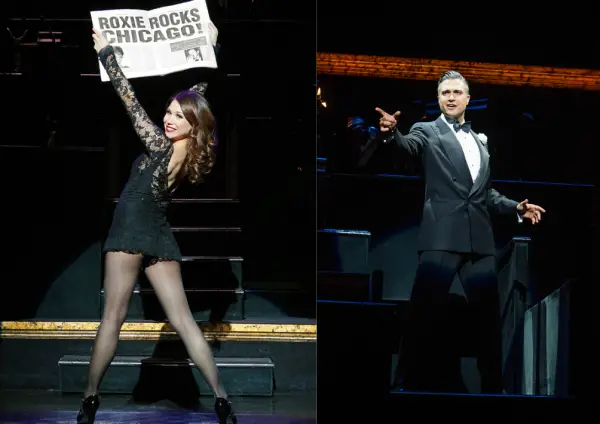 Recent celebs taking the stage with Chicago: Bianca Marroquín and Jaime Camil.
That said, there have been a spectacular number of stars that have stepped into the show's famous VIP revolving door over the years, among them Roxies Christie Brinkley, Melanie Griffth, Brooke Shields, Bianca Marroquín, and Brandy Norwood; Mama Mortons NeNe Leakes, Debra Monk, Wendy Williams and Sofia Vergara; Billy Flynns Wayne Brady, Billy Ray Cyrus, Michael C. Hall, George Hamilton, Jerry Springer, Usher, and most recently Heisman Trophy winner Eddie George and, from CW's Jane the Virgin, Jaime Camil.
As for the roster of superstars slated to take part in the upcoming November 14th anniversary celebration, you can bet the stage and audience will be filled with many of the original company, countless current and former cast members, plus celebrity fans from around the world.
---
Back Story of a Blockbuster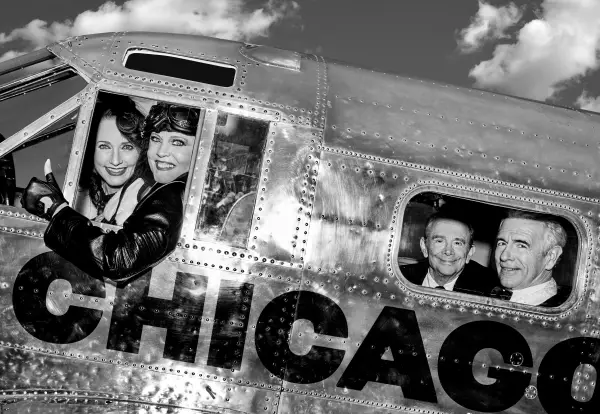 Original Chicago castmembers Bebe Neuwirth, Ann Reinking, Joel Grey, and James Naughton.; photo by Max Vadukul
The Tony-winning-international-phenom known as Chicago first dipped its Fosse-ized toes into New York waters via an "Encores! Great American Musical" appetizer. Under the direction of Walter Bobbie with choreography by Fosse acolyte Ann Reinking (who also starred as Roxie Hart), this May, 1996 concert was the prequel for the show's head-rush of a Broadway opening night the following November. It also scored the kind of reviews that make producers cry with joy (and place orders for the latest BMW).
The production's original cast is legend, with Bebe Neuwirth playing Velma Kelly, James Naughton in the role of Billy Flynn, Marcia Lewis as Matron "Mama" Morton, and Joel Grey as the ever-woebegone Amos Hart. But keep in mind this was a revival. Chicago actually debuted in 1975 (and ran for two years), with Gwen Verdon (Roxie), Chita Rivera (Velma), and Jerry Orbach as Billy Flynn.
Chicago is playing at Broadway's Ambassador Theatre, 219 W. 49th St. For reservations call 212-239-6200 or visit chicagothemusical.com.