A Manhattan mainstay since 1945, Circle Line Sightseeing Cruises at 42nd Street has hosted more than 60 million passengers during their nearly 70 years of serving NYC. This summer, they've unveiled upgrades for the 2014 summer season — improvements that make the iconic tour even more convenient, informative and accessible.


In partnership with the New-York Historical Society, they've revised the entire tour-guide program, bringing to it a new level of scholarship, narrative and entertainment. "[We've] built a reputation for colorful, anecdote rich tours," says Jason Hackett, Chief Marketing Officer of New York Cruise Lines. "In working with the New-York Historical Society, we are able to add a new level of historical accuracy, tour program consistency, and unique insights, while maintaining the idiosyncratic style that has made Circle Line Sightseeing Cruises a 'must-do' attraction for visitors and locals alike."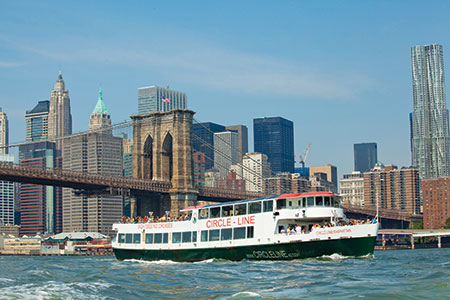 They've also added more cruises with an additional 5pm Liberty Cruise departure through September 1. The Liberty Cruise is a one-hour cruise – the shortest length of Circle Line cruises – making its way down the Hudson River for an up-close look at the Statue of Liberty and then heading back to Pier 83.
This summer, they're also offering Hidden Harbor Tours, which go behind the scenes of the bustling New York and New Jersey working waterfront. Featuring noted maritime speakers, these tours provide an insider's account of how the New York and New Jersey harbor really works and what all those ships and tugs do. Take in close-up views of Giant Container Ports, Tug Boat Yards, Bayonne Bridge, 9/11 Teardrop Memorial, Robbins Reef Lighthouse, Oil Docks, Dry Dock Repair, and, of course, the Statue of Liberty (6/14, 28, 7/19, 26, 8/16, 30).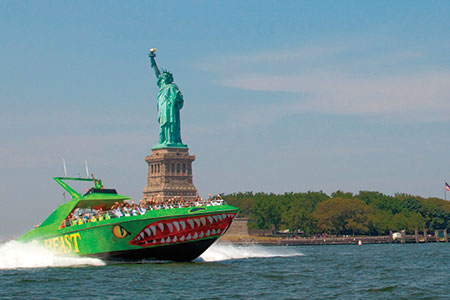 PLUS: Best of NYC Cruise - The famous Full Island Cruise; see over 101 city sights by water. Visit all five boroughs, three rivers, and seven bridges, and get up close to the Statue of Liberty. Not only do you see the Best of New York, you see it all. Landmark Cruise - Want to see all of midtown and lower Manhattan? Then this is the cruise for you. See New York's skyline from the water. Take your picture with the Statue of Liberty, and pass under three famous NYC bridges. You'll get to see these landmarks twice — extra time for your perfect photos. Thirsty Thursday DJ Cruises - Take advantage of the warm fresh air and gorgeous sights every Thursday for two hours of dancing, drinks, and DJs spinning music topside. Enjoy a dockside happy hour during boarding from 6-7pm and a 2-hour cruise from 7-9pm. Harbor Lights Cruise - Take a romantic cruise along the Hudson River as the sun goes down or simply enjoy the Manhattan skyline as it comes alive. Experience all of this as the sun sets behind the Statue of Liberty. The BEAST Speedboat - Hold onto your hats because for 30 fun-filled minutes the BEAST leaves all others in its wake as the Captain and his 1st Mate take this custom-built 70-foot offshore powerboat up to 45 mph on a twisty thrill ride down to the Statue of Liberty. To see more cruises and make reservations, visit circleline42.com or call them at 877-944-4707.