For anyone currently in the throes of political whiplash, Colin Quinn: Red State Blue State is something of a comedic neck brace. Quinn, whose solo shows are catnip to anyone who likes their humor tinged with rebellion, has the wit, smarts, and verbal agility to turn the dyspeptic state of today's political froo-froo into an engaging riff on the stars and stripes. Taking an apolitical stance, Quinn morphs from seasoned standup (which he is) to unorthodox history professor to flannel raconteur, randomly sipping water from a Mason jar and letting his gravel voice soothe us along. What's not to like? Or learn from?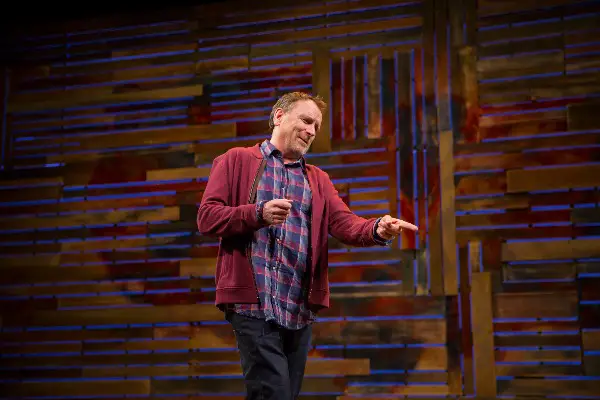 Photo by Edward T. Morris.
Those new to Quinn's New York stage persona may flash back to his stint on Saturday Night Live's "Weekend Update." But at the Minetta Lane Theatre, or any other camera-free zone, the Brooklyn native is in the zone. His zone, our zone…it becomes one and the same.
For 75 minutes theatergoers are bounced subject to subset, Quinn's stream of thought touching on ice cubes, democracy, the internet, capitalism, soccer moms, Founding Fathers, George Clooney, Johnny Carson, Jesus, Caligula, Sparta vs. Athens ("Sparta was for the jocks…The Golden Age of Athens was a 250-year podcast"), pajamas, and eventually landing on a map of the U.S. and dissecting it, state by state. It gets pretty snarky. If you don't take it to heart, it's hilarious. If you do, why are you at a Colin Quinn show in the first place? Get out.
Does he use the T word? Sure…along with several less exhausting expletives. He also says, "A byproduct of free speech is that everybody's a critic." I'll take that as my cue to sign off...as someone who was party to Quinn's two-party one-man observational opus.
---
Colin Quinn: Red State Blue State is playing at Minetta Lane Theatre, 18 Minetta Ln. in Greenwich Village. Call 800-745-3000 or visit colinquinnshow.com for tickets and more information. The show closes on March 16th, 2019.