Now's your time to hop aboard this winter with Spirit Cruises! Through March 31, Manhattan skyline cruises are 20% off with the code WINTER20 at checkout. Drink in the gorgeous views, enjoy a deluxe meal, and dance in the climate-controlled cabin on the Spirit of New York or Spirit of New Jersey cruise ships.
This offer is good for cruises during lunch, brunch, and dinner throughout the week. Spirit Cruises' fabulous menus will fill you up, whether you're munching on a brunchtime croissant or enjoying some honey-sesame chicken for dinner.
Spirit Cruises last two to three hours and show you the best of the New York City skyline. You'll get views of the Statue of Liberty, the Brooklyn Bridge, the Empire State Building, and much more. Spirit of New York boats leave from Chelsea Piers in Manhattan, while Spirit of New Jersey leaves from Lincoln Harbor in Weehawken.
Each cruise offers an onboard DJ to get you on the dance floor! Or, if you'd prefer some friendly competition, there is also giant jenga, shuffleboard, and foosball. In addition to unlimited coffee, tea, and water, you'll have access to beer, wine, and cocktails at a cash bar.
A buffet table will offer you fresh, fantastic food no matter the meal. Enjoy an organic spinach and kale salad with parmesan cheese, red bell pepper, and lemon-oregano dressing, or baked ziti pasta with garlic. Fans of short ribs will love the dinner offering of ribs with Cabernet Sauvignon sauce, while tried-and-true sailors will want the cod with caper sauce. Brunch cruises will feature a selection from the main lunch/dinner menu, in addition to orange juice, breakfast pastries, and fresh fruit.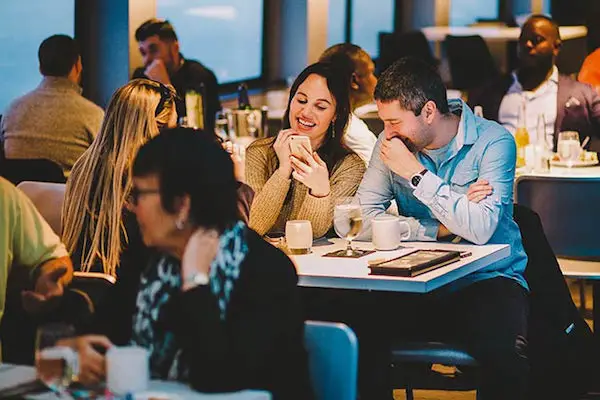 Spirit Cruises offers table reservations by the windows so that you can enjoy the view during your meal. No matter your party size, Spirit Cruises will accommodate a table with a seat for everyone. Families are always welcome, and children under 3 get in free!
Specialty and holiday cruises are excluded from this winter deal, but with lunch or dinner, you'll get a premium experience with winter cruises through Spirit.
For Spirit of New York tickets, call 212-727-2789. For Spirit of New Jersey tickets, call 201-333-8600. Visit spiritcruises.com for more information.