The Dance on Camera series is being presented for the 17th consecutive season by the Film Society of Lincoln Center [FSLC] and Dance Films, from January 31 through February 4. There's an exciting and diverse array of performance films — many of them premieres — that feature peerless international artists and are wide-ranging in subject and genre. Many reflect dance's new perspective: the trend toward unusual collaborations (dance and skating, dance and horses, dance and circus).


The 23 programs at the Walter Reade Theatre and Elinor Bunin Munroe Film Center Film Center venues include free events such as a discussion panel on incorporating dance and film into educational curriculum. Tied in with film presentations, there'll be appearances by directors, choreographers, dancers (such as former Paris Opera Ballet prima ballerina Isabelle Guérin and ABT principal Dennis Nahat), and ice legend/gold medalist (and TV commentator)] Dick Button, gold medalist Dorothy Hamill, and Olympian and U.S. National Pairs Champion Jojo Starbuck. The "Meet the Artist" programs include intimate conversations with Oscar-winning director Jonathan Demme (Swing Shift, Philadelphia, Silence of the Lambs) and choreographer Annie-B Parson, and award-winning British photographer Sebastian Rich.
Inaugurated in 1971 and considered the "mother" of dance film festivals, Dance On Camera presents documentaries, shorts, features, experimental works, and music videos celebrating the immediacy of dance combined with the intimacy of film.

Ice Theatre of New York
The opening night presentation is Greg Vander Veer's Miss Hill: Making Dance Matter, the inspiring and largely unknown story of Martha Hill, considered a visionary dance instructor who studied with Martha Graham and became Julliard's first Director of Dance — a position she held for 35 years. The eagerly anticipated world premiere of Paul Taylor: Creative Domain screens for closing night with many of the dancers this visionary trained appearing in person.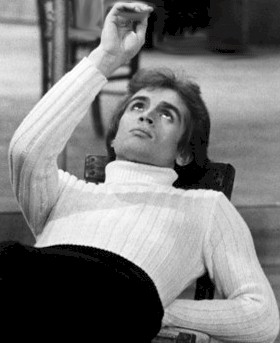 Series highlights are the U.S. premiere of Fabrice Herrault's La Passion Noureev, a tribute to Rudolf Nureyev (pictured), with rare archival footage from the 60s and 70s the peak of his powers; the New York premiere of Toa Fraser's Giselle, where the behind-the-scenes romance of lead dancers Gillian Murphy and Qi Huang is woven into a re-staging of the ballet for the Royal New Zealand Ballet; Chantal Akerman's 1983 One Day Pina Asked…, a look at famed German choreographer Pina Bausch and her Wuppertal Tanztheater; Prima, a portrait of Boston Ballet's prima ballerina Larissa Ponomarenko, who's hung up her pointe shoes to pursue new avenues of self-expression; and "Ice Weekend," February 1 and 2, with skaters, former skaters, and Ice Theatre of New York's ballet maestro, famed dancer Edward Villella, founder/director Moira North, and artistic director Douglas Webster appearing for the documentary, The Fabulous Ice Age, and Ice Theatre of NY: Ensemble and Collaboration on Ice, with video excerpts and discussion of celebrated choreography.
The full line-up of features, schedules, guest artists, free events, and credit card ticket purchase (service fees apply) can be found at www.filmlinc.com.
Admission for Dance on Camera is $13 general public, $9 students and seniors, and $8 FSC and Dance Film members. Dance fans should consider the bargain three-film package: $30, $24, and $21, respectively, as above. The FSLC box offices open 30 minutes before the day's first screening, closing 15 minutes after the last screening.