If you're the party planner at your office or in your family, you know how tough it can be to find just the right space for your next gathering. The location, the vibe, the food, decorations—the list never ends. Del Frisco's Double Eagle Steakhouse New York, a three-story fine-dining restaurant near Rockefeller Center, is here to help your party go off without a hitch. Their gigantic and conveniently located restaurant is equipped with several private and semi-private spaces for events of various sizes. Plus, you can have delicious steak, seafood, wine, and more from Del Frisco's award-winning menus, whether you're looking for a full meal or just hors d'oeuvres. Check out the rooms and the eats offered below, and consider your party taken care of!


Events at Del Frisco's: The Wine Cellar
Securing the Wine Cellar at Del Frisco's Double Eagle is a party-planning coup. Not only do you and your guests get to see the restaurant's vast array of wines through the glass walls lining the cellar (over 2,200 labels in total), but you get to try them! Sommelier Crystl Faye Horton has spearheaded the restaurant's wine program and scored big. Wine Spectator gave Del Frisco's the Best of Award of Excellence three times from 2011 to 2013 and the coveted Grand Award in 2017, which counts only 90 wine programs worldwide among its honorees. Needless to say, your new favorite wine lies just beyond reach in this world-class cellar.
The Wine Cellar can be booked in three ways: reserve the whole floor, the Wine Cellar only, or the Half Cellar. If your guest list runs around 140 people, you can have the entire Wine Cellar plus the Wine Cellar Bar for receptions and other standing-room events. With the Wine Cellar, your party can provide seating for 80 guests or accommodate a standing-room reception for 100. The Half Cellar seats smaller parties at a long dining table surrounded by fine wine (does it get any better?). Book the Half Cellar if your guest list runs around 40 or 50 people. With any of these variations, you'll also have access to a flat-screen television and HDMI and VGA hookups for any of your multimedia needs at the party.
Events at Del Frisco's: Diamond Room

Ideal for a large business dinner or a family reunion, book the Diamond Room if you're looking for one large table in an intimate setting. This red-walled room comes equipped with 26 seats at its long, rectangular table or can accommodate 30 standing guests. There is a 50" flat screen TV you can use for a presentation or wedding video. If you book a sit-down meal, expect jaw-droppingly good steak, whether it's a filet mignon or a porterhouse. At Del Frisco's, all steaks are top-of-the-line USDA Prime cuts of meat and expertly prepared for you to enjoy. Their best steaks are dry-aged for 45 days to maximize flavor and texture, and you won't want to miss them.
Events at Del Frisco's: Newsroom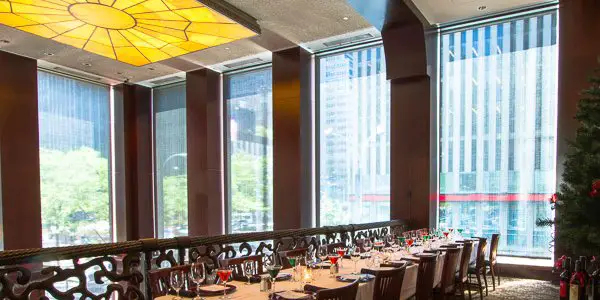 The Newsroom is located on an upper-level mezzanine of the restaurant. An extension of Del Frisco's semi-formal atmosphere, this space accommodates 50 guests for standing-room events and has 35 seats. The Newsroom also has its own bar and lovely city views through the tall plate-glass windows beyond. You and your guests can enjoy hors d'oeuvres like lamb lollipops and tuna tartare, plus one of the bar's dynamite martinis. 
Events at Del Frisco's: Lounge
Set off the main dining area as its own intimate room, the Lounge also offers clear city views from its 60 seats, scattered among tables of various sizes. This space can also be cleared for a 75-person reception. If you or a friend have a certain playlist in mind to set the tone, ask to be connected to the audio system in the Lounge. Sample a Wagyu beef corn dog (!) from the hors d'oeuvres menu or a jumbo lump crab cake from the main menu. And for the party planner, if you need dessert for your event, do the right thing and order some of Del Frisco's famous lemon cake.
To inquire about event planning at Del Frisco's Double Eagle Steakhouses, contact Sales & Event Planner Christina Migliorelli at cmigliorelli@dfrg.com or 212-575-5129. Del Frisco's Double Eagle Steakhouse New York is located at 1221 Sixth Ave., entrance at 49th St. Find out more at delfriscos.com.