The Unsinkable Molly Brown, the classic musical centered on the wealthy Colorado woman who later gained fame as a survivor of the Titanic, hasn't had much of a presence since it debuted on Broadway in 1960. The show ran for more than a year and spurred a 1964 film starring Debbie Reynolds, yet was never to be seen on Broadway again, fading away into near obscurity. Now, Molly Brown is finally back on the New York stage—but this isn't the same Molly Brown audiences knew 60 years ago.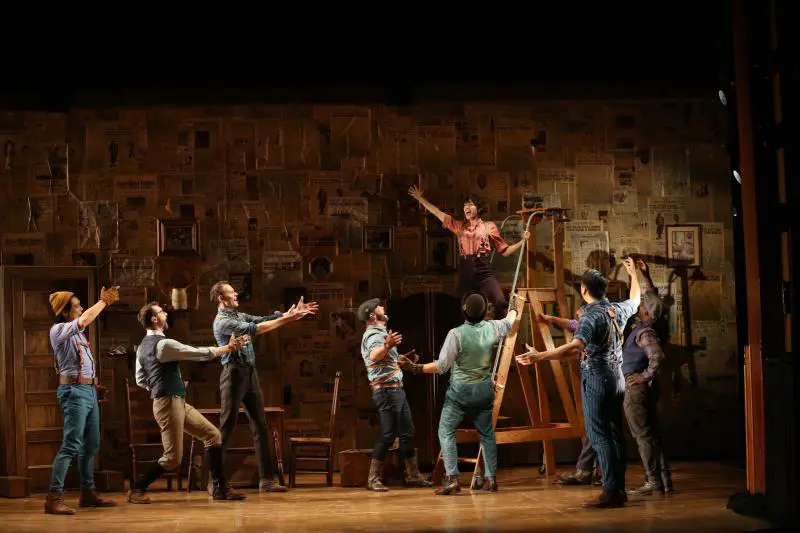 Beth Malone (top) and the cast of "The Unsinkable Molly Brown." Photo by Carol Rosegg.
Currently playing at the Abrons Arts Center through March 22, this Unsinkable Molly Brown has billed itself as "the classic musical, revitalized," featuring many of original composer and lyricist Meredith Willson's original songs, alongside a completely new book and suite of new lyrics by writer Dick Scanlan. Scanlan, who also co-wrote the Tony Award-winning Thoroughly Modern Millie, was first introduced to the idea of taking on Unsinkable Molly Brown by original book writer Richard Morris, who wrote the screenplay of the film on which Millie is based. "While we were working together, [Richard would] say to me, 'When we're done fixing Millie, we've got to fix Molly.' Because he had never been satisfied with the libretto of the 1960 version," Scanlan said in an interview. "And he gave me the script to read, and I read it, and I didn't see anything. I didn't respond to it at all. I just didn't respond to the story."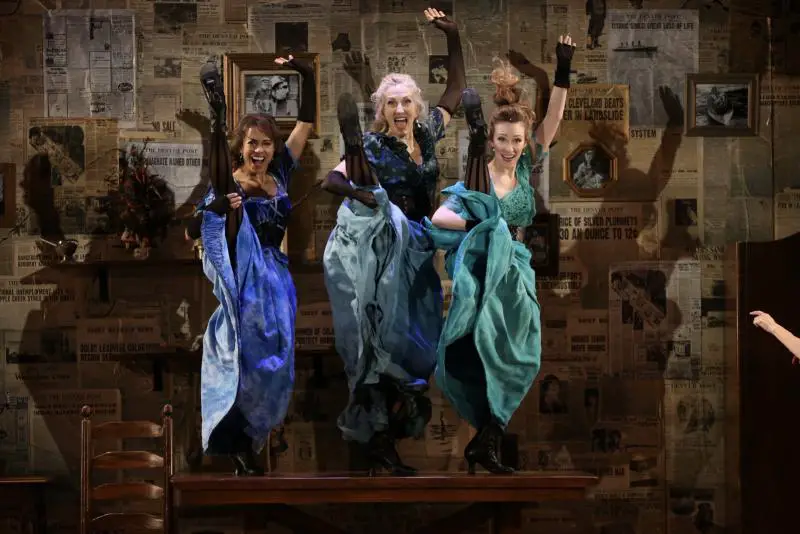 The cast of "The Unsinkable Molly Brown." Photo by Carol Rosegg.


Requests for Scanlan to rework Molly continued even after Morris's 1996 death, but the writer maintained that he wasn't interested in the show—until a gift from Morris's estate, a photo of the late writer underneath Unsinkable Molly Brown's 1960 Broadway marquee, gave Scanlan the push he needed. Music Theatre International co-chairman Freddie Gershon, whose company licenses the rights to the show, called Scanlan with a request to rework the musical, and Scanlan promptly reiterated his lack of enthusiasm and hung up, the writer recounted. "And I was in the middle of a business meeting, and the person said, 'What was that about?' And I said, 'The Unsinkable Molly Brown. I feel like it's always hanging over my head,'" Scanlan explained. "And she reached over my head, and took the picture of Richard Morris underneath the marquee of Molly Brown off the wall, and said, 'You've hung it there. You've literally hung it over your own head. So maybe you're meant to do this, and you just don't know that."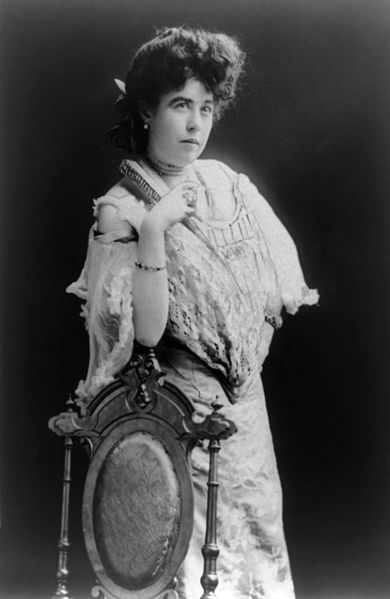 Library of Congress Prints and Photographs Division, George Grantham Bain Collection.
Eventually, Scanlan decided to take on the classic show after going back to the history of Margaret Tobin Brown herself. While the 1960 musical was based on a popular—and largely fictional—account of Brown's life written in the 1930s, Scanlan instead focused on the actual Brown, "an extraordinarily effective, committed, charismatic social progressive, who was fueled by her devout religious faith to try and make the world better for anyone she could, wherever she could."
The writer was attracted by the story of Brown and her husband, whom he describes as "two strong fundamentally independent people trying to navigate what it is to exist in domestic partnership," as well as the 19th-century Colorado mining town in which they lived, a multicultural community that valued skill above all else. "When you walked down the street in a mining town you'd hear 17 languages being spoken, because if there was ore to be mined, they would come from anywhere. And of course, by extension their families—their women and their children," Scanlan said. Of particular interest to Scanlan was "the way that these very different cultures coexisted in these towns, because all the guys cared about was, 'Are you good at your job?'" Scanlan continued, "Because if you're not good at your job, you're putting the other guy's life at risk. If you were good at your job, you were helping the other guy—and it didn't really matter if you spoke a different language, or practiced a different religion, or had skin that was a different color."
Photo via Music Theatre International.
Scanlan followed his passion for Brown's more truthful history—and in doing so, created a very different musical than the original 1960 version. "We razed it to the ground," Scanlan says of the original book, of which only three lines of dialogue have made it into the new production. "I suppose it would be like if you demolished a house, you might try to save that one archway that you always liked," Scanlan explained about the influence of the original show, "or there's some architectural details that, before you blow it up, you might remove them, and keep them to the side to see if there's any way that they can be incorporated into the new house. And in many cases they could be, and in some cases they couldn't."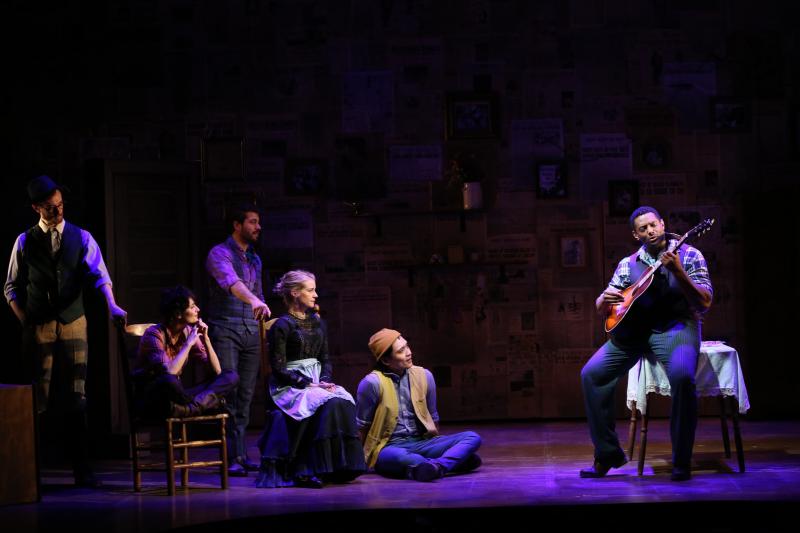 The cast of "The Unsinkable Molly Brown." Photo by Carol Rosegg.
Much of what was used from the original production are songs from Willson's original score, which have been incorporated into the new book both with original and new lyrics. New songs that have been added to the production were pulled from Willson's back catalog of work, ensuring the original composer's work is still at the heart of this "totally new" show. (In addition to his work on Molly Brown, Willson is best known for writing and composing The Music Man.) In some cases, however, Willson's resurrected songs have been completely transformed. Molly's 11:00 number at the end of the production, a "soaring, tender, startling" song called "Wait for Me," for instance, was originally "a song that Meredith wrote for the Department of Defense in support of chemical warfare," Scanlan explained. "It's a march about people going in and spraying chemicals at war." The writer credits Michael Rafter for his work in radically transforming Willson's music, noting that "for every moment of the score, [Rafter] studied Meredith's music and figured out how he could adapt it while keeping it all Meredith's music and tell this new story." "It was astonishing the Herculean task that he's done so beautifully," Scanlan said—"and now we have another, I think, brilliant Meredith Willson score."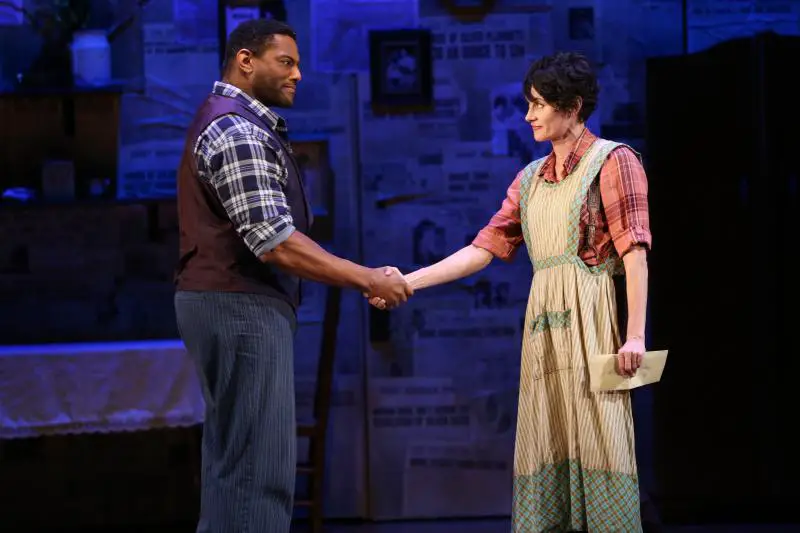 David Aron Damane and Beth Malone. Photo by Carol Rosegg.
This new take on Molly Brown arrives at Abrons Arts Center after being in the works for nearly a decade, and the show was previously seen onstage at the Denver Center for the Performing Arts and St. Louis Muny in 2014 and 2017, respectively. The current production, Scanlan said, has evolved from its predecessors—but the heart of it remains the same. "We definitely made changes between both productions, big changes, but not fundamental changes," Scanlan said. "If you'd come to see it in Denver and thought, 'oh, this whole idea doesn't work,' you're not going to come see it here and think it works. It's the same concept, we just really refined it." One way that the show has changed is in its scale: Abrons Arts Center is an intimate off-Broadway space that's far smaller than the theaters in Denver and St. Louis. And in Scanlan's view, downsizing the show was actually an asset to what it's trying to say. The move to off-Broadway "allowed us to rethink the way we told our story physically," Scanlan said. "It gives the show a lightness and a sleekness that ultimately results in a real freshness. And that's always what the show was meant to have, and I don't think we would have discovered that if we hadn't by size and budget been forced to do that."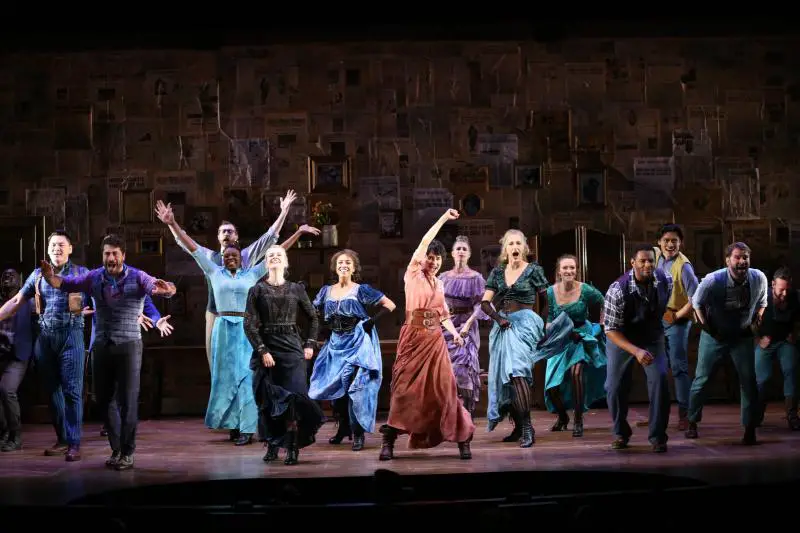 Photo by Carol Rosegg.
Scanlan also credits the show's evolution and its strengths to director/choreographer Kathleen Marshall, who has been with the show throughout its development. "Who you call in those early days is really vitally important, and I called Michael [Rafter], and then I called Kathleen Marshall. And I cannot state how much of her is in this show, and how brilliantly she has directed it. Both in terms of onstage, of course, but also guiding the shaping of the story," Scanlan said. "Kathleen is of course a strong woman herself. A very strong woman, who's in a marriage and has two kids—actually a boy and a girl, like Molly Brown—and is navigating all the different roles that people expect us, but especially women to play...She's incredible at insisting all of those things can coexist, and living that in a way that I think is so inspirational, and that I think really has been good for our show."
The musical itself, Scanlan hopes, will also be a source of inspiration to those who see it, with an altruistic message at its core that urges people to "share the luck." "I'd love people to take away what happened to me working on this show," Scanlan said, pointing to volunteer work in South Africa that he's undertaken since starting work on the show. Before Molly Brown, "I felt an impulse to want to do things, but I always thought, 'I'm too busy, I don't have the time.' And that's actually bullshit," Scanlan said. "You really can do something...The world spins just fine when you go away and you help other people."
Photo by Carol Rosegg.
"Making a difference requires no more than, you know, seeing something's not right, thinking 'I can make that better,' and then doing it. And taking the time, and applying the resources that you have," Scanlan said. "I mean, Molly Brown was an activist when she was poor!" "The real Molly Brown is the one that would start the soup kitchen or the literacy league—she just saw so many ways in which she could improve lives and share the luck," Scanlan said. When Brown became a multi-millionaire, "she really saw [that] my job is to spread this around"—"because there are people who haven't gotten their luck yet, and when you've gotten it, you've got to spread it around. And that's what I'd like [the audience] to take away from it."
---
Transport Group's The Unsinkable Molly Brown is currently playing at Abrons Arts Center through March 22. For tickets and more information, visit abronsartscenter.org.