The Best 9 Warm Drinks for Cold Winter Days in NYC
January 19, 2017 - by Chelsey Grasso
A New York winter offers some great ways to warm up, including sipping on these nine hot drinks. Boozy, spiked, and alcohol-free, there's a warm beverage on this list for all. Make sure you keep yourself feeling toasty this winter. New York City might be dipping into the freezing temperatures, but that doesn't mean that you have to dip with them. Order a drink and heat up!
Best of NYC Warm Drinks: Irish Coffee @ Gleason's Tavern (Times Square)
Not only does Gleason's Tavern make for an ideal hangout spot during the winter with its yummy menu (crispy flatbreads, sweet fries, beer battered cod, and more!), but its libations can also hold their own. Grab an Irish coffee for a perfect refresher before or after a night on Broadway. 206 W. 41st St., 212-302-2167, gleasonstavern.com
Best of NYC Fall Drinks: Italian Coffee @ Caffe Palermo (Little Italy)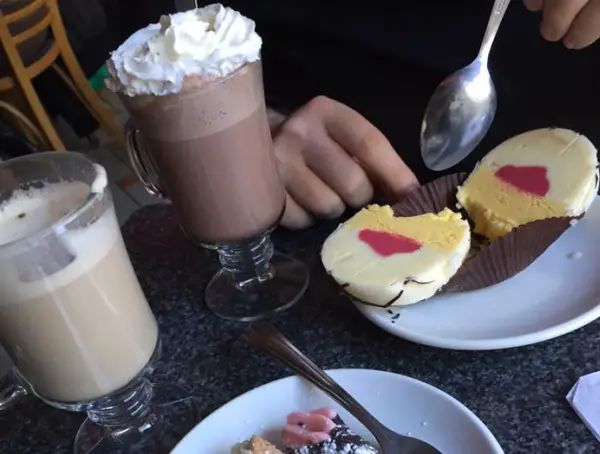 Once fall hits, iced coffee season is officially over. Up your caffeine game by ordering an Italian Coffee at Caffe Palermo, one of Little Italy's best bakeries. While you're there you might as well grab a cannoli too, because nothing rings in the fall like a sweet baked treat and some hot coffee to wash it all down. We know, you're drooling just thinking about it. So are we. 148 Mulberry St., 212-431-4205, caffepalermo.com
Best of NYC Warm Drinks: Cappuccino at Zibetto Espresso Bar (Midtown West)

There's nothing like a crisp fall morning for getting you in the proper frame of mind for a visit to Zibetto. Their Sixth Avenue location is designed to feel like walking into any small café from Trieste to Milano. One look at the gleaming La Cimbali espresso machine behind the marble bar and you'll know they know what they're doing here. Settle in with a pastry, or a lunchtime panini, and let yourself be transported. 1221 Sixth Ave., 212-332-2648, zibettoespresso.com
Best of NYC Warm Drinks: Spiked Hot Cider @ Wilfie & Nell (West Village)
What's better than a steaming hot apple cider? A steaming hot apple cider that's been spiked, of course! Wilfie & Nell's Spiked Hot Cider will have you feeling as cozy as can be. As far as the spiking goes, you get to choose your poison: Four Roses Bourbon or Applejack. Either way, you can't go wrong. 228 W. 4th St., 212-242-2990, wilfieandnell.com
Best of NYC Warm Drinks: Lavender Latte @ Bibble & Sip (Midtown West)
Ever had a lavender latte before? If not, you're missing out big time. Bibble & Sip has one of the best specialty coffee menus out there, including the likes of a Matcha Jasmine Latte, Spiced Bourbon Caramel, and Hot Chocolate with Coconut Milk. While they're all worth writing home about, it's the Lavender Latte that we love most. Soft and subtle, yet uniquely its own, it's a must-try. 253 W. 51st St., 646-649-5116, bibbleandsip.com
Best of NYC Warm Drinks: Posset @ Olmsted (Brooklyn)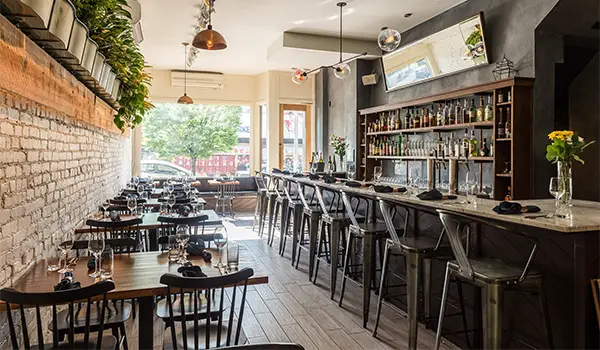 In case you were wondering, a posset is a British hot drink made of milk that's been curdled with wine or ale and then spiced. While you won't find many bars that actually serve it in NYC, there is one in Brooklyn's Prospect Heights that does. Egg yolk, milk, cream, sugar, and IPA make up Olmsted's famed Posset, and it's every bit as wonderful as you'd expect. 659 Vanderbilt Ave., 718-552-2610, olmstednyc.com
Best of NYC Warm Drinks: Pumpkin Spiced Mocha @ Max Brenner New York (Union Square)
Pumpkin Spiced Lattes may be for the fall, but Pumpkin Spiced Mochas are definitely for the winter. Get your caffeine kick from Max Brenner's version of the unique drink this season. Made from a mix of hot chocolate (and we're talking Max Brenner chocolate!), espresso, and homemade pumpkin syrup, is there anything else you could possibly ask for in a warm beverage? 841 Broadway, 646-467-8803, maxbrenner.com
Best of NYC Warm Drinks: Hot Sake @ Sake Bar Decibel (East Village)

Image: Kanko*/Flickr
Sake Bar Decibel might look like a dive bar, but its selection of sake is anything but. There are 90 different sakes available here, but don't let that intimidate you. For those of you who are novices when it comes to picking out a sake, the staff is ready and happy to recommend their favorites. And of course, makes sure you order it hot! 240 E. 9th St., 212-979-2733, sakebardecibel.com
Best of NYC Warm Drinks: Serendipitous Hot Chocolate at Serendipity 3 (Upper East Side)
The Serendipitous Hot Chocolate at Serendipity 3 has quite a reputation, but rest assured: it really is that good. This delicious cocoa has a fruit undertone to it thanks to the grated valley orange that goes into it, along with cinnamon and shaved French chocolate. Topped off with whipped cream, you can't go wrong with this beverage on a crisp winter day. 225 E. 60th St., 212-838-3531, serendipity3.com
Looking for Free Group Planning Services?
Get free advice on planning your group's trip to New York.
RESTAURANTS

Multi-concept restaurant offering modern Japanese cuisine, a...

THEATER

In a heartbeat, 38 planes with 6,579 passengers were strand...

SHOPPING

An array of quality branded merchandise showcasing HBO's® aw...

SIGHTSEEING

Hop aboard these environmentally friendly twin-hulled catama...