In the urban jungle of New York, it might seem odd to celebrate the natural world for Earth Day. But city-dwellers are arguably most in need of this yearly reminder of nature's beauty. On and around Earth Day, April 22, take a trip to one of the city's vital botanic gardens, attend a tree's funeral, or walk down a car-free Broadway. The events below charge urbanites and visitors alike to appreciate the natural world through sustainable shopping, cooking, gardening, and public action. Here's your guide to a great Earth Day in New York City.
NYC Earth Day Bazaar
The Upper West Side's favorite Sunday activity is getting an eco-upgrade on April 21. Come to Grand Bazaar, the indoor/outdoor market full of antiques, handmade goods, and local food, for Earth Day. Celebrate locally made items and repurposed goods that are beautiful and environmentally friendly, all with a chicken and waffle sandwich in hand. All Grand Bazaar profits benefit local public schools. Sun, April 21, 10am-5:30pm. 100 W. 77th St., grandbazaarnyc.org
New York Botanical Garden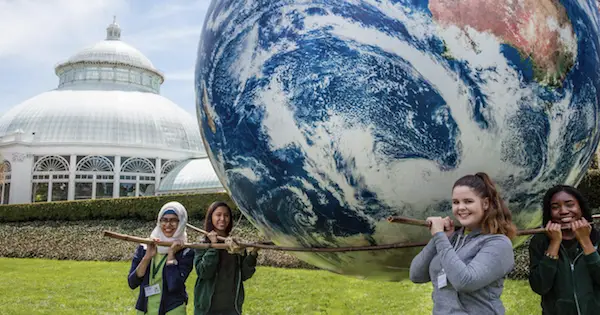 You already know the The New York Botanical Garden is bursting with its annual orchid show. This Earth Day weekend, head to the garden not only for a mind-blowing display of these special flowers (the theme this year is Singapore), but an additional suite of events celebrating the natural world with #plantlove.
On Friday, April 19, author Andrea Wulf will read from her new book The Adventures of Alexander von Humboldt, based on the historical naturalist/explorer/writer.
Saturday, April 20, it's the Earth Day Parade with gigantic walking puppets and the Marching Cobra drumline. During this event, you'll also get the chance to hear music from NYBG's composer-in-residence Angélica Negrón and participate in a workshop empowering visitors to make art from discarded materials.


Throughout the weekend, NYBG staff will host tours of its laboratories, where scientists are studying plant DNA. These scientists will also educate visitors in becoming "citizen scientists" and observing plant life at "The Scientist Is In" sessions on Saturday and Sunday, April 20-21. Other kid-friendly events throughout the weekend include Budding Botanists, a guided plant-potting activity, and sessions where kids help tend the gardens at NYBG. The TV show "Captain Planet," in which superheroes fight on behalf of the environment, will also be screened on April 20 and 22.
2900 Southern Blvd., 718-817-8700, nybg.org/event/earth-day-celebration
Brooklyn Botanic Garden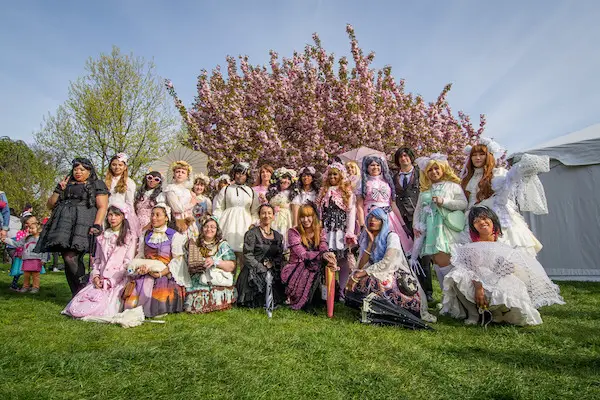 April is both Earth Month and National Poetry Month! Environmentalists, poets, and environmental poets of all ages can visit Brooklyn Botanic Garden this Earth Day for a poetry walk. A guide will lead you through the blooming acres of this Brooklyn treasure and read some beloved verse about nature as you go. Sun, April 21, 2:30-3:30pm.
Don't forget the Sakura Matsuri festival the following weekend, in honor of the garden's cherry blossoms and the culture of Japan, the cherry trees' native habitat. This fantastic weekend of events will feature plenty of live music at two outdoor stages, a manga demonstration, and Japanese tea ceremonies. Artisanal goods like pottery, chocolate, and kimonos will be on sale at the Japanese Marketplace, and kids can look forward to craft activities and other demonstrations to fuel their imaginations. April 27-28, 10am-6pm. 445 Flatbush Ave., 718-623-7200, bbg.org
Earth Love Festival at House of Yes
The outrageously popular event venue House of Yes is showing Mother Earth some love on April 21. Come to the Earth Love Fest at the new indoor/outdoor space in Bushwick, just a five-minute walk from the original House of Yes. This "day party with a purpose" will present art installations, talks, makers selling eco-crafts, and lots of dancing. Panels will cover important environmental issues like ocean conservation, life without plastics, climate change's impact on art, and more.
This event is free for all; register on Eventbrite. Sun, April 21, 12pm-8pm. 99 Scott Ave., 646-838-4973, eventbrite.com
National Geographic Encounter: Ocean Odyssey
Located in Times Square, NatGeo's Encounter transports your family to the depths of the ocean. You'll walk through state-of-the-art immersive galleries filled with images of dazzling, diverse sea life. The final portion of the Encounter experience charges visitors to consider their environmental footprints and how our world oceans are affected by pollution. The perfect Earth Day activity, this Ocean Odyssey engages, entertains, and encourages us to value our oceans and the creatures that call them home. Use our coupon and take $10 off 'daily dive' admission. 226 W. 44th St., natgeoencounter.com
Buffalo Exchange $1 Sale
Saturday, April 20, head to your nearest Buffalo Exchange for Earth Day deals. Many of the secondhand clothing items at their stores will be $1 in honor of Earth Day, and all NYC stores are participating (excluding outlets). Proceeds will benefit animals in need through The Humane Society. The event is cash only. Sat, April 20. Various locations, buffaloexchange.com/events
1 Hotels Earth Month Events
Both 1 Hotel Central Park and 1 Hotel Brooklyn Bridge are holding Earth Month events to promote awareness of environmental issues. Below are a selection of film screenings, talks, pop-ups, and dinners you can attend to learn more about the issues and have fun in the process!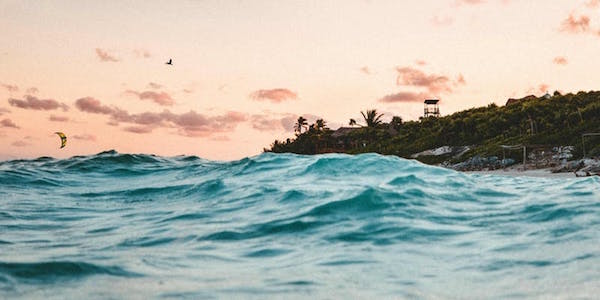 The Dark Side of Tulum
At The Dark Side of Tulum screening on April 22, director Rachel Appel will participate in a panel discussion afterward and speak on the ecological degradation of Tulum, Mexico.
Also, Oceanic Global is partnering with 1 Hotel Brooklyn Bridge in a "Films for Thought" series, screening films with environmental themes.
Tuesday, April 23, Fashion Revolution USA will visit 1 Hotel Brooklyn Bridge for a roundtable discussion about the clothing industry and its intersection with human rights. This event, featuring policy experts and professors in conversation, will occur one day before the anniversary of the Rana Plaza factory disaster in 2013.
1 Hotel Brooklyn Bridge will host a pop-up shop of Free People's new eco-friendly line of activewear April 18 through May 12. Called Movement, this collection of leggings, sports bras, and other apparel is made with sustainable yarn called ECONYL.
1 Hotel Central Park will host respective pop-ups on April 27 and 28 for Eau Club and Ali Grace Jewelry. Eau Club makes mindful swimwear, while Ali Grace creates local jewelry from recycled metal and ethically mined stones.
1 Hotel Central Park will host the Zero Waste Dinner Series starting April 30 with "A Supper That Sustains Us." This event will include several celebrity chefs presenting zero-waste cuisine and doing Q&As with guests about the thoughtful use of food during cooking, as well as sustainable farming practices. Proceeds for the series will benefit Grow NYC and the Billion Oyster Project.
1 Hotel Central Park: 1414 6th Ave., 212-703-2001, 1hotels.com/central-park; 1 Hotel Brooklyn Bridge: 60 Furman St., 347-696-2500, 1hotels.com/brooklyn-bridge
Funeral for a Tree at Judson Church
Held between Earth Day and Arbor Day, the world's first funeral for a tree will occur at Judson Memorial Church in Washington Square Park. The honoree of the event is Will O. Baum, a tree that started his life in 1919 in Inwood and later moved to Brooklyn. After he died at the age of 100, Judson Church seeks to honor the noble tree—and advocate for trees everywhere—with this exciting event. Matthew Morrison of Glee will emcee and serve as "tree minister," and gospel choirs, poets, and other speakers will appear as well. An immersive forest experience, as well as food and drink, are also on the agenda. Profits will benefit the regenerative agriculture efforts of trees.org. Thurs., April 25, 6-9pm. 55 Washington Sq. S., willobaum.splashthat.com
Car-Free Broadway for Earth Day
The New York City Department of Transportation will clear Broadway of cars for thirty blocks in honor of Earth Day this year! Saturday, April 27, you can walk down the middle of the world's most famous street from Times Square to Union Square and enjoy springtime in New York. Environmental programming and other fun events will be stationed along the way at locations like Times Square, Herald Square, Flatiron, and Union Square. Sat, April 27, 9am-3pm, nyc.gov