Heaven for Parrot Heads (usually wherever Jimmy Buffett and his Coral Reefer Band are playing) has a new home in New York. At Broadway's Marquis Theatre you'll find Buffet's rom-com musical Escape to Margaritaville, which uses his familiar songs about island getaways, grapefruit, pirates, and lost shakers of salt to breathe joyous, relaxed life into a rather enchanting love story with no shortage of comedy on the side.
Paul Alexander Nolan strumming his six string for the original Broadway cast of Escape to Margaritaville. Photo by Matthew Murphy, 2018.
Set in the rundown Margaritaville Hotel & Bar, Tully (Paul Alexander Nolan)—channeling the multi-platinum musician/songwriter's legendary laid-back gestalt—is the resort's on-site entertainer who finds fleeting romantic flings with each week's new influx of guests.
The island is full of escapees, from full-time denizens like the mysterious J.D. (Don Sparks), a likeable codger who wears an eye-patch, and outspoken Marley (Rema Webb), the hotel's owner, and Brick (Eric Petersen), the sweet, goofy bartender.
Enter Rachel (Alison Luff) and Tammy (Lisa Howard), BFFs from wintry Cincinnati. Rachel is an environmentalist whose idea of fun is collecting soil samples from an island volcano (her ultimate goal: power through potatoes). Tammy, who's engaged to a controlling jerk (he puts her on a diet, because, as he puts it, "How do you expect me to love you if you're always going to be fat?!"), is understandably ready to give herself over to sun, sand, tequila, and innocent flirtation—something not lost on Brick, with whom she shares a passion for puns like "I was also addicted to the hokey pokey but thankfully I turned myself around."
Alison Luff and Paul Alexander Nolan. Photo by Matthew Murphy, 2018.
Meanwhile Tully, whose talent exceeds his ambition, is wildly attracted to Rachel, whose resistance to his charm gradually fades away.
As Buffett ordained it, the show is nothing short of a great escape: cell phone-free/mellowed-out fun and games against a Caribbean backdrop where everyone's dressed for the beach, the bar serves sexually themed drinks ("Mountain Dew Me"), and at any moment the stage will burst out with one classic fave ("License to Chill") or another ("It's Five O'Clock Somewhere.")
Adding moves to Buffett's music is Tony-nominated choreographer Kelly Devine (Come From Away; Rocky), who redefines island dancing, transforming the ensemble into tourists with an exuberance usually associated with kids on spring break. And Ms. Devine may forever be known as the choreographer who created the wild dance of the zombie life insurance salesmen, a vision that haunts—then delights—Brick.
In addition, the show boasts Tony-winning director Christopher Ashley (Come From Away), who seamlessly balances two romantic through-lines with innuendo-infused comedy, only to top it off with an island-wide volcanic panic followed by an equally turbulent pre-wedding dinner.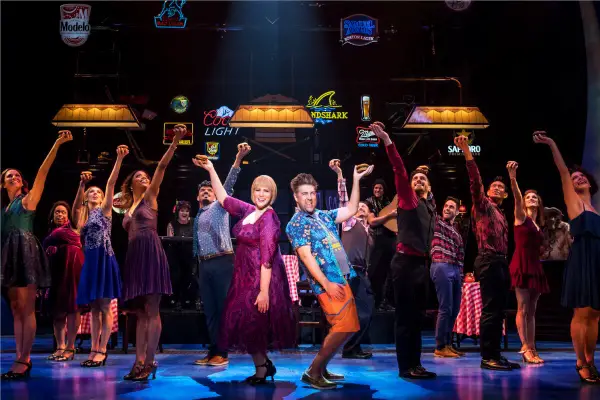 Lisa Howard (Tammy), Eric Petersen (Brick) and the original Broadway cast of Escape to Margaritaville enjoy a Cheeseburger in Paradise. Photo by Matthew Murphy, 2018.
As for the four lead actors, Luff (Les Miserables) and Nolan (Bright Star) are terrific singers with excellent chemistry. Petersen, who proved his comic stage chops on Broadway as Dewey Finn in School of Rock, is divinely silly and comically vulnerable, while the sassy Howard brings down the house as she soars above it in the elaborate "Cheeseburger in Paradise" number.
The entire score was provided by Buffett, who augmented his older songs with some new ones. The show's book was penned by Greg Garcia, a veteran writer of sitcoms like My Name Is Earl, and Mike O'Malley, a versatile actor who created the Starz series Survivor's Remorse. And yes, as one would expect, the musical is packed with a rat-a-tat of zingers and plot twists.
And it grabs the audience from the moment the lights come up on Tully, sitting alone with his guitar composing a song about a boat. It's one of the few quiet moments in the show, but it's lovely and captures the need for escape we all crave sooner or later. Now, thanks to Jimmy Buffet's labor of love musical, we can add a shot of sundrenched decadence to our lives as we spend close to 2½ hours...
     "Wastin' away in Margaritaville/Searchin' for my lost shaker of salt/Some people claim/That there's a woman to blame/But I know/It's my own damn fault…"  
You'll find it hard not to offer a standing ovation as you sing along.
---

Andre Ward (Jamal) with the original Broadway cast of Escape to Margaritaville. Photo by Matthew Murphy, 2018.
At the Marquis...
On a recent Friday night, the line snaking its way into the Marquis's upstairs theatre was an eclectic mix of suits and sandals, Hawaiian shirts and stiletto heels (not necessarily on the same people)—texting and chatting as they eyed the neon and island-kitsch bar visible just inside the theatre's glass doors. Some dropped out to take advantage of the lobby's scattering of Adirondack chairs. I remained on line to hear someone behind me say, "Bad week; I really need this," to which a voice responded, "Tell me about it."
My thought: who doesn't. My advice: escape to Margaritaville.
Jimmy Buffett's Escape to Margaritaville is playing at Broadway's Marquis Theatre, 1535 Broadway at 46th St. For tickets call 877-259-2929 or visit escapetomargaritaville.com.