NYC's 5 Best Fajitas
August 14, 2017 - by Chelsey Grasso
Is there anything more exciting than a sizzling skillet of fajitas being brought to your table at a Mexican restaurant? Doubtful. Naturally, NYC has no shortage of exquisitely made fajita dishes, and rounded up below you'll find our top five picks (including vegetarian options!).
Agave (West Village)
Agave's fajitas Black Angus skirt steak plate is a local favorite, beloved for its tender meat and juicy flavor. As for those who want to skip the meat, Agave serves a fajitas grilled vegetables plate that mixes things up a bit from the usual ingredients you'd expect. Asparagus, baby carrots, onions, and green and red peppers make up the vegetarian option, providing a twist on your typical vegetarian fajita dish. 140 Seventh Ave. S., 212-989-2100, agaveny.com
Cilantro (Upper West Side)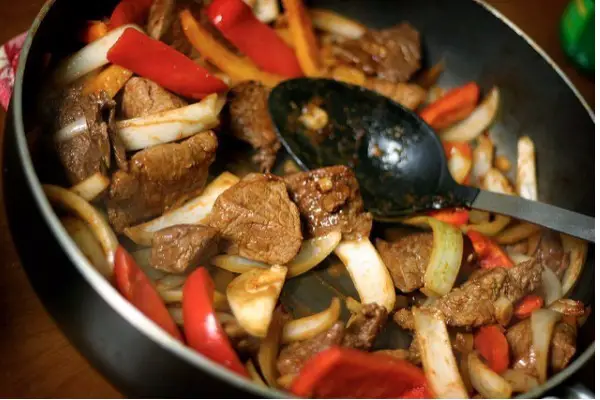 Take your pick between grilled chicken, adobo-marinated skirt steak, tequila-marinated shrimp, and seasonal vegetable fajitas at Cilantro, each served with sautéed onions, peppers, guacamole, sour cream, pico do gallo, and warm wheat, flour, or corn tortillas. The marinades truly add a unique taste to each fajita dish, while the restaurant's authentic wooden beams, lighting fixtures, and Mexican-inspired décor create a memorable dining experience. 485 Columbus Ave., 212-712-9090, cilantronyc.com
Mad Dog & Beans (Financial District)
Mad Dog & Beans serves up their fajitas on a sizzling iron skillet, complete with flour tortillas, guacamole, crema fresca, pico de gallo, pickled jalapenos, Mexican rice, and refried black beans—so make sure you arrive with an appetite, because you'll be getting three plates worth of food (literally, you'll have three skillets placed in front of you, and a tortilla basket). Patrons can choose between chicken, steak, shrimp, and portobello mushroom, or combinations of any two. 83 Pearl St., 212-269-1177, maddogandbeans.com
Two Lizards Mexican Bar & Grill (Upper East Side)
The Fajitas Two Lizards are one of Two Lizards Mexican Bar & Grill's most popular orders from frequent diners. Served with arbol salsa, sour cream, red rice, refried beans, and your choice of corn or flour tortillas, this sizzling plate comes in three meat options: grilled skirt steak, vegetarian, or Mayan shrimp. The veggies are always fresh, the portions are always epic, and the flavors are always out-of-this-world delicious. Additional location in Queens. 1365 First Ave., 212-734-2447, twolizardsnyc.com
El Cantinero (Greenwich Village)
Located in the heart of the Village, El Cantinero's string light covered ceilings and dimly lit seating area creates a causal ambience that's perfectly cozy and authentically Mexican… just like their food! The fajitas come in vegetarian, chicken, steak, shrimp, and combination plates, topped with sautéed onions and tomatoes. On the side you'll enjoy flour tortillas, rice, guacamole, sour cream, diced onion, tomatoes, and a cup of home-made pinto bean soup (hence, the cozy!). 86 University Pl., 212-255-9378, elcantineronyc.com
Looking for Free Group Planning Services?
Get free advice on planning your group's trip to New York.
RESTAURANTS

Vida Verde brings the tastes, colors, sounds, and scents of ...

THEATER

In a heartbeat, 38 planes with 6,579 passengers were strand...

SHOPPING

An array of quality branded merchandise showcasing HBO's® aw...

SIGHTSEEING

Opened to the public in 1913 thanks to the ingenuity and amb...