Crazy fabulous shows are definitely the rage this fall, starting with those occupying the jukebox arena. TINA: The Tina Turner Musical recently hit Broadway with all kinds of rock queen glam; Jagged Little Pill arrived with a score harvested from Alanis Morissette's Grammy-winning album of the same name; Ain't Too Proud – The Life and Times of The Temptations is an insider's look at the group's backstory and how they ignited the charts with songs like "My Girl" and "Just My Imagination"; Moulin Rouge! The Musical redefined jukebox with the most staggering mash-up of pop music to ever hit the stage; and Jersey Boys, the Tony-winning smash about Frankie Valli and the Four Seasons, is currently an Off-Broadway prized possession.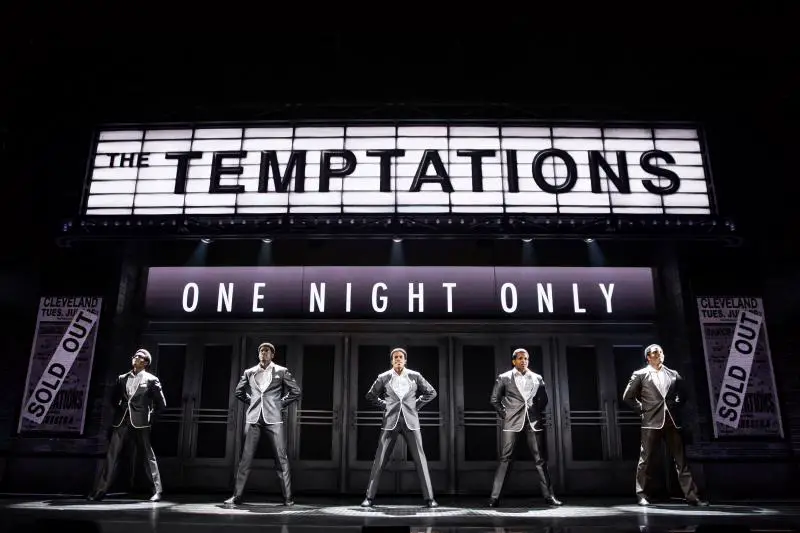 A Broadway smash: Ain't Too Proud – The Life and Times of The Temptations. Photo by Matthew Murphy.
Broadway productions featuring teen heroes and heroines make up another category, filling the gap between Disney and shows with super-size adult content. Taking on this genre are Dear Evan Hansen, Mean Girls, Wicked, and Beetlejuice.


Who's News
To Kill a Mockingbird debuted last year with Jeff Daniels as Atticus Finch. On November 1st he passed the small-town lawyer torch to Golden Globe winning/Oscar-nominated actor Ed Harris (Game Change; The Truman Show; Westworld). What makes Harris's arrival more than a one-person game changer is that he's helming a completely revamped company. Sprawling turnovers are uncommon, but considering the new cast's formidable Broadway pedigree, Bartlett Sher's gold-caliber direction, and Aaron Sorkin's stunning stage adaptation of Harper Lee's Pulitzer Prize-winning novel, it should be good to go for quite some time.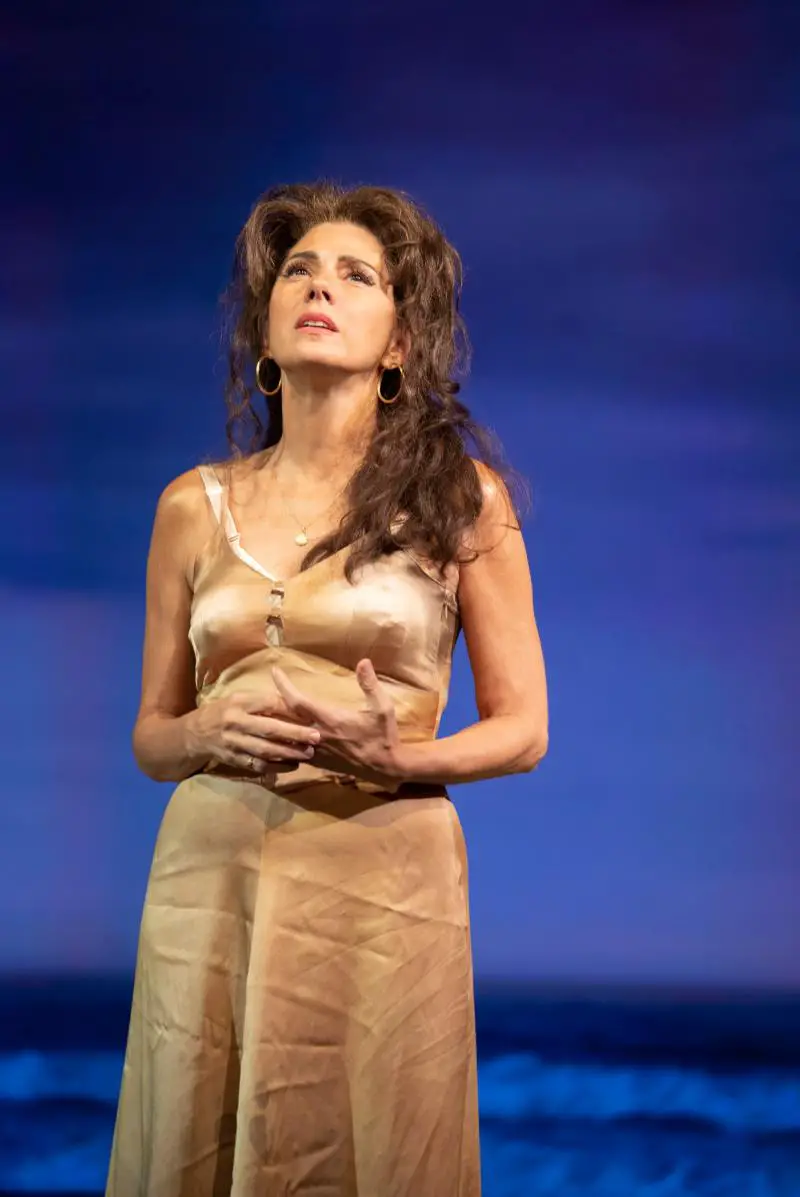 Marisa Tomei goes all out for The Rose Tattoo. Photo by Joan Marcus.
Other noteworthy actors commanding attention both on and off the Great White Way include Oscar winner Marisa Tomei, giving it her all in Tennessee Williams's sexually charged The Rose Tattoo; Tony winner Mary-Louise Parker in Pulitzer finalist Adam Rapp's The Sound Inside; Tony-winner Harvey Fierstein as political provocateur Bella Abzug in Bella Bella; and four-time Game of Thrones Primetime Emmy winner Peter Dinklage (that's right, Tyrion Lannister) in a far different period role: Cyrano.
Mind-Melding: 'Tis the Season
---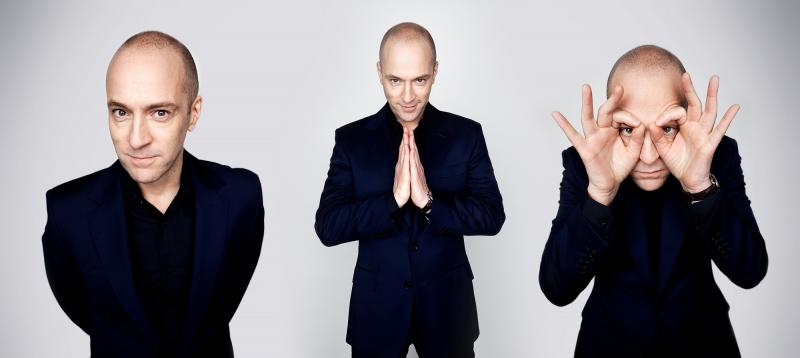 Derren Brown, Secret. Photo by Seamus Ryan.
Let's say you enjoy having your mind blown by mentalists… conjurers… illusion VIPs. If so, you're definitely in the right place at the right time. Theatrical alchemy in the literal sense is a seriously prescient player at the moment and it began this past September when Derren Brown: Secret opened on Broadway. Brown, a charming Brit with a seemingly supernatural flair for psychological gaming (the "Guess Who" portion of the program, where he plucks secrets from random theatergoers, will have you convinced he's a telepath) is irresistible.
In a more intimate venue, aka The High Line Hotel's 19th-century Hoffman Hall reimagined as the Riverbank "cradle of cryptography" Estate, magician and crossword constructor David Kwong ushers participants through an immersive labyrinth of puzzles (and more) as he taps into his dual skills in neuroscience and prestidigitation. The show—a little Gothic, a lot mystifying—is aptly dubbed The Enigmatist. Cocktails are involved.
Finally, returning for a fifth year on Broadway is the ultimate magical convergence: The Illusionists – Magic of the Holidays. Beginning November 29th and running through January 5th, this dazzling production takes hocus-pocus to soaring proportions. The collection of performers seducing multi-generations of theatergoers this season includes 2019 America's Got Talent semi-finalists Dom Chambers ("The Showman") and Eric Chen ("The Manipulator"). They're joined by four other celebrated masters of magical wherewithal and the acclaimed VERBA Shadow Theatre.
Nothing more will be revealed…I leave it to you to enter these unpredictable worlds at your own risk…and pleasure!
Holiday Head Start
I know, Halloween is barely in the rearview mirror, but as Christmas, Hanukkah, and Kwanzaa approach, it's nice to begin embracing the season before the rush. So here are three seasonal treats draped in festive flair to spark the spirit of the season. And all are up and running through January 5th!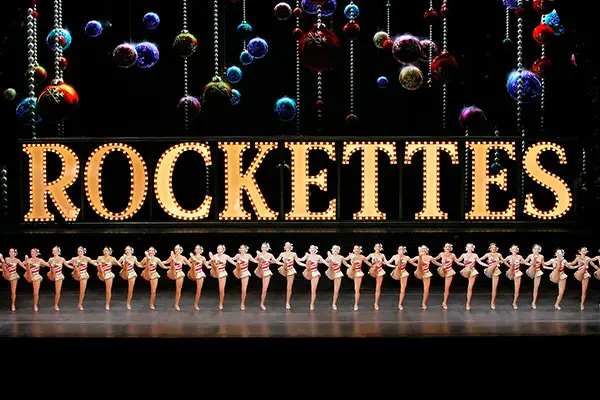 Christmas Spectacular Starring the Radio City Rockettes. NYC's iconic holiday show just keeps getting more exciting and 2019 is nothing short of a seasonal sensation, blending tradition and techno-wonders!
Slava's Snowshow. This funny and beautifully etched celebration of winter was created by Russian performance artist Slava Polunin. In 2009 it was a Unique Theatrical Show Tony nominee.
A Christmas Carol. A glorious new production of Dickens's holiday masterpiece starring Tony winners Andrea Martin (Pippin) and LaChanze (The Color Purple) alongside Campbell Scott's (House of Cards) Scrooge.