It happens every year: the fall portion of the new Broadway season comes in like a lamb and moves into winter like The Lion King. Unlike the spring, musicals in fall are generally outnumbered by plays, which come packed with big name stars from the U.S. and U.K. For those willing to congregate at the stage door after the show, handshakes, autographs, and selfies with celebs add up to pretty awesome rewards.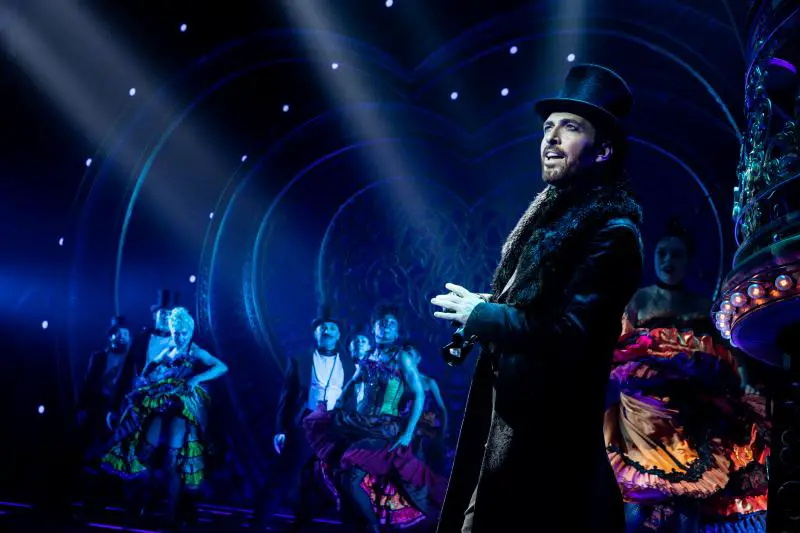 Photo by Matthew Murphy.
The current season officially launched July 25th when Moulin Rouge!—the outrageously divine over-the-top jukebox musical set in fin de siècle Paris—opened to already sold-out houses. (Order your tickets in advance and arrive ready to be blown away.)
You couldn't ask for a more eclectic group of new musicals overall, with three out of five falling under the jukebox heading: David Byrne's American Utopia goes directly to the concert jugular with a theatrical bent; TINA: The Tina Turner Musical is a lavish bio packed with the title character's greatest hits; and Jagged Little Pill, featuring music from the Grammy-scoring album by Alanis Morissette, tells the tale of a family weighing their status quo existence.
Rounding out the musical realm are two originals. One is Freestyle Love Supreme, the brainchild of Lin-Manuel Miranda and his Hamilton director Thomas Kail, along with musical improv maven Anthony Veneziale. Structure-wise, we're talking improvised hip-hop with the bonus of nightly (unannounced) guest stars—possibly Miranda himself, Wayne Brady of Whose Line Is It Anyway?, or Tony winner James Monroe Iglehart.
The current mix of new plays and stars includes Olivier winner Tom Hiddleston (Thor; The Avengers) making his Broadway debut in director Jamie Lloyd's deftly etched revival of Betrayal. His costars in Harold Pinter's stark romantic triangle are Zawe Ashton (Velvet Buzzsaw; Nocturnal Animals) and Charlie Cox (The Theory of Everything; Stardust).
The Manhattan Theatre Club's The Height of the Storm is a beautiful, enigmatic drama that soars thanks to its performances, particularly those of its two leads, iconic actors Eileen Atkins and Jonathan Pryce. Other major stars in limited Broadway runs include Oscar winner Marisa Tomei in Tennessee Williams' The Rose Tattoo; Mary-Louise Parker in Adam Rapp's The Sound Inside, and one of Parker's Red and Red 2 costars, Brian Cox, who portrays President Lyndon Baines Johnson in The Great Society (Part II of Robert Schenkkan's LBJ plays) alongside a noteworthy cast that includes The Americans' Richard Thomas and Tony winner Frank Wood.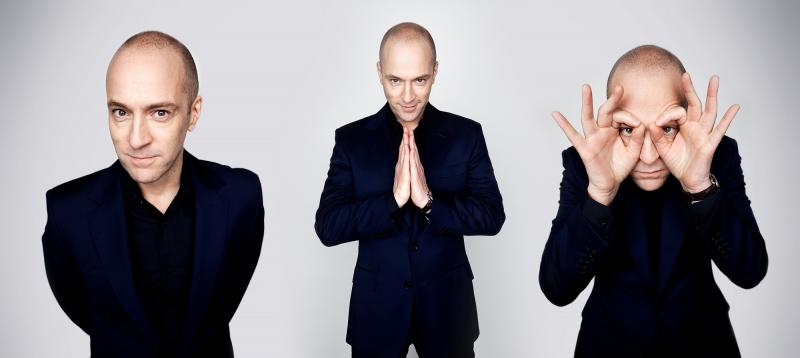 Derren Brown, Secret. Photo by Seamus Ryan.
Other Broadway additions include Derren Brown: Secret, starring the title Brit, who unleashes an arsenal of psychological illusions on his entirely malleable audience. This may be his Broadway debut, but expect return performances. Jaw-dropping doesn't come close to what this laid-back guy conjures in two and a half hours.
Jeremy O. Harris' provocative Slave Play was a ferocious hit Off-Broadway; the satirical drama, now at the Golden Theatre, unapologetically lights a fire under the issues of sex and race. And then there's Linda Vista, a critically acclaimed comedy from Pulitzer Prize and Tony winner Tracy Letts (August: Osage County) focused on a divorced 50-year old guy trying to move on with his life. Finally, there's the season's most talked about import: Matthew Lopez's The Inheritance, a Olivier-winning two-part epic that uproots E. M. Forster's Howards End and transplants it to contemporary New York.
A Broadway Invitation to Get Your Halloween Freak On

Hannah Corneau having a Wicked good time as Elphaba. Photo by Joan Marcus.
From mythical to madcap, Broadway stages are crowded with shows shrouded in eerie theatrical trappings. Long-running productions like the epically haunting Phantom of the Opera, drenched in Gothic chills, and Wicked, the formidable conjuring the witches of Oz during their school days, have recently been joined by Hadestown–a New Orleans-infused journey from light and sun into a bleak and haunting underworld; and Beetlejuice, a gleeful afterlife romp with a stageful of lovably bizarre characters, living and dead. The latter has assumed the title of "Unofficial Official Musical of Halloween," complete with Thursday costume contests and a three-day "Halloweekend Beetlecrawl" with specialty drinks (October 25-27). At Moulin Rouge!, the tantalizing green allure of absinthe seems to flow like a river beneath the sexy glitz of the iconic club, with a seriously contemporary score and attitude, despite its vintage trappings. Other "spirited" Halloween-centric shows include (of course) Harry Potter and the Cursed Child, as well as new Broadway arrival The Lightning Thief: The Percy Jackson Musical and the Disney trio of shows that shine when it comes to year-round costume attire: The Lion King, Aladdin, and the two-princess favorite Frozen. Finally, should you be a fan of the paranormal–more specifically the idea of mind reading and psychological illusion–I again suggest scoring a ticket to Derren Brown: Secret., a show so steeped in jaw-dropping mentalist savvy it's scary.
Immersive Off-Broadway, Just in Time for Halloween
I Can't See: a curated scare-a-thon experienced in absolute darkness while wearing audio headsets. Well-tuned fear-drenched horror. nightmarenyc.com
The Wake of Dick Johnson: a show that prides itself on "savagely challenging an audience's threshold for taboo language, graphic imagery, and morbid themes". Perfect. Runs 10/27-10/31. wakeofdickjohnson.brownpapertickets.com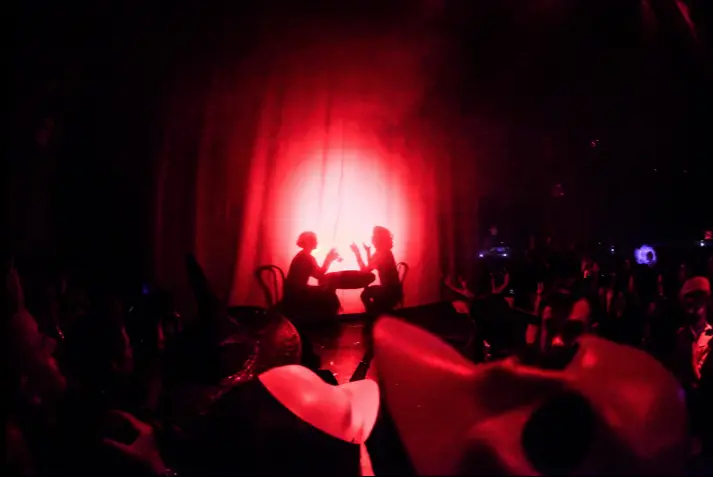 A Hitchcock Halloween Party: The McKittrick Hotel's annual Halloween extravaganza goes all out for the Master of Suspense and the Golden Age of Hollywood. Equal parts sumptuous and glamorous. sleepnomorenyc.com