As fall valiantly tries to amp up its orange and gold profile, Broadway is busy welcoming an intriguing influx of new shows and stars. Many, many shows and more than many stars. Off-Broadway is no slouch, either…lots of celebrity voltage there as well. So. Shoulders back; deep breath; diving in…!
Via Lifespan of a Fact Twitter.
The Freshman Class, for whom dressing rooms replace dorm rooms and pass/fail is measured in critical reviews, begins Broadway previews on 9/20 with The Lifespan of a Fact, a tantalizing world-premiere drama starring Tony nominee Bobby Cannavale (The Motherf**ker with the Hat; Boardwalk Empire), Tony winner Cherry Jones (Doubt; Transparent; Black Mirror), and Daniel Radcliffe, who plunged into an edgy theatrical role (Equus) while in the final throes of Harry Potter and never looked back.
Next up (9/25) is Kenneth Lonergan's Pulitzer finalist, The Waverly Gallery. Here the star package features three Oscar nominees: Elaine May, who sharpened her comedic teeth as half of the team of [Mike] "Nichols and May;" Tony winner Joan Allen (Burn This; Nixon; Georgia O'Keeffe) and Lucas Hedges (Manchester by the Sea). Tony nominee Michael Cera (Lobby Hero; Arrested Development), in his third Lonergan play, and David Cromer (who picked up a Best Director of a Musical Tony earlier this year for The Band's Visit), complete the cast.


Moving on to early October and an eclectic quartet of bold newcomers. American Son hits the Broadway pavement with Kerry Washington, fresh from the final season of Scandal; Steven Pasquale (Rescue Me), last seen on Broadway in Junk; stage and screen vet Eugene Lee, whose resume spans decades of versatility with a special emphasis on the works of August Wilson; and finally Jeremy Jordan (Supergirl; Smash), whose performance in Newsies earned him a Best Actor in a Musical Tony nomination.
Michael Urie and Harvey Fierstein of Harvey Fierstein's Torch Song. Photo by Andrew Eccles.
Then there's Harvey Fierstein's Torch Song, a smartly whittled-down version of the playwright's '80s hit Torch Song Trilogy, which takes up residence in the Helen Hayes (the same theatre as the original), following a sell-out Off-Broadway run. The cast is again led by Michael Urie (Ugly Betty; Buyer & Cellar), and Oscar and Tony winner Mercedes Ruehl (The Fisher King; Lost in Yonkers).
Striking a chord with theatregoers already smitten with Tony-winning playwright Jez Butterworth's (Jerusalem) unique theatrical vision is his Olivier Award-winning The Ferryman, directed by Tony winner Sam Mendes (Cabaret; American Beauty) that crosses the pond with many of its original London stars.
All of the above taken into account, the season's uncontested biggest Broadway star, while not human—or flesh and blood, for that matter—is the title character of the mondo musical King Kong. At 2,000 pounds and boasting all sorts of techno-puppet-show-stopping yikes appeal, Kong is set to dominate the Broadway Theatre stage in a new production scripted by Jack Thorne (Harry Potter and the Cursed Child). Prepare to be dazzled…and probably a little scared.
Cuba Gooding Jr. returns this fall as Chicago's smooth-talking Billy Flynn. Photo by Tristram Kenton.
And while new shows are always a draw, it's nice to know that celebrities regularly step onto the established Broadway scene as well. Take for example Cuba Gooding Jr., who will be reprising his portrayal of smooth-talking lawyer Billy Flynn in the record-breaking revival of Chicago at the Ambassador Theatre from 10/6 through 11/18. The Oscar-winning actor originated the role earlier this year in London. Meanwhile, mega hit Kinky Boots welcomes Dancing with the Stars's Mark Ballas back to the Great White Way—where he played Frankie Valli in the final Broadway cast of Jersey Boys—in the role of shoe factory heir Charlie Price, from 9/11 through 11/4.
Looking ahead, on 10/23, Tony winner Laura Benanti (Gypsy; She Loves Me) takes over the role of Eliza Doolittle from current cockney flower peddler Lauren Ambrose, who departs Lincoln Center's award-winning My Fair Lady on 9/21 to begin filming M. Night Shyamalan's upcoming Apple series.
Off-Broadway's big name count is also escalating, thanks to productions like Collective Rage: A Play in 5 Betties, Jen Silverman's audaciously absurdist work whose stars include Emmy winner Dana Delany (Desperate Housewives; China Beach); Ana Villafañe (On Your Feet!); and three-time SAG-winning actress Lea DeLaria (Orange Is the New Black). Also on the roster is Chaunté Wayans, member of the Wayans' dynasty (her uncles are Marlon, Damon, Shawn, Keenan Ivory, and Dwayne; her brother is Damien Dante), whose credits include Fifty Shades of Black and Laugh Factory.
Elsewhere Off-Broadway, The True, with its company of familiar names and faces, beckons. This world-premiere by Sharr White about the wheels and cogs of political machines stars Tony winner Edie Falco (House of Blue Leaves; Nurse Jackie; The Sopranos), alongside Michael McKean (Better Call Saul; A Mighty Wind); Peter Scolari (Bosom Buddies; Newhart; Girls); and John Pankow (Mad About You).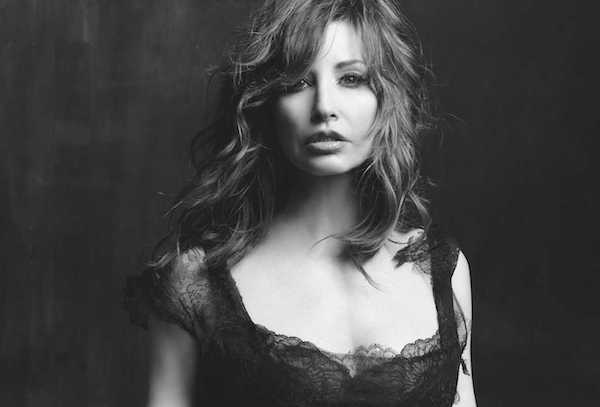 Speaking of politics, there's a new parody in town and it's taking on the extended First Family with guts and glory! I'm speaking—although I should probably be Tweeting—about The Trump Family Special, starring the ever-so-glam Gina Gershon as the ever-so-glam Melania Trump. But she's only part of this comedic send-up. The musical revue also features Ivana, Ivanka, Don Jr., Eric, Marla Maples, Mike Pence, and show-within-a-show director Jeremiah. And what of POTUS? Find out on Thursdays at The Triad, starting 9/13!
---
IN MEMORIAM
To Neil Simon: Thanks for a Legacy of Laughter
Photo by Johnathan Exley.
We had you for 91 years, and yet not nearly long enough. I think we're already a little lost without you. Because, in a universal sort of way, it was rather lovely knowing we were together in New York, sharing Broadway: the sidewalks, shops, restaurants, and especially the theatres. Thankfully, revivals of your plays will always be around to help us weather the worst and celebrate the best.
I'm glad you were honored with a theatre in your name while you were around to cash in on congrats, and that your last play, 45 Seconds From Broadway, preserved "The Polish Tearoom" (Edison Café) for generations who will never sip its soup or taste its blintzes. But most of all I'm glad we got to meet. Briefly. It's nice knowing I was, in a handshake, zero degrees of separation from the best of the best. -G.M.