From Madison Avenue to The Met, there's no shortage of stunning fashions in New York City. But for those who want to think about fashion beyond bold visuals or high style, the Museum of Arts and Design is offering a fascinating look at processes through the new exhibition fashion after Fashion.
In-betweens Surface 1, 2015, pigment print Courtesy of ensæmble
fashion after Fashion looks past the traditional aesthetic focus on fashion, instead putting the spotlight on the work behind fashion and the function it serves in society and people's lives. The exhibition spotlights six works by artists Eckhaus Latta and Alexa Karolinski; ensæmble; Lucy Jones; Ryohei Kawanishi; Henrik Vibskov; and SSAW Magazine. The artists' large installations go beyond clothing and recognizable interpretations of fashion, instead engaging such topics as fashion for those in wheelchairs, fashion as a shared experience, and challenging the value placed on labels and designer brands. 
fashion after Fashion installation. Photo by Jenna Bascom
"By featuring commissioned site-specific works, not garments and artifacts, fashion after Fashion channels a current ethos in design," curator Ilari Laamanen said in a statement. "The focus is on collaborative and interdisciplinary practices. We highlight the process, not the product."
This de-emphasis on aesthetics makes for a seemingly stark exhibition upon first glance—this is an exhibition that demands a closer look. Those with limited time who simply take the show at face value may be disappointed, given the exhibition's monochromatic tones and more cerebral pieces. The exhibition's attention-grabbing visuals rely solely on the tucked-away immersive installation by SSAW Magazine, in which arresting fashion images plaster the walls and furnishings of a small room, and Henrik Vibskov's attention-grabbing red cube—though both still demand visitors go inside and engage with these installations to get the full effect.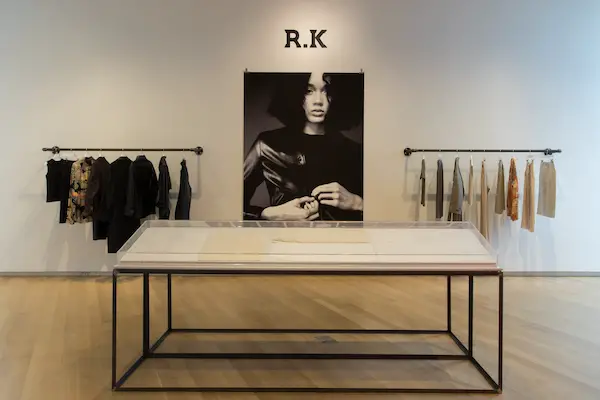 Installation view of MAD's exhibit, fashion after Fashion. Photo by Jenna Bascom
Instead, fashion after Fashion rewards the thoughtful viewer, inviting visitors to engage with the commissioned installations through videos and captions that add much-needed context and explanations to the works. By interacting with this thoughtful exhibition, the initially abstract and detached show takes on a distinctly personal point of view. The exhibition's highest points are those that put the individual fashion wearer at the forefront: a video explaining Lucy Jones' work designing for wheelchair viewers brings a vital look at an underserved fashion population, while Eckhaus Latta and Alexa Karolinski's film installation, which depicts subjects wearing clothes from Latta's fashion line while discussing their lives, is unexpectedly touching and captivating to watch.
In these moments, fashion after Fashion truly shows the personal role that fashion plays in people's lives. It eschews high-class concepts and designs and instead puts the spotlight on the far-more intrinsic—and often unappreciated—everyday function of fashion, one that looks past the runway and considers how even non-fashionistas engage with the clothes on their backs. For those willing to put in the effort to discover its pleasures, fashion after Fashion gives visitors the inclusive take on fashion that such a universal form should demand, going beyond the gorgeous gowns and couture stylings of the city's other exhibitions and filling a much-needed void in New York's fashion world.
fashion after Fashion is currently on view at the Museum of Arts and Design through August 6. For more information, please visit madmuseum.org.