Free summer events are easy to come by in New York, but they're not all created equal (see: Abbi and Ilana at a free yoga class in Broad City). The Flatiron Summer Series is a schedule of weekly free events like digital marketing classes, kickboxing, and jazz with a scoop of gelato. All of these will happen outside in the summer weather under the iconic Flatiron Building on 23rd Street at the intersection of Broadway and Fifth Avenue. Could it get any better? Each week, the events will be scheduled on their alliterative days: Tech Tuesdays, Wellness Wednesdays, and Throwback Thursdays. The series starts on June 19 and ends August 9, with a special evening June 21 in celebration of the summer solstice.
Flatiron Summer Series 2018: Summer Solstice Sundial Event
The summer solstice occurs on June 21 and marks the longest day of the year. The sun will rise around 5:25 am and set around 8:30 pm that day (in case you were wondering). The first week of Flatiron Summer Series, experience a special Thursday-night event to mark the solstice. There will be games, a bookbinding workshop for kids, a sundial designed by the National Museum of Mathematics (MoMath), and free gelato distributed by nearby Eataly! The gigantic sundial will stand in the plaza in front of the Flatiron building from 7:30 am to 6:30 pm and will appear in MoMath through the end of June.
Flatiron Summer Series 2018: Tech Tuesdays
A capture from one of last year's Tech Tuesdays /Facebook
Want a free coding class? Come to one of Flatiron Summer Series' Tech Tuesdays this summer! General Assembly, an organization that teaches coding, digital marketing, and more, will provide instructors to these weekly classes, held outside on the South Public Plaza next to the Flatiron Building. Other instructors will come from local universities and ThoughtMatter, a branding studio in the neighborhood. All classes will be absolutely free! Topics planned include personal branding online on June 26, coding on July 3, and data analytics on July 24. The series kicks off on June 19 with an intro to Doodlematic, which creates a game from your own photos and drawings. For a full list of classes and to RSVP, visit flatirondistrict.nyc/summer2018. All classes will be held at 6pm on the Flatiron South Public Plaza, weather permitting.
Flatiron Summer Series 2018: Wellness Wednesdays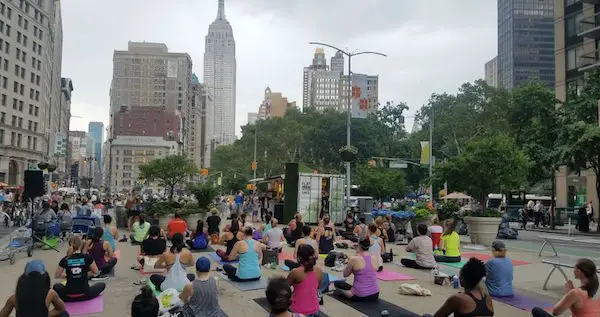 Get your summertime sweat going with free fitness classes outside! This year, Wellness Wednesdays offer a full slate of exercise classes from local studios in partnership with workout-wear brand Athleta. Work out on the ballet barre with exhale Flatiron on June 20, build strength with Uplift Studios on June 27, do yoga with Bode NYC on July 11, or dance like no one's watching with Zumba from the New York Health & Racquet Club on July 18. For a full list of classes and to RSVP, visit flatirondistrict.nyc/summer2018. All classes will be held at 6pm on the Flatiron South Public Plaza, weather permitting.
Flatiron Summer Series 2018: Throwback Thursdays
#tbt with cornhole, custard, and live music at Flatiron. Thursdays will be packed with fun this summer, with cornhole and giant Connect Four, free and available to the public on the North Public Plaza from 11 am to 7 pm. Bring your kids not only for play but also for crafts like bookbinding from the Center for Book Arts on June 21 and July 19. Thursday, June 28, Wonder Photo Shop will furnish a craft project for creative kids. Live jazz, bluegrass, or country music will start each Thursday at 6 pm, provided by local music venues The Jazz Gallery and Hill Country Barbecue. On three special Thursdays, eat free sweets as you enjoy the music! June 21, Eataly will provide gelato. July 19, try free frozen custard from Shake Shack, with its founding location in nearby Madison Square Park. The last day of Flatiron Summer Series, you can have a free mini cannoli from Eataly and enjoy jazz on a summer evening in the city. No RSVP needed!
The Flatiron Summer Series is an initiative by The Flatiron/23rd Street Partnership Business Improvement District. All events will occur outdoors on the North and South Public Plazas near the Flatiron Building at 23rd Street, 5th Avenue, and Broadway (weather permitting; see website for rain locations). Call 212-741-2323 or email info@flatironbid.org. Visit flatirondistrict.nyc/summer2018 to RSVP for classes and find a full calendar of events.