Norman Rockwell's illustrations of kids being tucked into bed, Thanksgiving dinner, and an impromptu barbershop quartet recall the 1930s and '40s, a historic time worth exploring. During this period, Rockwell was a household name as was The Saturday Evening Post, the magazine that featured many of the artist's works on its cover. For a look at American popular culture of the Rockwell/Roosevelt era, visit the first floor galleries at the New-York Historical Society to see Rockwell, Roosevelt & the Four Freedoms, a new exhibition that gives insight into how Rockwell's paintings united public opinion behind President Roosevelt's call for the defense of universal rights.
Clockwise: Norman Rockwell's Freedom of Speech (1943), Freedom of Worship (1943), Freedom From Want (1943), and Freedom From Fear (1943). Norman Rockwell (1894–1978). Four Freedoms, 1943. Assemblage. Story illustrations for four February-March, 1943 issues of The Saturday Evening Post. Collection of Norman Rockwell Museum. ©SEPS: Curtis Licensing, Indianapolis, IN. All rights reserved. www.curtislicensing.com

On view are paintings, drawings, interactive video displays, and step-inside surrounds like a 1940s living room, complete with a radio playing one of Roosevelt's Fireside Chats. Kids will love the well-worn jacket worn by the model for Rockwell's painting, Freedom of Expression, and the white dress worn by the little girl who posed for The Problem We All Live With, Rockwell's painting of an African-American child marching between four U.S. Marshalls as she integrated New Orleans public schools.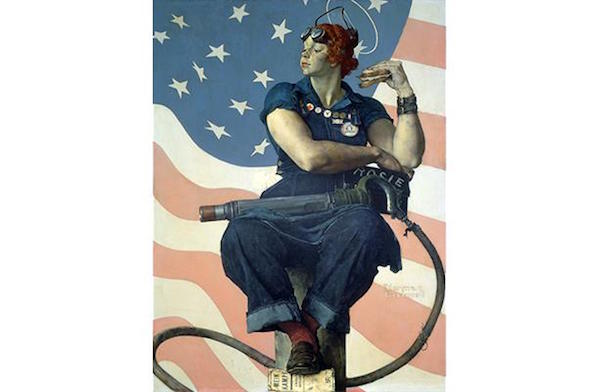 Norman Rockwell (1894-1978). Rosie the Riveter, 1943. Oil on canvas, 52" x 40". Cover illustration for The Saturday Evening Post, May 29, 1943. Collection of Crystal Bridges Museum of American Art, Bentonville, AR, 2007.178. ©SEPS: Curtis Licensing, Indianapolis, IN. All rights reserved. www.curtislicensing.com

Rockwell's Rosie the Riveter, proudly on the job and painted in the same pose as prophet Isaiah on the Sistine Ceiling, is shown next to a black-and-white picture, Liberty Girl, of a determined young woman toting tools of many trades—telephone operator, farmer, mechanic—off to work in 1943.
Roosevelt declared the Four Freedoms—freedom of speech, freedom of worship, freedom from want, and freedom from fear—as basic rights people everywhere should enjoy. The government tried getting the message across but, until Rockwell's paintings were published by The Saturday Evening Post, the idea didn't catch on. Rockwell used scenes ordinary people could relate to; the paintings went on a multicity tour, the concept caught fire, and the sale of war bonds took off. The show includes the work of other artists inspired by the same ideas as Rockwell, many intended to grow support for the military and the war effort.
The exhibition is a great way to think about and discuss what freedom means to you, what it means to our children. Conversations are taking place all over and can be joined on social media. On weekends and holidays there are programs for families with activities like scavenger hunts, sketching prompts, quizzes, and discussions. On some weekends, children can meet Living Historians dressed as people from the WWII era that bring the period to life.
The exhibition was organized by the Norman Rockwell Museum, Stockbridge, Massachusetts. This is the first stop on the show's travel schedule which includes five U.S. venues ending at the Rockwell Museum in Stockbridge, MA, as well as a stop in Normandy, France. (A companion program is on view at a free exhibit at Roosevelt House, 47-49 East 65th Street between Park and Madison Avenues, until September 2nd, 2018. You don't have to see both exhibits but they complement each other nicely.)
Rockwell, Roosevelt & the Four Freedoms runs at the New-York Historical Society through September 2nd. The N-Y Historical Society is located at 170 Central Park West at 77th Street, open Tuesday-Thursday, Saturday from 10am-6pm; Friday from 10am-8pm, Sunday from 11am-5pmm and closed Monday. There is a good restaurant, Storico, and a coffee bar that has pastries and salads. Admission is pay as you wish on Friday evenings; otherwise it's $21 for adults, $16 seniors, $13 students, free for under 6. For more information, visit nyhistory.org.