Manhattan is renowned around the globe for being a bit pricey, but there's always something free to do in New York City—especially during the summer. Summer 2016 comes alive with lots of complimentary events that range from music to movies, nature walks, and beyond. Those yearning for something to do that won't dent the budget can explore these fun and free offerings in the Big Apple.
Brookfield Place Summer Series
Summer heats up with azure water views and the sound of live music. Downtown Manhattan is home to Waterfront Plaza—a buzzing scene with music from some of New York's most lively and diverse bands. From pop and electro to roots and world music, the Waterfront Plaza at Brookfield Place is an ideal place to spend a summer afternoon or evening. The locale also boasts great dining venues and a bar overlooking the Hudson River. Brookfield also offers a series of other events involving the arts. Waterfront Plaza, 230 Vesey St., brookfieldplaceny.com
Bryant Park Film Festival
 Star Trek II: The Wrath of Khan, screens in Bryant Park Aug. 22.
Enjoy watching the luminaries of yesteryear while catching a classic film under the stars at the Bryant Park Film Festival. Bring a blanket, towel, or mat and nab a prime spot on the sprawling lawn. Bring your favorite snacks and enjoy a picnic in the park. Each movie kicks off with a classic Warner Brothers cartoon. Held every Monday through August 22, some of the upcoming flicks include Harvey, High Plains Drifter, The Big Chill, and Star Trek II: The Wrath of Khan. The gravel area surrounding the lawn is open to visitors beginning at 4 p.m., but the films kick off at sunset—usually between 8 p.m. and 9 p.m. The park is located behind The New York Public Library between 40th and 42nd Streets and Fifth and Sixth Avenues. 212-768-4242, bryantpark.org 
Movie Screenings at Borough Parks  
Every summer the city's parks—from Manhattan to the boroughs—transform into outdoor theaters, which lure lots of moviegoers from near and far. The free flicks span a range of categories from noir to romance, action, sci-fi, and comedy. Select Manhattan or one of its great boroughs as a destination and then check out what's playing on the big screen. Ongoing through September 15. Visit here for a for a complete schedule. 
Franklin D. Roosevelt Four Freedoms Park, Roosevelt Island
For those who want to venture out a bit, there are lots of free activities offered at the Franklin D. Roosevelt Four Freedoms Park on Roosevelt Island. It's just a short ride away from Manhattan and accessible via bus, subway, or tram (the Tramway Car is located at 59th St. and the Second Ave. Station. Music at Sunset and a Conservancy Tour of the Flora and Fauna are among the free events. Check the schedule for a complete calendar, fdrfourfreedomspark.org/2016-events
Also, for a small suggested $5 fee, you can find your zen and keep that beach body in shape by practicing yoga in the park on the Island. A drop-in, open-level hatha class is being held on July 29 from 6 p.m. to 7 p.m. Classes are held regularly, so check the schedule for other upcoming classes. All yoga classes will take place on the lawn, which boasts spectacular views of the New York skyline. Classes are one hour long; participants should wear comfortable clothes and bring their own mat or towel. nycgovparks.org.
Governors Island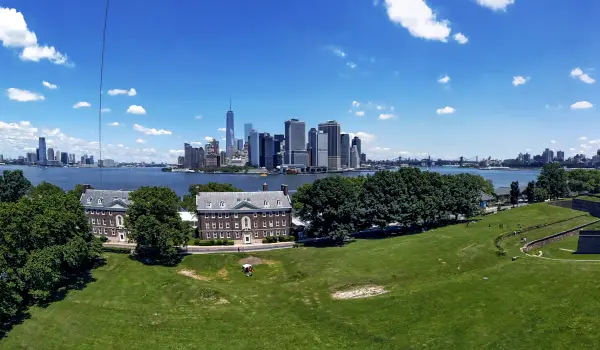 A 172-acre island, Governors Island is located only 800 yards from lower Manhattan. Beyond the green lawns, seaside views, and open space, several fun summer programs are being offered, including The 6th Annual New York City Poetry Festival, being held July 30 through July 31, from 11 a.m. to 5 p.m. at Colonels Row. The free festival showcases all of the different formats, aesthetics, and personalities of New York City reading series, publications, and collectives, in one destination. Visit newyorkcitypoetryfestival.com for more information.
Beyond the event schedule, other activities also abound. There is a free National Park Service walking tour, and the island also offers bike riding, picnicking, art installations, fairs, drone races, concerts, and more. Bicycle, tandem, and quadcycle rental is available on the island as well. Beach enthusiasts can also unwind on a beach on the northern tip of the island that is run by New York Water Taxi. For ferry information, visit, govisland.com
Hudson River Park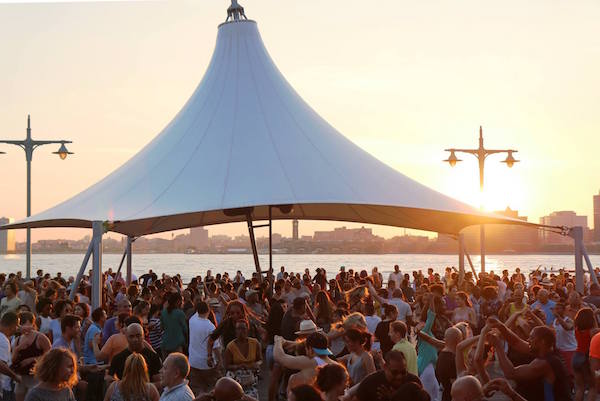 Hudson River Park offers an entire series of activities for summer fun. Let the rhythm move you as you engage in some Sunset Salsa, featuring Talia—a dance instructor and performing artist. Born in Lima, Peru, Talia is renowned as the "Peruvian Ballet Representative to the World." Sunset Salsa, held every Tuesday night through August 16, features some of New York City's most talented DJs. Beginner lessons run from 6:30 p.m. to 7:15 p.m., but the DJs get the party started at 7:15 p.m. Held at the Pier 45 Comfort Stations, visit hudsonriverpark.orgevents/series/sunset-salsa-with-talia Other events include Hudson Riverflicks (family movies on Friday nights) and Hudson Riverkids (music, magic, storytelling), so check the website for the complete schedule. hudsonriverpark.org
Shakespeare in the Park
Luring more than 5 million spectators since it was initially staged in 1962 in the parks Delacorte Theater, Shakespeare in the Park embodies the vision of its founder Joseph Papp whose belief was that everyone is entitled to enjoying culture.  Creating theater for one of the largest and most diverse audiences in New York City, the park hosts free large-scale productions of works by William Shakespeare (as well as the occasional musical or non-Shakespearean drama). Performances are ongoing through August 14. This year it's Troius & Cressida (starring Corey Stoll) and Twelfth Night. Free tickets are available by showing up at the Delacorte, Downtown at Astor Place, at the Mobile Ticket Lottery Powered by Today, and through distribution in the boroughs of New York. 425 Lafayette St., 212-539-8500, publictheater.org
SummerStage
Broadway smash Chicago will give a free performance at Summerstage Aug. 31. Photo: Jeremy Daniel

For three decades, SummerStage has been offering an outdoor concert series in Manhattan. The popular festival, which has expanded from its original venue in Rumsey Playfield in Central Park now has locations in all five boroughs and spans 16 parks. It boasts more than 100 free performances and spotlights more than 200 artists. Events include readings by iconic authors, music events with bands that hail from cities worldwide, and theatrical and dance productions. For families, it offers child-friendly events as well. On Wednesday, August 31st, catch Chicago The Musical: 20th Anniversary Concert, a free show featuring stars from the iconic Broadway musical. The free events run through the end of the summer. summerstage.org.