It was back in June the announcement came: "Fun Home to Play Its Final Performance on Broadway on September 10, 2016 After History-Making 18-Month Run." I was not, as the Brits say, "gobsmacked"—shows post closings all the time—but I was a little heartbroken and even a bit angry. I love this show, maybe because it came to Broadway on tip-toe yet managed to break rules, tear down walls and, most impressively, open eyes. It also brought in some incredible talent, like stars Michael Cerveris and Judy Kuhn.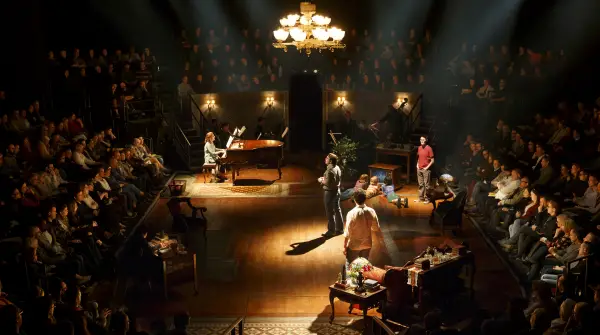 Image: Joan Marcus
Like Hamilton, Fun Home's subject matter and score are not woven from conventional Broadway cloth. Also, like Hamilton, it captured a Best Musical Tony. Although unlike Hamilton"—a show the Tonys could have handed the trophy to during the first 15 minutes of the broadcast"—Fun Home was a bit of dark horse going into to 2015 Tonys, so its victory (An American in Paris was considered by many to be a shoe-in) was über-sweet. It was also the first Broadway show written by women to win the Best Musical Tony and the first Broadway musical with a lesbian protagonist. Bonus points.
And speaking of the 2015 Tonys, five Fun Home actors were nominated for awards:
Beth Malone (Best Actress in a Musical), who plays the protagonist/Alison as an adult—the musical also shows her as a child (Sydney Lucas) and a college student (Emily Skeggs), both of whom who were nominated for Best Featured Actress in a Musical, alongside Judy Kuhn who plays the mother, Helen, opposite Michael Cerveris, whose role is that of Alison's gay father, Bruce, for which he scored the 2015 Best Actor in a Musical Tony.
Clearly, this is an important musical tracking the coming of age of a sensitive young artist who grows up in the family's funeral home ("fun" house) home and how and when she discovers that both she and her father are gay.


Teeming with talent (including music by Jeanine Tesori and book and lyrics by Lisa Kron) and based on Alison Bechdel's best-selling graphic memoir, this show, directed by Sam Gold, should be seen once, twice...as many times as you can squeeze into your schedule. And since there is roughly just over a week to catch it on Broadway, I'm offering you a Q&A interview with Michael and Judy set against the cozy backdrop of Michael's dressing room at the Circle in the Square Theatre for even more incentive to scoop up tickets before it's too late. (As I'm sure you'll agree, regret sucks.)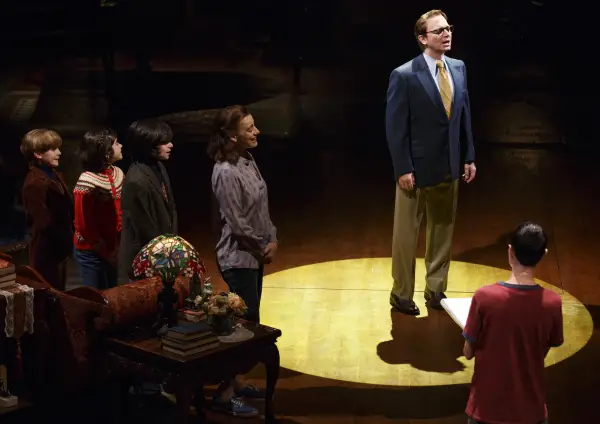 Zell Steele Morrow, Gabriella Pizzolo, Oscar Williams, Judy Kuhn, Michael Cerveris, and Beth Malone (c)Joan Marcus
CG: What were your initial thoughts when you first read the script?
JK: (Who was part of the show's original workshop) It was in rough form—almost 5 years ago this fall—but I just knew that it was really special. And the way the creators were approaching the material—their collaboration was so strong, so brave, I had faith in it from the beginning.
MC: I was immediately taken with it in the same way. Bruce was the last character that they fully figured out and there was a danger he'd be two-dimensional. He could absolutely be seen as a monster. But I sat down with Sam, Lisa and Janine and after we talked, it was the show and my character were in the best possible hands and I was sold on whole project.
CG: How do you feel about the relationship between your characters?
MC: This isn't the first time we played opposite each other. [Judy and Michael starred in the Kennedy Center production of Passion in 2002]. So I guess you could say we have a knack for dysfunctional relationships onstage. The last time I went crazy and Judy died; this time I die...
JK: I guess you'd say we explore the love and play it in the moment.
MC: We learned in the middle of the process that in real life Bruce and Helen were buried together... which was an insight we maybe weren't expecting.
JK: We have no objectivity...it makes it easier.
CG: Looking back on the run, what do you consider your most seminal moment?
JK: It's so hard to choose. But I guess it was the night after the Supreme Court's decision on marriage equality. The world had shifted. At the curtain call, Beth ran around stage waving a rainbow flag. And it was so amazing that this show had arrived in this cultural moment.
MC: Yes. This intersection of art and society, it felt like our little show—filled with song and meaning—was now emblematic. You could feel it in the room...you could tell everyone one in the room felt it.
JK: People in the audience were—and this is true at all performances—they were seeing their lives reflected on the stage for the first time. And depending on who they were with...it could offer change in a relationship, with a parent or another family member or a friend. This is something I'll take with me after this show has closed.
MC: The way the show was created—never waving a flag or standing on soapbox, just caring about subject in a real human-sized way—specific to Alison's life. I think this is what hit the mark so completely. Not dazzle but actors genuinely pouring their hearts out and connecting with an audience hungry for this.
CG: What will you miss the most after your final performance at Circle in the Square?
JK: Each other. We've been together for a long time [since it was done Off-Broadway at the Public]. We're a happy family—and it's a rare thing to have a company that works so well together onstage and plays together well off-stage.
MC: Lots of times it feels selfish to do shows for a living—especially one this special, this unique. People are so moved by it, the impact is so personal, that they tell you they'll take this experience with them in their lives. It's hard to leave that behind.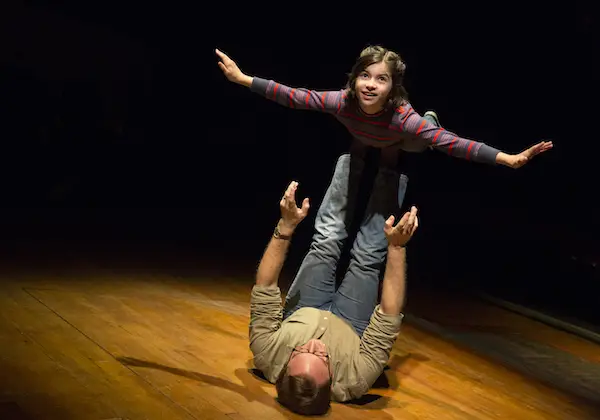 Image: Joan Marcus
******************
Fun Home plays Tues.–Thurs. at 7:00; Fri. & Sat., 8; Wed. & Sat., 2; Sun. 3. PLEASE NOTE: In the show's final week, Fun Home will play on Monday, September 5 at 8.
For tickets visit finhomebroadway.com, call 212-239-6200, or visit the Circle in the Square box office: 1622 Broadway, between 50th & 51st Streets.