A show custom-made for the holidays is the best way to enhance the rest of New York's seasonal lights and delights. Here is a list—feel free to check it twice—packed with classic and contemporary performances filled with sparkle and spirit!
(In alphabetical order…)
All Is Calm: The Christmas Truce of 1914. A true story told in the words and songs of the men who lived it brought to life by 10 actor/singers. It blends World War I-era patriotic tunes, trench songs, medieval ballad, and Christmas carols from England, Wales, France, Belgium, and Germany with texts by WWI figures. (Thru 12/30) Alliscalm.org
Angelina Ballerina: A Very Merry Holiday, The Musical. Little ones (ages 2 to 7) will fall in love with this Mouseland frolic centering on a holiday dance pageant and the way Angelina and her friends must save the day when it might not go on! (Thru 1/6) Angelinaholiday.com
BOING! An award-winning dance-theatre piece for children and young people, this enchanting production captures the excitement of awaiting Santa's Christmas Eve arrival with wild pillow fights, robot battles, and sibling shenanigans. Bursting with holiday spirit and just the right amount of silly fun! For ages 2 to 5. (12/7 thru 12/23) NewVictory.org
A Child's Christmas in Wales. A musical Irish Repertory Company celebration capturing the magic of Dylan Thomas's poetic remembrance, presented with both classic and contemporary Christmas music. (Thru 12/30) Irishrep.org
A Christmas Carol at the Merchant's House. A New York holiday tradition that unfolds in the parlour of a landmark 1832 home/museum as actor John Kevin Jones artfully channels Charles Dickens spinning his most famous Christmas classic. And should you wish to up the seasonal ante, you can even join Mr. Jones for mulled wine (or cider!) and light fare. (Thru 12/29) SmartTix.com
A Christmas Carol in Harlem. In this present-day version of the holiday tradition, Scrooge is a real estate mogul who has made his fortune at the expense of others and lives a life of miserly solitude until three unexpected visitors arrive on Christmas Eve to show him that the value of family and the impact of cooperation will lead to a healthy, thriving, and prosperous community. (Thru 12/8) CTHNYC.org
A Christmas Carol the Musical. This lively musical adaptation of Dickens's story at the Players Theatre is now is celebrating its 10th anniversary Off-Broadway. A family presentation that's so rich in holiday joy and warmth it will melt the cold heart of even the grumpiest Scrooge—guaranteed! (Thru 12/30) Theplayerstheatre.com


Christmas in Hell. This new musical comedy with NY Fringe Festival roots takes holiday "heartwarming" and twists it into a tale of a child's demonic transformation and his father's wager with Lucifer—a Hell backdrop included. What's not to love? And for the ironically inclined, it's being presented at St. Peter's on Manhattan's east side. (12/13 thru 12/30) Yorktheatre.org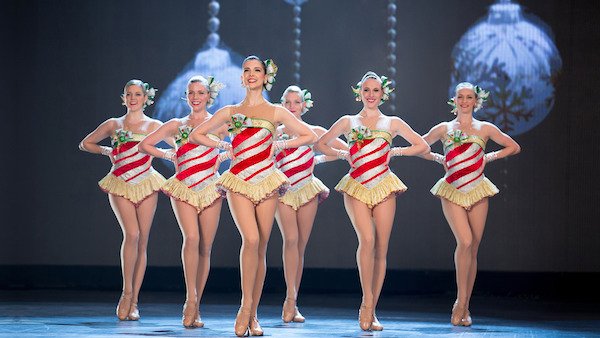 Christmas Spectacular Starring the Radio City Rockettes®. The most famous holiday show in town—probably the world—has somehow managed to top its own legendary fabulousness this year. Oh, it's still Santa-savvy, and Rockette-ready: sparkly high kicks, dancing rag dolls, marching toy soldiers, and more, including the iconic living Nativity scene. But for 2018 the grand finale is a nuevo-techno, mind-blowing spectacle featuring a light show, projections, and (wait for it…) drones! (Thru 1/1) Rockettes.com/Christmas
The Dead, 1904. From the Irish Repertory Company comes a beautifully immersive show, embracing the fun, personality, and drama of James Joyce's novella. Intimate (only 57 theatregoers accompany actors from one Victorian room to another), enthralling, and an experience to be cherished…and yes, dinner will be served! (Thru 1/13) Irishrep.org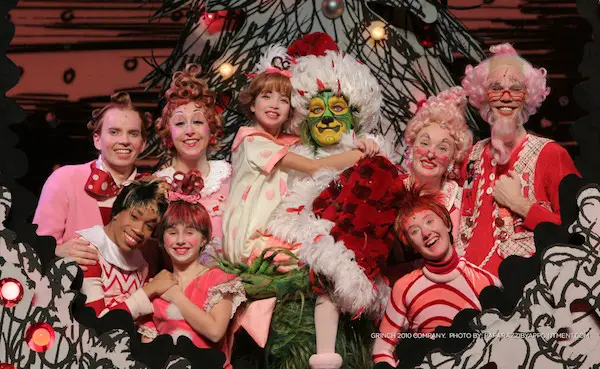 Dr. Seuss' How The Grinch Stole Christmas! The Musical. Even if the title pushes the TMI envelope too far (certainly Grinch The Musical! would suffice), the show's combo of devious and heartwarming is irresistible. Familiar tunes and first-rate humor make it "Tall and Small, a Show for All." (12/13 thru 12/30) Grinchmusical.com
Edelweiss. With the death of Santa on Christmas Eve, the North Pole is in utter chaos— except for one institution: the North Pole Botany Society. And the only building in the North Pole with electricity and a fully stocked bar is Dixon's Place. Join the members of the NPBS as they come together to sing, dance, eulogize, and perhaps find the true meaning of Christmas. (12/19 thru 12/22) Dixonplace.org/performances/edelweiss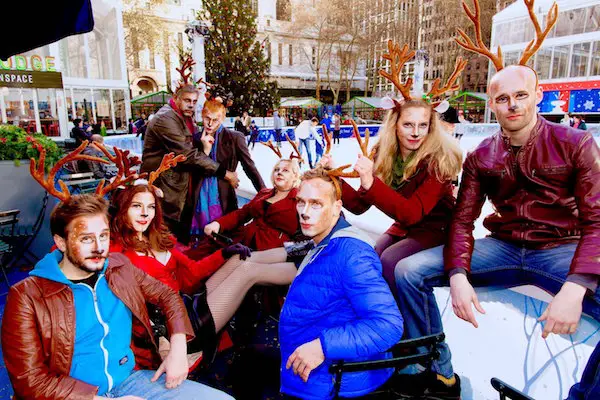 Photo: Dan Demello
The Eight: Reindeer Monologues. A personal favorite of the most irreverent variety: potty-mouthed reindeer dissing Santa for sexual misconduct. Not for the kiddies—or adult prudes, for that matter—this comedy on steroids offers hilarious commentary on workplace harassment, gender politics, and the magic of Christmas. Telecharge.com/Off-Broadway/The-Eight-Reindeer-Monologues/Overview
George Balanchine's The Nutcracker®. Lincoln Center's cherished holiday ballet set to Tchaikovsky's memorable score has been charming audiences for generations. The fantastical tale populated with toy soldiers, a Sugarplum Fairy, mischievous mice, a valiant Nutcracker, and Marie, the brave little girl at the heart of the story. (Thru 12/30) Lincolncenter.org
Hansel & Gretel Christmas. In this engaging new work, the two fairy tale waifs end up in NYC at Christmas. Rich with humor and a clever script, the play touches on love and family as well as understanding and encouragement. All in all a wonderful way to share the holidays with family and friends. (Thru 12/16) Hanselgretelchristmas.brownpapertickets.com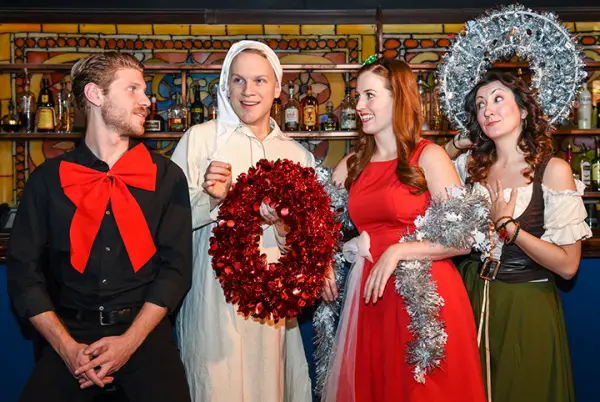 Photo: Russ Rowland
The Imbible Christmas Carol Cocktails. Christmas spirt(s) in the literal sense are at the heart of this jolly sequel to the Dickensian original. With Scrooge looking to embrace his inner bartender and holiday drinks part of the package what's left to say but "Cheers!" FYI: Imbible drinks, comedy, and music can also be enjoyed via its A Spiritied History of Drinking and Day Drinking: The Musical Brunch. (Thru 12/29) Imbible.nyc
Paul Winter's 39th Annual Winter Solstice Celebration. Grammy-winning saxophonist/ bandleader Paul Winter brings his Consort players to the Cathedral of St. John the Divine along with 25 dancers and drummers of the Forces of Nature Dance Theatre. A 28-foot spiral Solstice Tree, adorned with bells, gongs, and chimes symbolizes diversity while a huge Earth-globe rises over center stage and a giant sun-gong ascends at the symbolic moment of the return of everyone's favorite yellow dwarf star. As for this year's winter solstice, it officially takes place at 5:23pm EST on Friday, December 21st. (12/20 thru 12/22) Solsticeconcert.com
Ruben & Clay's First Annual Christmas Carol Family Fun Pageant Spectacular Reunion Show. Hard to believe it's been 15 years since Ruben Studdard and Clay Aiken rocked American Idol's 2003 finale. And how cool is it that they're getting their Broadway/holiday/entertainment freak on here in New York with music, comedy, and the unexpected! (Thru 12/30) Rubenandclay.com
Seven in One Blow, or the Brave Little Kid. This annual Axis Theatre Company production has proved itself the perfect holiday show for little ones ready to be enchanted by the wondrous characters the Brave Little Kid meets on a journey of discovery. (12/7 thru 12/22) Axiscompany.org
The Truth About Santa. Santa's tired of those damn singing elves…and he's got a couple of half-mortal offspring unknown to Mrs. Claus. Sick of the lies, he's getting ready to come clean. Yes, Virginia, Santa's gearing up to reveal his true self Off-Off-Broadway. (12/6 thru 12/20) Theater-of-the-apes.com/current-productions
SEASONAL DIVIDENDS
Les Ballets Trockadero de Monte Carlo. It is with great pleasure New York welcomes back the beauteous all-male company of ballerinas known affectionately—and internationally—as the "Trocks". With grace, passion, and skill, these dance sensations present "loving interpretations and hilarious parodies of ballet classics." They never fail to bring "joy to the world"…on point! (Thru 12/30) Joyce.org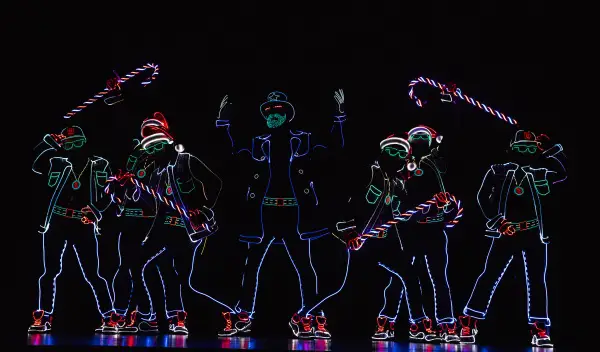 Photo by Joan Marcus.

The Illusionists—Magic of the Holidays. No Kris Kringle, elves, or reindeer here, only a handful of the world's best magicians showing off skills we can't begin to wrap our heads around. No two acts or attitudes are alike, but the collective razzle-dazzle at Broadway's Marquis Theatre will make your season shine...enhanced by the illuminating movies of the dance troupe Light Balance. (Thru 12/30) Theillusionistslive.com
WICKED CLONE The Cinema Musical. The Transylvanian-American Indiggo Twins, Mihaela & Gabriela Modorcea, return for the holiday season with their sexy, fanged, original mashup of music, film, theatre, dance, and unconventional vampire escapades. The production moves from 15th-century Romania to contemporary New York as dedicated vampire Gabriella seeks her human-infected identical twin sister, Mihaela: a fairy tale for the 21st century with all kinds of original attitude. (12/19 thru 1/13) Wickedclone.com
ONE (OR TWO) NIGHT WONDERS
Celebrity Autobiography on Broadway. They're celebs reading autobiographies by other celebs and it is so worth its weight in laughs. Casts change during this limited run, but the roster includes (among others) Tony Danza, Alec Baldwin, Mario Cantone, Susan Lucci, and Rachel Dratch. (12/10 and 12/17) Celebrityautobiography.com
Dirty Little Ditties: Slide Up My Chimney. Join Miss Jane, Miss Robusta, and friends for a drag-filled folly of musical mayhem, holiday bitchcraft, and yuletide naughtiness at Don't Tell Mama! (12/19) Donttellmamanyc.com
Vickie & Nickie's Holiday Sleigh Ride. The multi-instrumental singing housewife sister duo take time out of their busy prison circuit tour to celebrate the season "Minnesota-style" with hilarious renditions of your favorite holiday songs, pop tunes, and wacky original songs at The Duplex. (12/8 & 12/12) vickieandnickie.com/shows
What's in Your Stocking. Full of diamonds created from coal, "What's in Your Stocking" raids the storehouse of rare saloon songs, showbiz anecdotes, and witty repartee that has made night owls Barbara Bleier and Austin Pendleton two of the most endearing cabaret singer-raconteurs you'll ever meet! (12/10 & 12/17) pangeanyc.com
NEW YEAR'S EVE OPTIMAL OPTIONS
Aaron Tveit on New Year's Eve! Aaron Tveit rings in the New Year with highlights from his career, which spans everything from theatre to TV to movies in such projects as Catch Me if You Can, Grease: Live, Company, and Les Misérables. Since Aaron's been known to sing anything from Freddie Mercury to Puccini in his live shows, expect the eclectic, including additional surprises along the way. (11pm) 54Below.com/Feinsteins
New Year's Eve with Charles Busch & Friends! Sublime actor/drag icon/playwright/raconteur/good guy Charles Busch (Divine Sister, Psycho Beach Party, The Tale of the Allergist's Wife), returns to Feinstein's/54 Below for his third must-see New Year's Eve show. Along with his longtime musical director, Tom Judson, and a gaggle of his totally talented and hilarious show biz friends, Busch serves up the ultimate early New Year's evening of music and storytelling. (7pm) 54Below.com/Feinsteins
Raven O, that O-so-colorful avatar of the neo-nightclub scene, stirs up his witch's brew of sultry song and restless commentary in back-to-back shows that will be as border-crossing and boundary-breaking as they are intimate…with Ben Allison on bass. Includes 3-course dinner and half-bottle of cava per person. (8pm & 10:30pm) pangeanyc.com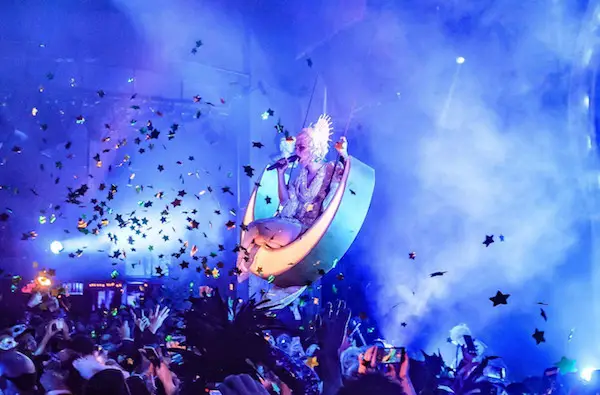 Photo: Jane Kratochivl
The King's Winter Masquerade. The McKittrick Hotel's annual New Year's Soirée will be welcoming the New Year with an opulent masked one-of-a-kind experience. Revelers follow their whim around every corner as they discover live performances, art installations, jazz lounges, jam bands, and an epic DJ dance party. (Following Sleep No More; from 10:15pm) mckittrickhotel.com