New York City is the ultimate holiday mecca. If you doubt it, look around at the explosion of revelers who arrive here every December to take part in the camaraderie, pageantry, and excitement of the season. Store windows celebrate holiday traditions from around the world and bursts of festive lights make streets and sidewalks shimmer. If this leaves even a scintilla of doubt about what a totally big deal the Big Apple is this time of year, allow me to point you in the direction of holiday theatre and a selection of my personal year-end favorites.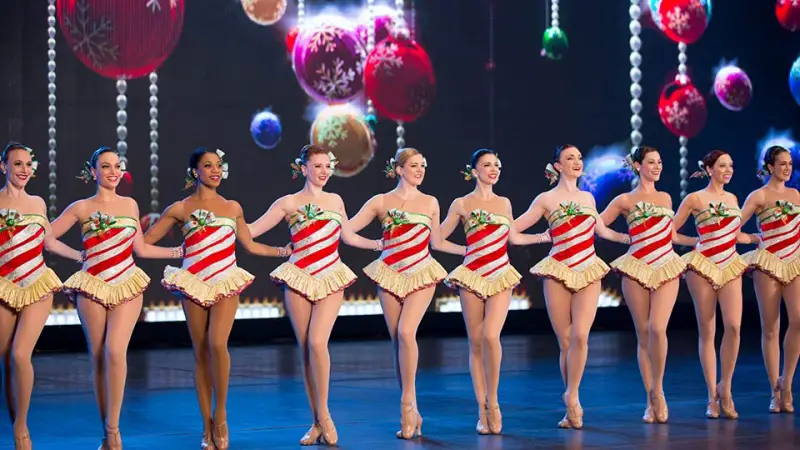 TREASURED CLASSICS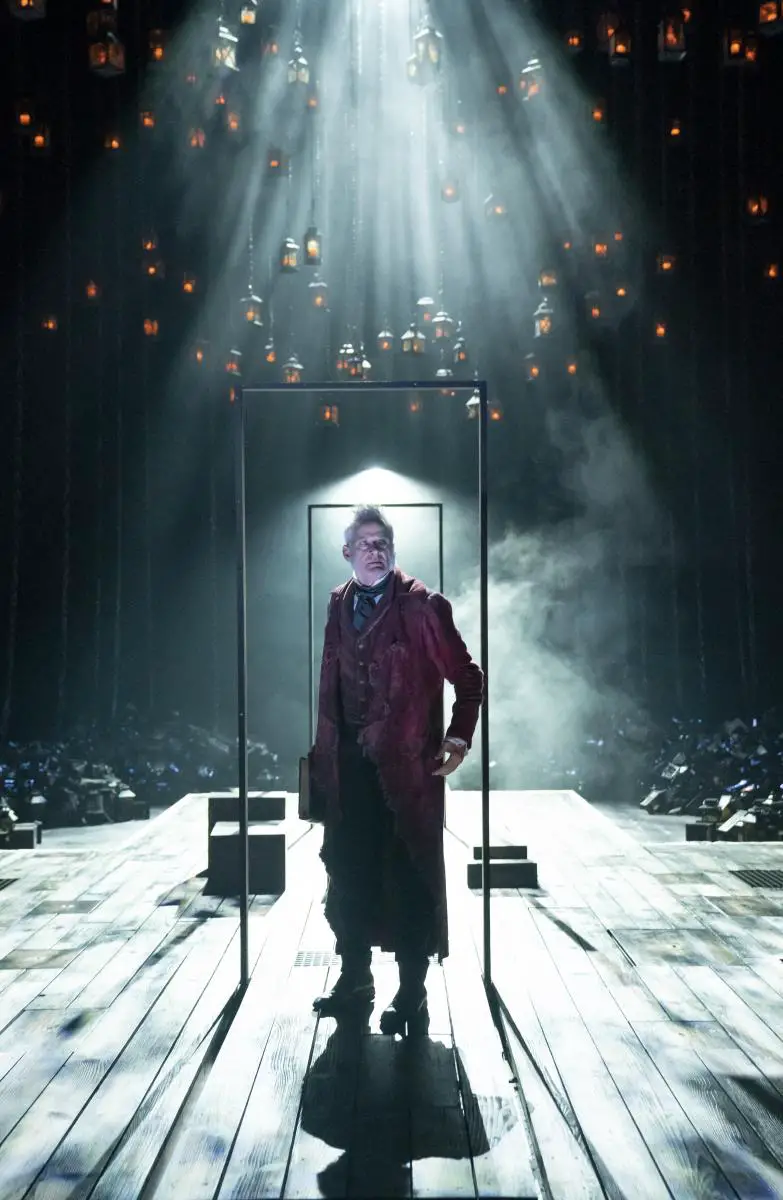 Bah! Humbug! Campbell Scott as Ebenezer Scrooge in A Christmas Carol on Broadway. Photo by Joan Marcus.
A Christmas Carol. From an acclaimed run at London's Old Vic comes this stunningly conceived and staged production. Interactive overtones, Christmas carols, and reimagined ghosts have arrived on Broadway, backed by the talents of four Tony winners: playwright Jack Thorne (Harry Potter and the Cursed Child), director Matthew Warchus (Matilda), actors Andrea Martin (Pippin) and LaChanze (The Color Purple). Starring as Ebenezer Scrooge is Campbell Scott (House of Cards, Dying Young)—a role played by his father, George C. Scott, on film in 1984. As befits the season, this version of A Christmas Carol partners with a small non-profit, Hearts of Gold, dedicated to helping homeless mothers and their children transition out of the New York City shelter system and into permanent homes. achristmascarolbroadway.com (Thru 1/5)
Christmas Spectacular Starring the Radio City Rockettes. Before reaching its jaw-dropping grand finale (drones, aerialists, and digital projections), this ultimate holiday blockbuster showcases all things Rockettes from the Parade of the Wooden Soldiers to sparkling tap dances and kick-lines. You can also expect Santa's annual arrival in the city, as well as the reverent beauty of the Living Nativity. rockettes.com/christmas (Thru 1/5)
George Balanchine's The Nutcracker. This annual highlight of Lincoln Center's holiday festivities brings together all 90 of New York City Ballet's dancers, 62 musicians, and 125 youngsters in alternating casts, to bring the timeless tale of a young girl who turns the tide in a battle between toy soldiers and mischievous mice. nycballet.com (11/29 thru 1/5).
SEASONAL SENSATIONS
Harry Connick, Jr.—A Celebration of Cole Porter. Just in time to make the season extra bright comes this celebration of iconic songwriter Cole Porter's sparkling contribution to the Great American Songbook. Mr. Connick is joined by a 25-piece orchestra for an evening that adds up to a modern, multi-media presentation. harryconnickjr.com (Thru 1/29)
The Illusionists—Magic of the Holidays. For the last five years this annual crowd-pleaser has showcased a sleight-of-handful of the planet's celebrated razzle-dazzlers, each with a specialty—Mentalist, Trickster, Inventor, etc. They're funny, slick, stupefying, and part of Broadway's winter gift to theatergoers. theillusionistslive.com/illusionists/broadway (Thru 1/5)
Latina Christmas Special. Diana Yanez, Maria Russell, and Sandra Valls wrote and perform this funny and touching look at friendship through the prism of a trio of Latina BFFs. Think tequila, music, laughs, and Feliz Navidad reminiscences of Christmas dramas past. latinachristmasspecial.com (12/13 thru 12/31)
The Santa Closet. Jeffrey Solomon's revised revival of his 2009 pseudo-documentary looks at what happens when Mr. Claus shares his true sexual identity with the media. Ten years after its original run, Solomon's show is LGBTQ current and seasonably gay! housesonthemoon.org (12/3 thru 12/22)
Slava's Snowshow. Clowns plus crazy-unpredictable visuals plus hilarious vignettes captivate adults and leave children awe-struck. This is Slava's zany universe of red noses, floppy hats and feet, and a riot-of-bubbles-climax highlighted by a mondo indoor snowstorm! And don't get me started on the giant orbs sent bouncing through the audience...slavassnowshowbroadway.com (Thru 1/5)
'Twas the Night Before…by Cirque du Soleil. This modern spin on the famous poem whisks young Isabella into a surreal world filled with imagination, fun, and no shortage of lovable characters as Cirque delivers unforgettable holiday magic. cirquedusoleil.com/twas-the-night-before (12/12 thru 12/29)
CHRISTMAS CAROLING OFF-BROADWAY
A Christmas Carol at The Players Theatre. The Players Theatre is a place where kids can be themselves as they take in beloved stories that can sometimes be too grown-up. Not so with this version of Dickens' holiday tale of miserliness and redemption, which won't overwhelm sensitive souls…you know the story and now you can share it. theplayerstheatre.com (12/4 thru 12/22)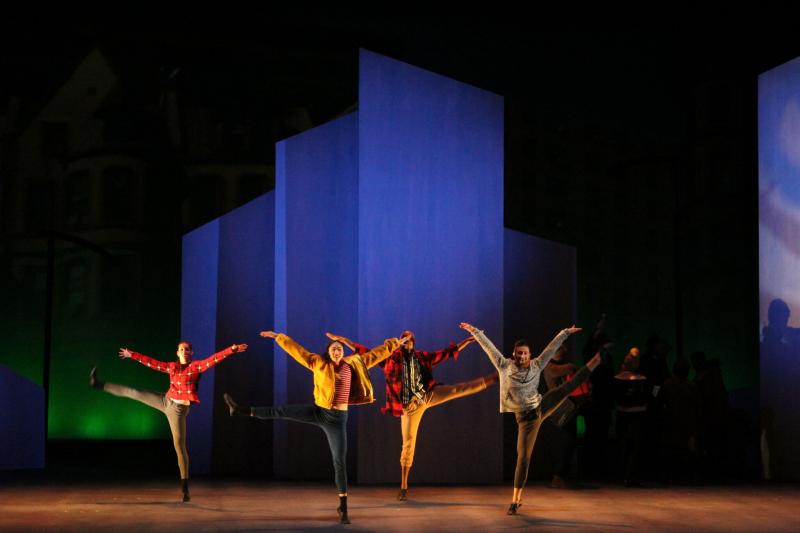 cthnyc.org/ccih
A Christmas Carol in Harlem. With its signature uptown style, Classical Theatre of Harlem offers a 21st-century twist on the classic tale in which real estate mogul Scrooge learns the value of neighborhood and friendship when three specters show up for a life-changing Christmas Eve. cthnyc.org/ccih (12/4 thru 12/21)
A Christmas Carol, Oy! Hanukkah, Merry Kwanzaa. Three dozen marionettes pay homage to all things holiday through the lens of Dickens' familiar tale in this puppet show featuring "Old World accents and New World inclusiveness" via English, Jewish, African, American, and Czech winter rituals and customs. theaterforthenewcity.net (12/19 thru 1/5)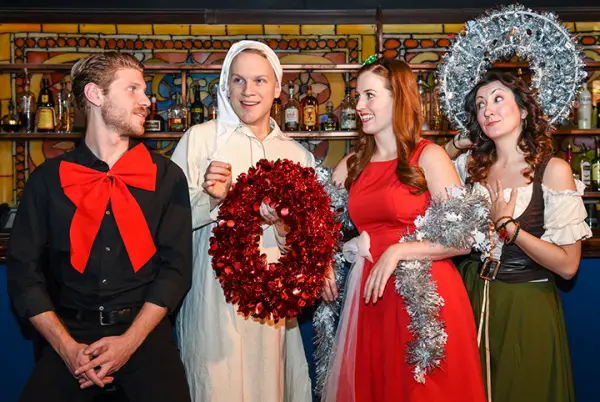 Photo: Russ Rowland.
The Imbible: Christmas Carol Cocktails. Scrooge and company take on holiday cocktails in this quaff-centric show set the day after a night of ghostly visits. Wishing to throw a party "just like old Fezziwig," Ebenezer summons Marley and the two take on cocktails past, present, and future under the tutelage of three savvy Christmas Spirits. Expect a history of the drinks, a drinking of the drinks, and an a cappella collection of beloved Christmas carols. imbible.nyc/christmas-carol-cocktails (Thru 12/28)
FAMILY-FRIENDLY DELIGHTS
Paddington Gets in a Jam. Little ones will relish this sweet, madcap comedy featuring puppets by Rockefeller Productions. The story centers on what takes place when lovable, accident-prone Paddington runs out of sugar while making his favorite marmalade jam. paddingtongetsinajam.com (12/13 thru 3/8)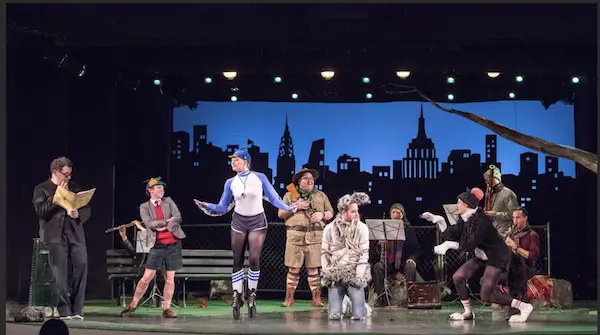 Photo: Richard Termine.
Peter & the Wolf with Isaac Mizrahi. The designer with personality plus directs and narrates Sergei Prokofiev's musical phantasmagoria—performed by Ensemble Signal—in which each character is represented by a different instrument. Adding to the choreographed fun at the Guggenheim Museum are costumes by Mr. Mizrahi himself!
worksandprocess.org (12/7 thru 12/15)
Pip's Island: The Lighthouse Rescue. Everything that makes little ones' eyes light up is front and center at this pop culture phenom boasting an interactive storyline with live actors, music, and even some problem-solving. It's an open run and in a five-star world merits six. pipsisland.com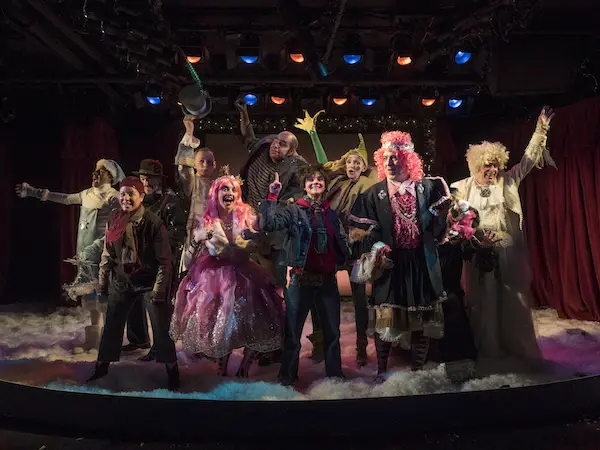 Seven in One Blow, or The Brave Little Kid. One of New York's most cherished family traditions, this magical holiday take on the famous Brothers Grimm fairy tale has become an annual must-see for wee ones and grownups alike! Alongside a wonderfully surreal collection of characters—a Pea, a Witch, December, the Scarlet Pimpernel, Queen/King, a Princess, and a giant Ogre—the title Kid learns and shares important life lessons while taking audiences on a wintery journey into the imagination. Surprises, perks, and meet-n-greets on photo ops with the show's colorful characters all add up to the ultimate theatrical fun fest! axiscompany.org (Thru 12/22)
The Very Hungry Caterpillar Show Experience. Another interactive show brings the captivating world of Eric Carle's colorful book to life for even the tiniest of tots. Featuring puppets, activities, and a photo op with no less a luminary than the Very Hungry Caterpillar! seaportmuseum.org/hungrycaterpillar (11/29 thru 12/29)