How to Spend an Afternoon in Red Hook, Brooklyn
September 21, 2018 - by Merrill Lee Girardeau
The lesser-traveled neighborhood of Red Hook lies at the southwest tip of Brooklyn. Red Hook was named for the red, iron-rich soil in the area, while the Dutch word hoek means "point." This neighborhood cut off from the rest of the borough by the Brooklyn-Queens Expressway (BQE) and has primarily been known as a center for shipping and manufacturing. Now, along with the revitalization of other Brooklyn neighborhoods, Red Hook is attracting lovers of lobster, chocolate, spirits, boats, and barbecue. Take the ferry and spend an afternoon in Red Hook, enjoying all the eats and activities the area has to offer. We promise a killer photo of the Statue of Liberty if you go!
How to Spend an Afternoon in Red Hook: Take the Ferry

The New York ferry system is the perfect method for traveling to Red Hook. You'll get an up-close look at the Statue of Liberty, Ellis Island, and Governors Island on the way, and the ferry ticket costs just $2.75 one-way. This is the same price as a subway ticket, but the nearest subway (the F and G at Smith Ave-9th St) is not particularly convenient to Red Hook. Leave from Manhattan's Financial District at Pier 11, and it's only a few minutes to Red Hook! Pier 11 at South Street Seaport; arrive at Ferris St. & Clinton Wharf; ferry.nyc
How to Spend an Afternoon in Red Hook: Lunch at Red Hook Lobster Pound
The first thing to know about Red Hook is that it's a strategic shipping hub, and maritime culture abounds. Embrace it: eat some lobster! Locals Ralph Gorham and Susan Povich started Red Hook Lobster Pound in 2008, and it became a major attraction in the neighborhood, particularly with its location on the busy Van Brunt Street. At the Lobster Pound you can have a lobster roll in classic, Connecticut, Tuscan, or BLT flavors (and we suggest you do). This lobster is shipped fresh from Maine, and the claw and knuckle meat are used to create these exceptional rolls. You can also enjoy New England clam chowder, a crab cake sandwich, or fried oyster roll. 284 Van Brunt St., 718-858-7650, redhooklobster.com
How to Spend an Afternoon in Red Hook: Waterfront Views at Valentino Park & Pier
Take in the view and snap a few photos of the nearby Statue of Liberty when you visit Louis Valentino Jr. Park and Pier adjacent to the Waterfront Museum. This small park is a haven of green space, with lawns and a long pier for lounging and looking at the water. At Ferris and Coffey St., 212-639-9675, nycgovparks.org
How to Spend an Afternoon in Red Hook: Tour the Cacao Prieto & Widow Jane Factory
Three words: chocolate malt bourbon. That's the long and short of Cacao Prieto and Widow Jane, a chocolate company and distillery that share factory in Red Hook. Take a tour of the facilities, and you'll discover Cacao Prieto chocolate bars and Widow Jane spirits. Both are made with innovative, artisanal processes and creme-de-la-creme ingredients. I.e., the chocolate comes from raw, organic cacao in the Dominican Republic, and the water used to make the whiskey is shipped from upstate. You're probably already booking a tour, but just so you know, they offer them Saturday and Sunday at 12, 2, 4, and 6pm. They are $20 per person with chocolate and spirits tastings included. 218 Conover St., 347-225-0130, cacaoprieto.com/tours, widowjane.com/widowjane
How to Spend an Afternoon in Red Hook: Shop on Van Brunt
Hang out on Van Brunt awhile to experience more culture and shopping! Ooh and aah over fine antique jewelry and furniture at Erie Basin, which proves that what's old is new again. Find gorgeous distressed leather bags and other accessories at Kempton & Co. Men can find expertly curated vintage clothing and home goods at Wooden Sleepers. Erie Basin: 388 Van Brunt St., 718-554-6147, eriebasin.com; Kempton & Co.: 392 Van Brunt St., 718-596-2225, kemptonandco.com; Wooden Sleepers: 395 Van Brunt St., 718-643-0802, wooden-sleepers.com
How to Spend an Afternoon in Red Hook: Sweets & Coffee at Baked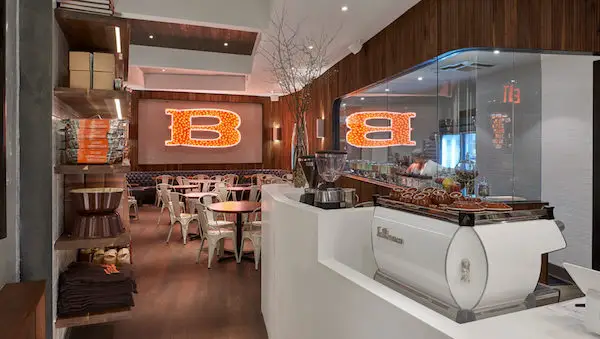 Ready for more sweets? Baked is one of Red Hook's best-known businesses, and for good reason. These baked goods will send you to heaven and back, from the salted brownie to the whoopie pie to the savory quiche. Their sweet and savory pastries use wholesome ingredients, and they brew Stumptown coffee too if you need a pick-me-up. There are more tables than you'd expect in a bakery, but don't be surprised if they're all full. 359 Van Brunt St., 212-775-0345, bakednyc.com
How to Spend an Afternoon in Red Hook: Waterfront Museum
A floating museum? Sign us up. The Waterfront Museum, located inside a floating barge in the East River, exists to educate visitors about the history and preservation of local waterways. Captain David Sharps will be glad to give you a tour aboard the barge, the one-hundred-year-old Lehigh Valley No. 79, and show you a few juggling tricks for good measure. An eclectic maritime adventure, perfect for kids and adults, is yours at the Waterfront Museum, free and open to the public Thursdays 4-8pm and Saturdays 1-5pm. The museum also hosts events like musical performances and art exhibitions. 290 Conover St. at Pier 44, 718-624-4719, waterfrontmuseum.org
How to Spend an Afternoon in Red Hook: Dinner at Hometown Bar-B-Que
Find Brooklyn by way of the American South at Hometown Bar-B-Que. Here you'll find some of the best barbecue in the city and a convivial, laid-back atmosphere where you'll want to grab a beer and stay awhile. The meat is oak-smoked, making for fall-apart brisket and some sinful lamb belly. On weekends, the good news is they have live music! The less-good news is it'll be very crowded, and you may wait up to an hour. But with the friendly vibes, just strike up a conversation over your drink while you wait. Your barbecue will be in front of you before you know it. 454 Van Brunt St., 347-294-4644, hometownbarbque.com
Looking for Free Group Planning Services?
Get free advice on planning your group's trip to New York.
RESTAURANTS

Multi-concept restaurant offering modern Japanese cuisine, a...

THEATER

In a heartbeat, 38 planes with 6,579 passengers were strand...

SHOPPING

PANDORA, one of the leading names in jewelry for more than 3...

SIGHTSEEING

The 9/11 Memorial honors the nearly 3,000 people killed in t...