Ichiran, serving world-class ramen, has a brand-new location in Times Square. After its successful New York runs at locations in Bushwick and Herald Square, the new Ichiran Times Square has debuted its signature tonkotsu served at Ramen Focus Booths, where diners can enjoy their ramen in happy solitude.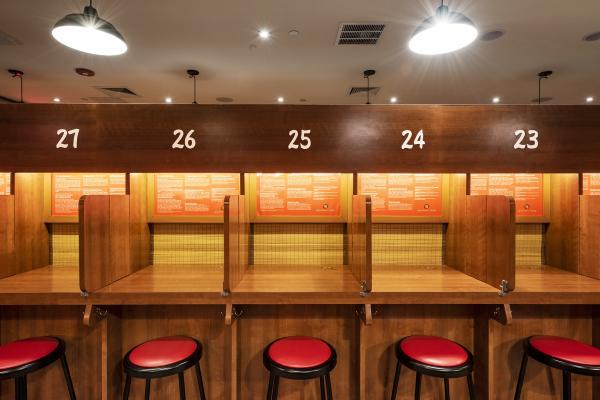 Now at the Times Square location the ground floor level is open to the public. All 103 Ramen Focus Booths are available for guests during the midtown lunch rush and during dinnertime. The large number of booths means less wait and more ramen! And if you're coming with friends, just fold back the dividers between your booths for a communal meal of soup and sake.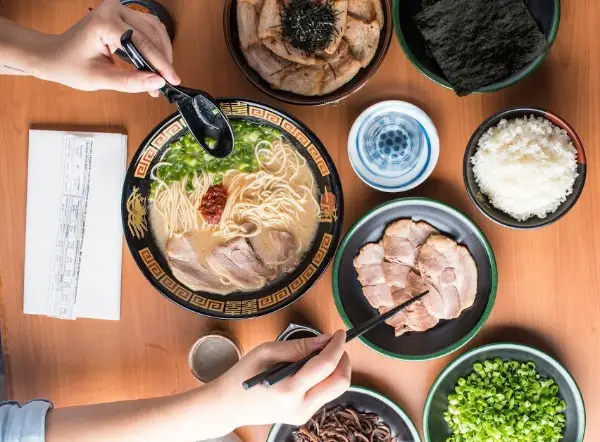 This is the 81st location of Ichiran in the world, after the first location opened in 1960 in Fukuoka, Japan. The original location's midcentury aesthetics remain a key feature of each Ichiran restaurant, while the ramen recipe has been developed across the decades to perfection. There are many types of ramen, but Ichiran focuses on tonkotsu, made with a delicious pork bone broth.
At Ichiran every diner can also customize spice levels, noodle texture, and add-ons like egg and vinegar on a written order form. And if you'd like more noodles, just place a special Kae-Dama tray on a sensor at your booth, and a server will provide you more.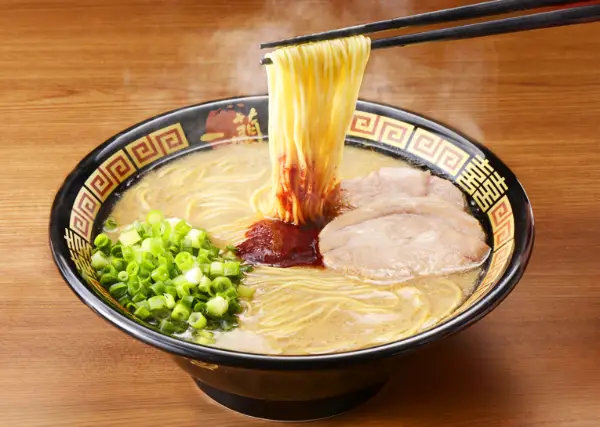 Times Square has also debuted an appetizer exclusive to this location: Premium Yakibuta. These thick slices of pork are marinated to achieve a sweet, smoky flavor. They're perfect to share with a friend or to add to your ramen!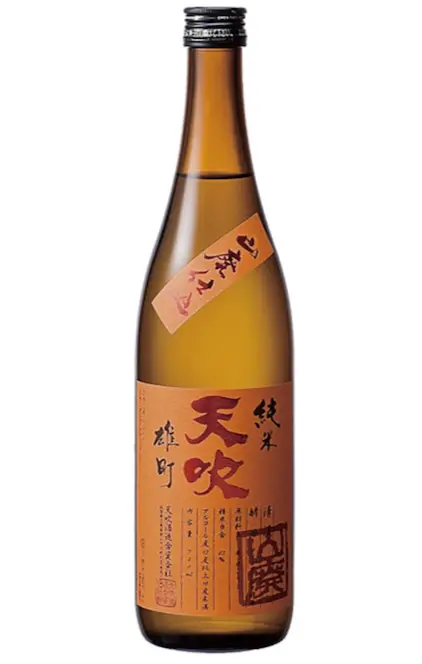 Try the Amabuki Yamahai Junmai Omachi, a marigold flavored sake.
To drink, try Ichiran's sake selections like the marigold-flavored Amabuki Yamahai Junmai Omachi, made with a special Yamahai-jikomi brewing technique that lends a funkier flavor profile. Or go for some bubbles with the Mio Sparkling, a sweet sake with notes of apple and pear. Other special sake drinks include the bottled cocktail J-POP Chu-hi Grapefruit, the sweet Kunizakari Nigori Sake Cup, and the dry Hakkaisan Junmai Ginjo.
Last but not least, take your ramen home with the Ichiran Ramen Kit! This $29 kit will bring the warmth and spice of Ichiran's signature tonkotsu ramen to your home or office. Each kit makes 3 servings of ramen and contains tonkotsu broth concentrate and the Original Spicy Red sauce made from a secret recipe of over 30 different spices. The Ichiran Ramen Kit is sold at all three locations of the restaurant in NYC. 
---
Times Square: 152 W. 49th St., 646-964-4294. Herald Square: 132 W. 31st St., 212-465-0701. Brooklyn: 374 Johnson Ave., 718-381-0491. Visit ichiranusa.com for more information.