Entering the intimate Green Room bar at New World Stages—setting for both The Imbible: A Spirited History of Drinking and Day Drinking: The Brunch Musical—means shedding the world outside and giving yourself over to a sparkling young cast who know their way around mixology, comedy, history, and a fast costume change. (And seemingly spontaneous a cappella harmonies.)
Will you catch every nuance behind Imbible bartender Ben Young III's verbal tap dance through 10,000 years as he spins the history and science behind getting sloshed? No, but you'll enjoy the ride through his facts and figures (yes, there are visual aids). Imbible is the kind of show you didn't know you needed until you're tucked into a table watching spirits distill and jettisoning your inhibitions via libations (a shandy followed by an old fashioned and topped off with a refreshing gin and tonic).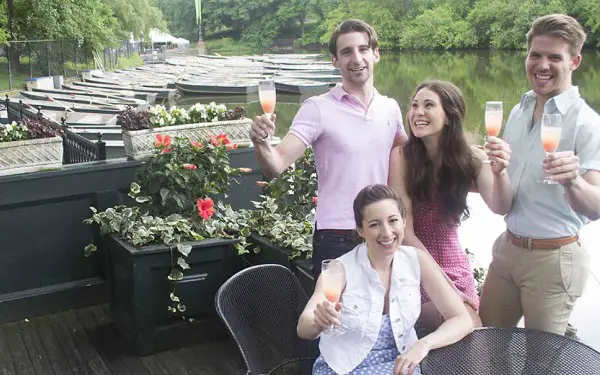 As for Day Drinking, I suggest gathering your favorite posse and taking full advantage of the sociable ambience as you belly up to the Bloody Mary Bar and create a whole new genus of quaffery. Clamato juice? Whisky? Cheese cube garnish? Why not—it's the weekend. And while this afternoon version has its players assuming the roles of friends struggling to make time for brunch, you'll definitely pick up a tip or three (hint: "umami" will become part your vocabulary). Above and beyond your average musical comedy, this one comes laced with Irish coffee and a Bellini.
And there's no need to leave non-drinkers at home…soft drinks and some virgin versions can be substituted. Cheers!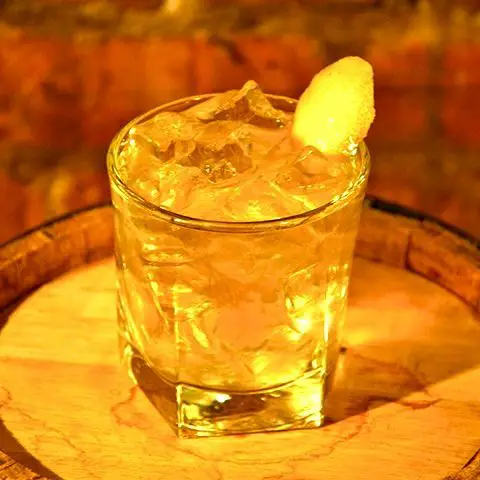 On Friday, July 5th, The Imbible will be presenting its one-thousandth performance. As part of the celebration, the evening will introduce The Imbible Millennial Old Fashioned. Imbible audiences know the Old Fashioned as the second craft cocktail served during "A Spirited History of Drinking," and this special recipe pays homage to the spirits patrons have enjoyed in Imbible shows since it opened at the 2014 New York International Fringe Festival. Here's the recipe:

The Imbible Millennial Old Fashioned
In a mixing glass half-filled with ice, add:
1-1/2 oz. Angel's Envy Bourbon
1/2 oz. Drambuie Scotch Liqueur
1/4 oz. Barrow's Intense Ginger Liqueur
Stir thoroughly to chill and dilute.
Strain into an old fashioned glass filled with fresh ice, add:
2 dashed Regan's Orange Bitters
Garnish with a fresh lemon peel expressed over the top and slid into the glass.

The Imbible Millennial Old Fashioned will be served at the 1,000th performance, where guests will also be able to participate in a talk-back with the producers after the show.
---
City Guide offers patrons two ways to save on The Imbible: A Spirited History of Drinking: take $15 off each individual ticket by going to Telechargeoffers.com and using the code IECTYGD15. For weekend alternative Day Drinking: The Brunch Musical (2pm Saturday, 3pm Sunday) use code IDCTYGD15 at telechargeoffers.com to also get $15 off each ticket. Click here to get your coupon savings now.
New World Stages, 340 W. 50th St.; call 800-447-7400 or visit imbible.nyc for more information.